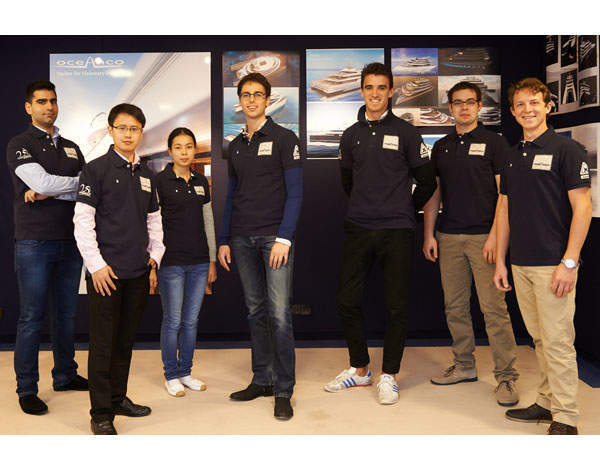 Oceanco, the sponsor of the annual "Young Designer of the Year" Award, a ShowBoats Design Awards competition, hosted the six finalists who had competed for the coveted trophy. The international group of young designers- Lujac Desautel, Dennis Dreier,
Graham Kukla, Raphae¨l Laloux, Jiantao Zhu, Daniel Zoghby- arrived in Amsterdam on the 13th of May and were accompanied by Oceanco's Paris Baloumis, Patrick Casanova, Iris Bosschaart and Robert Tan to a welcome dinner at the I-Dock restaurant. The next morning, the group was shuttled from Amsterdam to the Oceanco facilities.
Upon arrival at Oceanco, the finalists toured the Oceanco facilities and conversed about the industry's first fully Passenger Yacht Code (PYC) compliant yacht. Afterwards, the finalists were taken on a high speed thrill ride to Rotterdam via RIB tender and were hosted to lunch at Hotel New York-an historic landmark building that used to be the headquarters of the Holland America Line.
As if the day were not full enough, the group was returned to Amsterdam where they took part in a tour of the Heineken Brewery also referred to as the Heineken Experience.
The "Young Designer of the Year Award" is a ShowBoats Design Awards competition, presented by Boat International Media, celebrating the best of superyacht design. Eligible student and trainee designers under the age of 25 must submit a design that relates to a realistic client request. They are encouraged to exhibit detailed technical and design skills. The entries are judged by a group of international superyacht designers.
Oceanco is highly supportive of new talent in the marine industry. It is in Oceanco's DNA to be open to innovative ideas and to embrace forward thinking technology. By sponsoring the "Young Designer of the Year Award" and supporting the ShowBoats Design Awards competition, Oceanco hopes to encourage young designers to express a fresh and original approach to yacht design.
For more information please contact Michele Flandin in Monaco mflandin@oceano.mc or Paris Baloumis in the Netherlands parisb@oceanco.nl