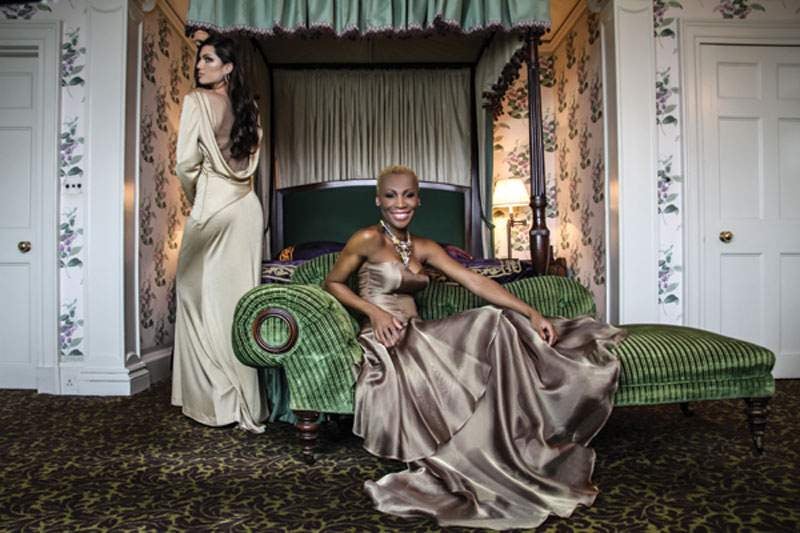 Nicole Coste's designs reflect influences ranging from Togo to Paris and Knightsbridge. She tells Alba Arikha of her unique experience.
'You don't become an artist by accident,' says the designer Nicole Coste. 'Art speaks to me and always has.' A striking-looking woman with confident poise, Coste bided her time before putting her artistic vision into practice. A little more than two years ago she opened her shop, selling high-end ready-to-wear on Beauchamp Place, a small Knightsbridge enclave whose illustrious pavement has been walked, for the last 200 years, by celebrities, jet-setters and royalty.
It wasn't a straightforward decision, but then again nothing in her life has been straightforward. Coste was born in Lomé, Togo, the youngest of five children. Located on the Gulf of Guinea coast, this West African sliver of a country is sandwiched between Ghana and Benin. A French colony until 1960 (French is still the official language), it was once dubbed the 'pearl of west Africa', an image that has been tarnished since the uprisings in the 1990s and a military coup in 2005.
She had a comfortable, conventionally Catholic upbringing. Her family was part of the upper strata of Togolese society: her father was a businessman, her mother a banker. But there was a creative gene in the family. Often, after work, her mother, a skilled knitter, would pick up her needles, while her grandmother made jewellery. It rubbed off on her. By the age of twelve, Coste had started making her own clothes, designing and sewing them in competition with her elder sister. 'It was always about who had made the nicest dress,' she laughs.
But although she was often asked where her frocks came from, it wasn't something she thought she would ever pursue: 'I was chuffed by the attention, but that was about it. In Africa, anything creative or artistic is frowned upon, especially in wealthier families.' Nevertheless, the seeds had been planted: 'Inspiration was embedded in me.'
At fifteen, Coste left Togo for France. After passing her baccalaureate she enrolled in architecture school, but chose to quit after two years. 'The atmosphere was too masculine,' she confesses. She met the father of her two eldest children and, although she didn't work for several years, found herself increasingly thinking about her younger forays into fashion and how to develop them further. 'Memory imprints itself. It keeps us from deleting the important things.'
But it would take another few years, and a few stumbling blocks, before those imprints came to life. She eventually took a job as a stewardess with Air France. During a Paris-Nice flight she met Prince Albert of Monaco. A six-year relationship ensued, which produced a son, a media frenzy — and the end of their union. The spotlight now shone brightly on Coste and showed no signs of waning, especially in view of Prince Albert's impending nuptials. Coste, who declines to discuss the matter, spent the following years flitting between Paris, Geneva, and the South of France before she finally settled in London and decided, three years ago, to take the plunge. 'I created a few garments to test people out, but also to be sure I still had the skills,' she says. 'And they loved it.'
But the leap from having a small coterie of followers to actually creating a brand required intense dedication and hard work. 'I wanted it to happen and I made sure it did,' Coste declares.
Having taken the decision to enter the business of fashion, in 2013 Coste was privately guided by a select few established industry professionals, including a renowned haute couture designer and a manager who had previously worked with Cartier and Louis Vuitton. She credits their guidance as key in her learning trade and the various considerations when building a new collection. 'They helped me understand the milieu better; they could see that I really wanted to learn. Not the artistic but the practical side of things. They also explained that I needed to make a profit.' She laughs. 'But I didn't listen.'
She went for what inspired her instead. 'I've always known what I wanted. I'm attracted to beauty, to the highest quality. Not gaudy, or what the French call "bling bling". I like temporal, classic looks with a hint of modernity.'
She designed the shop herself and opened it two years ago, soon gaining the reputation as 'London's best-kept fashion secret'. Her designs vary from refined everyday wear to glamorous ball gowns, and are worn on the red carpet by the likes of Jerry Hall, Dita von Teese, Lady Victoria Hervey and Helen McCrory, whose classic-cut red fitted dress worn at the Baftas generated lots of publicity.
Unlike her African contemporaries, such as the Nigerian Duro Olowu or Lagos-based newcomer Amaka Osakwe, she doesn't use riotous colours or ethnic-bohemian patterns. 'I don't like loud fabric. Africa has some beautiful ones, but I prefer the classical look, all the while being proud to be African.'
That classical look, with the occasional splash of colour, has become her signature trait: from jersey shift wrap dresses to perfectly tailored, embroidered black dresses and A-line leopard-print gowns.
But her biggest selling-point, and what sets her apart from her contemporaries, is the cut of her clothes. 'Luxury ready-to-wear is still heavily influenced by ideologies of haute couture fashion,' she explains. 'Creative directors from the elite fashion houses continue to design for the traditional size and shape of the haute couture model. My brand is different in that we specifically design for the hourglass-shaped woman, which is a natural shape in my culture.'
Coste's designs draw on materials such as satins, crêpe Georgette, voile, and, in her new collection, sequins. Inspiration is derived from her travels, but also from her own heritage. 'My collections have a diverse appeal to women from many cultures.' She produces everything in Paris but buys her fabric in London, with a penchant for Italian silk, wool and Jacquard: 'I will choose the fabric according to the design.'
The combination is working: with prices ranging from £300 to £3,000, the Nicole Coste brand has carved itself a dependable niche in a market obsessed with novelty. Her new collection — the ultimate in hourglass — is inspired by the 1950s and features a blend of colours: green/grey, pink/gold, blue/black. Floor-length, sequined gowns shimmer with matching combinations, reminiscent of a time 'of values and elegance'. Despite their delicate appearances, these dresses are sturdier than they look. While sequins feature notably in her collection, the main fabric for her gowns is silk: 'It is the strongest natural fibre, and is very comfortable on the body and skin.'
In general, Coste tries to avoid delicate fabrics. 'I don't feel comfortable offering my clients a very expensive item which may not last. Fragile fabrics don't pass the test of time.' She knows, because she had first-hand experience of using fine chiffon on her first collection. 'It ripped,' she admits. 'I haven't used it since.'
She cites Dior and Chanel among her favourites and foresees a change in fashion trends: 'People have returned to surer, classical values.' She mentions wanting her designs to stay 'pure' for years. 'I think a woman has to be powerful, sexy, feminine, and fragile.' Purity is, for Coste, linked to respectability — of dress and state of mind. One senses it harks back to her childhood, where certain choices were deemed unrespectable — such as an artistic vocation.
One could safely say that today she has found a happy medium: the Nicole Coste secret will continue to be passed on.