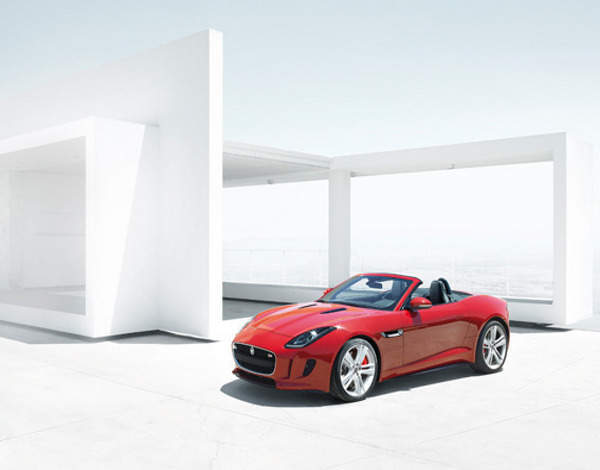 TYPE WRITER
William Cash effervesces over the new Jaguar F-Type. Top down, foot down, off he goes!
My original idea was to drive the new Jaguar F-Type S to the north Norfolk coast for the weekend, as the new girlfriend lives not far from there. I had been invited to 'meet the parents' and was without a working set of wheels. What luck, then, to have been offered the most talked-about convertible British sports roadster to have been designed by Jaguar for over 30 years, a car that had only been released on to British roads a few weeks before.
I certainly couldn't show up in my ancient BMW 7 series that was parked (with two flat tyres and weeds growing through the under-chassis) outside an old barn in Shropshire, having been abandoned eighteen months ago after the head gasket blew. 
But any idea of driving to Norfolk was immediately quashed as soon as my girlfriend heard me talking to Jaguar on the phone. 'We all drive Golfs,' she said. 'Anything more fancy and you won't be allowed back. The first thing you need to know about Norfolk is that it's all a bit scruffy and anybody driving a flashy £80,000 convertible is just a ponce.' 
So I test-drove the Jaguar F-Type up to Upton Cressett in Shropshire instead, up the M40 to Oxford, then tearing along the narrow, parsley-filled country lanes from Bromsgrove towards Bridgnorth which formed such an impression on AE Housman as a boy. The last Jag I had driven was the XKR in which I had smashed my old speed record for driving to London by over ten minutes, making it to Grosvenor Square from Upton Cressett (around 150 miles) in just two hours five minutes.
Birth pangs
That was going to be quite a record to beat — especially with nine points on my licence. The timing wasn't exactly ideal either for a new speed attempt — a 10.30am pick up from just off Sloane Square, with an hour's delay because of a hung-over passenger who claimed he was late because he had to 'assist' a Battersea neighbour who went into labour.
But if any car was up for the challenge it would be the new F-Type — boasting a 3.0-litre V6 supercharged petrol engine, capable of 340hp, 0 to 60 in 5.1 seconds and a top speed of 161mph, even in the entry-level model. The new Jaguar has been designed by Ian Callum (the man responsible for the Aston Martin Vanquish and V12 DB7 Vantage) based on a shortened platform of the XK convertible, another car I have driven for Spear's.
As I stood by the side of Pimlico Road while the convertible roof folded away in less than twelve seconds, and as I placed some cheese for the weekend into the boot, I was at least relieved that my passenger friend didn't bring the mother and new baby he had apparently just delivered with him as hand luggage, as there wouldn't have been any room. Not even to make a dash to the hospital.
The Jag F-Type is definitely not a family car and is very much designed and built in the tradition of the classic two-seater grand tourer Jag E-Type coupe, with enough luggage space for a small overnight bag, toothbrush and a magnum of Bandol rosé. Pyjamas optional.
What I like about the new F-class Jaguar is that the history of its predecessors, especially Malcolm Sayer's classic 1961 E-Type (which Enzo Ferrari called 'the most beautiful car ever made'), has been fully understood and absorbed by Ian Callum. Like Sayer, Callum is a maverick with a passion for cars that are both beautifully designed and burningly fast. After starting his career at Ford, he left the corporate world in 1990 to join Tom Walkinshaw's quirky TWR Design, based out of a shed in Kidlington, Oxfordshire. 'People thought I was mad. But I was as happy as could be,' Callum recalls.
F-Typical
This sense of passion and excitement in design has spilled into the new F-Type. Some E-Type purists might bemoan the lack of a manual gear option (I gather a manual option is coming) but the eight-speed QuickShift transmission is refined and the shift paddles on the three-spoke leather steering wheel do make you feel as if you are in a Formula One car — with a suitably noisy roar to match from the centre-mounted twin exhaust pipes.
At Upton Cressett, we have a straight, narrow road that runs from just outside Bridgnorth to Morville which is known as Telegraph Lane. While I wasn't able to attempt to break my London to Shropshire record, I was able to set a new record of belting it down Telegraph Lane in two minutes 35 seconds. I was able to reach the Halfway House pub from my house in less than seven minutes — another record.
The driver's cockpit in the new F-Class is very much a reinterpretation of the old E-Type dashboard — the knobs are uncluttered, practical and easy to understand, with the gizmo-wizardry largely hidden away inside the 8in full-colour touch-screen, which includes a 380W Meridian audio system with no fewer than ten speakers.
In The Bonfire of the Vanities, Wall Street bond trader Sherman McCoy famously picks up his mistress at the airport in a black Mercedes SL roadster. That was the car that the Masters of the Universe aspired to own — and went out and bought for cash with their bonuses.
That is the market that Jaguar now needs to capture if the F-Type S is to be the true heir to the E-Type. I suggest its marketing director arranges for Robin Birley, owner of 5 Hertford Street, to be given one immediately so that it can be parked in Shepherd Market for the hedgies to envy.
But would 6ft 4in Birley even fit in it? I fear there may not be enough room for le patron — and certainly not all his dogs. 
Read more from Ben Goldsmith's guest-edit