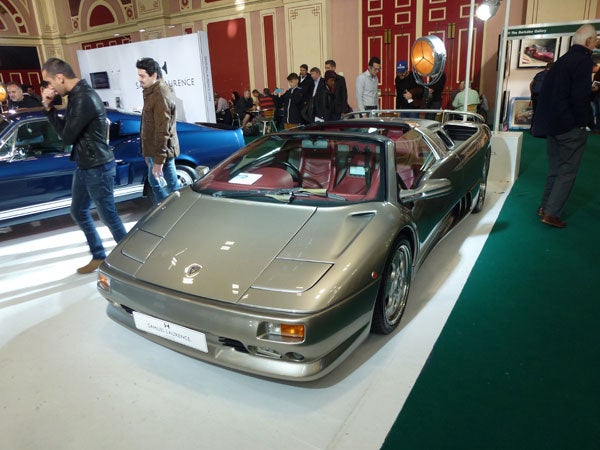 Andrew Gonsalves reports from a car show with a plethora of automotive treasures
The Classic & Sports Car Show in London at the start of November was both a retrospective of the loveliest classic cars produced by Europe's most revered manufacturers and a forecourt for the country's esteemed dealers to display their wares.
There were a number of interesting cars up for sale, including Britt Ekland's bright yellow Maserati Ghibli (pictured below). The 1968 example boasts a 4.7 litre engine, and the whole thing has been restored magnificently. It was price very much on application here, which was unusual at this show, where many of the cars up for sale sported a price tag.
Another car with a celebrity connection was a Mercedes-Benz 600 (the Grosser limousine). This example, finished in silver, was owned by opera singer Maria Callas (pictured top) and was personally specced up by the diva. For many years, it was only driven by Miss Callas's chauffeur. It can be yours for £145,000.
One of the rarer cars on display was something a little more recent. Samuel Laurence of London offered a 1997 Lamborghini Diablo VT Roadster (pictured below). The silver supercar (the Diablo was unspeakably fast, with a fearsome character) is one of just twenty right-hand drive VT roadsters produced, rare enough to make the iconic Mercedes SL Gullwing seem ubiquitous. (There were three of the latter at the show, alongside one SL roadster.) It's up for £235,000.
More interesting, perhaps, than the cars, are the people who make them. The show featured a tribute to Edward, Lord Montagu, who passed away this year. The Third Baron Montagu of Beaulieu, who inherited his estate aged two, was one of the first peers to open up his estate to the public as a way of raising funds.
The small collection of vehicles he put on display in 1952 turned, eventually, into the National Motor Museum, which opened in 1972. One of the hereditary peers chosen by his peers to remain in the upper house after Labour's reforms, he was also the first chairman of English Heritage, a post he held for nearly a decade.
There were a number of guest speakers over the course of the weekend, including Sir John Egan. Sir John was chief executive and chairman of Jaguar Cars from 1980-90, and arguably rescued Jaguar from the certain oblivion that would have followed had it continued its downward trajectory.
Sir John, in conversation to promote his book, provided some little gems. He revealed that Lord Tebbit thought the shop stewards at the Jaguar plant, who provided the company with so much grief, were paid by the Soviet Union.
He also revealed that he thought Ford, who owned Jaguar for fifteen years, had let the company sleep. He revealed that he was horrified, on visiting Ford's Dearborn HQ, to realise that the company had no idea what they were going to do with Jaguar, and that he's still unsure why they bought it in the first place.
Sir John said that a Ford executive, visiting shortly after the takeover, said that Ford would own Jaguar for 'a long time: at least ten to fifteen years'. He contrasts this with the approach of its current owner, Ratan Tata, who, when asked if he'd sell it, replied: 'Never.'
'I think,' said Sir John, 'that if you're going to build the best cars in the world, that that's the only answer.'