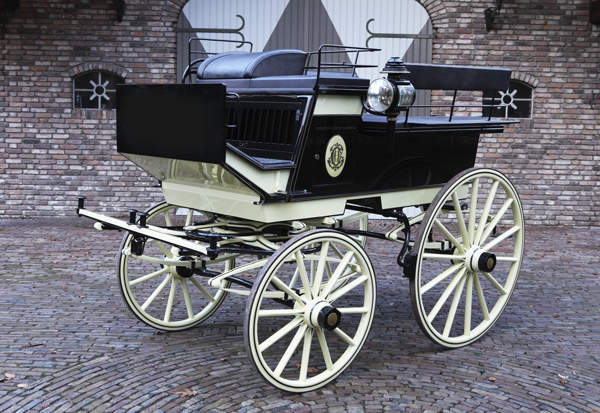 'Carriages at midnight' the typical wedding invite reads and if you're not too worried about outshining the bride and groom, it might be time to take that literally: next month Bonhams are auctioning off a collection of 28 vintage carriages, ranging from a 1760 'Dragon Sleigh' to an 1878 'Concord Coach'. However, the two stand-out lots are champagne carriages, having been tailor-made for Veuve Clicquot and Moët & Chandon to tour clients around their vineyards.
'They're all in good working order and have been fully restored,' says Rob Hubbard, a Bonhams motoring specialist. 'You could straightaway use them now if you so wished.' Hubbard sees the bidding coming from either wine collectors looking for the 'ultimate accessory to take to a point to point, or to serve champagne with at a party', or from someone who wants to use the carriage for show, knowing 'it has a story, rather than just being a novel wagonette or a Blin barouche.' (Blin was a celebrated Toulouse carriage-maker.)
Pulling up alongside the Range Rover brigade at a point to point it'll certainly cut a dash. The Moët & Chandon 'Light Sporting Waggonette' (pictured below) is finished in black and shades of pale cream, but is also practical as the design was commonly used for hunting and shooting outings (it has storage for transporting dogs and the obligatory bottle or two).
And they're not just for budding lords of the manor: the barouche commissioned by Veuve Clicquot in 1870 (pictured top) could well replace your town Rolls-Royce. It boasts a beautiful navy blue body with cream silk interior.
Estimated at £20,000-£25,000 each, they're cheaper than most luxury cars, and there's no need to waste money on driving lessons either: 'You don't need anything,' says Hubbard. 'You can literally hop on one of these this afternoon, strap four horses and scoot off.'
Fortunately lack of experience (or fear of highwaymen) is not a concern: 'Thankfully there are enough people out there who restore these and compete in them [both racing and best of show] who will give you courses in carriage driving.' Now you just need your steeds – and your champagne.
The Bonhams carriages and coaches sale is on 7 March in Oxford