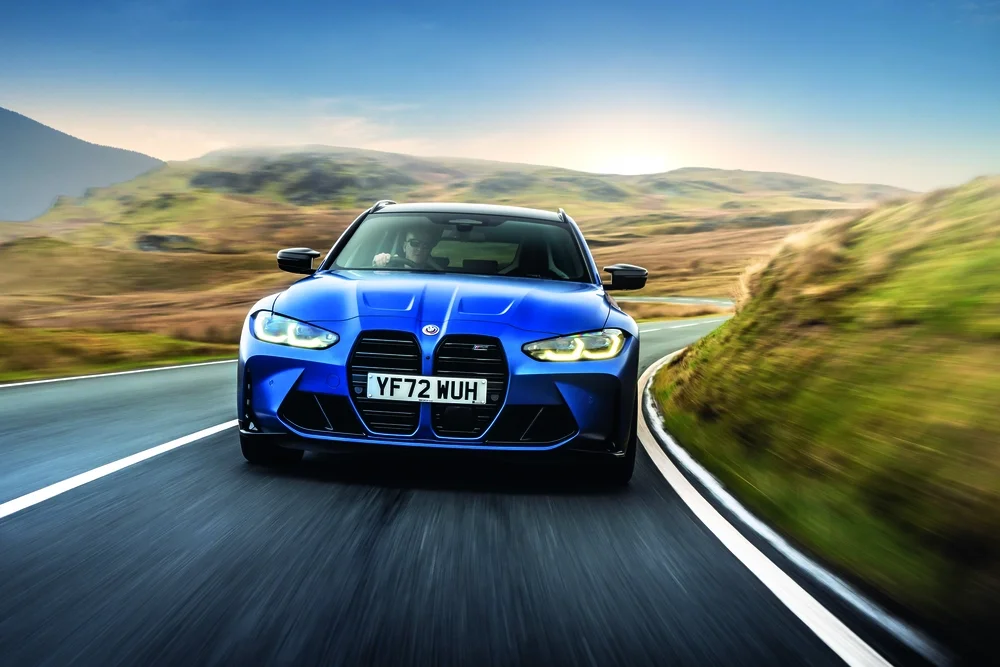 Anyone who's not a hardened car enthusiast might find it difficult to identify what's known as a 'cult car'. But, as that great Western philosopher Pusha T once said, 'If you know, you know.' So let me explain.
Cult cars aren't obvious, so that rules out all Italian supercars. Yes, all of them. They may have a quasi-religious following, but adoring a Ferrari or Lamborghini is like cheering for the Pope in St Peter's Square. Cults, by contrast, are unusual.
The people who join them believe strange things, like 'My next-door neighbour is a god sent by aliens who live on Jupiter.' 
A cult car isn't about rarity, either. There may be a small, dedicated group of people who love the Hillman Husky or Armstrong Siddeley Sapphire, but these are just rare-groove connoisseurs – they're not cults.  
No, a proper cult car needs to be unlikely, but also widely recognised. Take the Nissan Skyline GT-R. It is based on a humble and (let's be honest) ugly Japanese saloon, so it's hardly an obvious car to have a passionate, loyal following.
But if you put 10,000 car enthusiasts in a room and shouted 'Skyline?' they'd all reply 'Hallelujah!' in unison. Which would be weird, but that's cults for you. 
Another example is the super-estate. Again, it's the oddness that makes them cultish: the incongruity of a big family wagon (practicality; kids; dogs; trips to the tip at the weekend) combined with proper high performance (blistering acceleration; fat tyres; quad exhausts the size of howitzer cannons).  
The history of super-estates isn't a long one – a good case can be made for the Porsche-engineered Audi RS2 being the first, in 1994. Since then Audi has dominated the class, with ever more powerful versions of its RS4 and RS6 models.  
But now there's a new contender, and those hardened enthusiasts are buzzing with excitement, because this car merges two cult obsessions into one.
The BMW M3 has been around since 1985, and you can tell it's a cult car by the way fans refer to the different generations by their internal factory codes.
First there was the E30, designed to go racing in European touring car competitions; then the E36, with its silky smooth straight-six engine; later there was the V8-powered E90; and now the current-era G80, with a twin-turbo straight six that puts out more than 500bhp.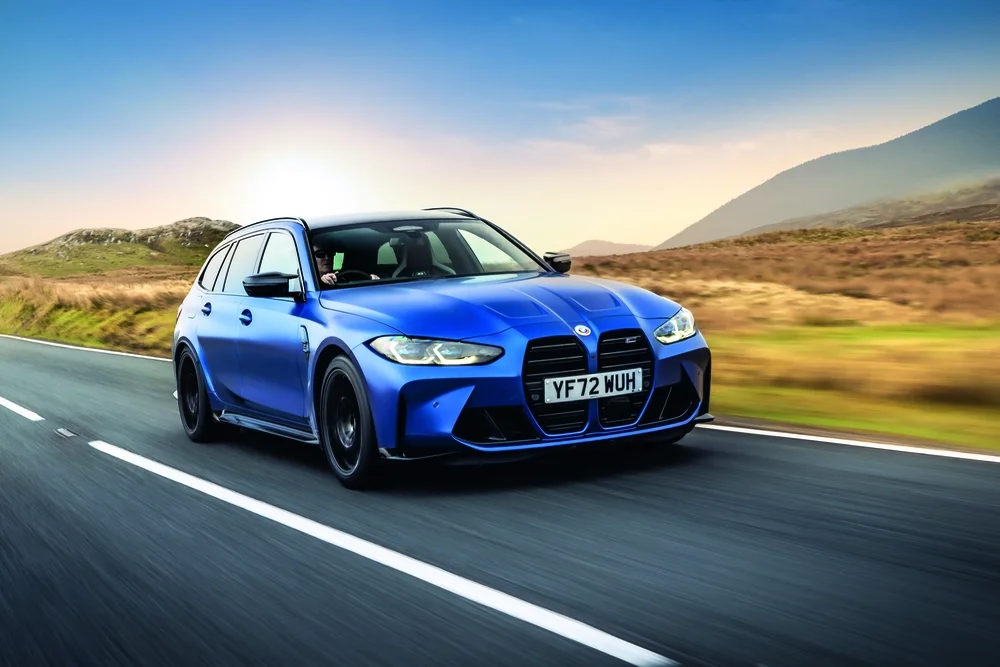 But unlike its German rivals, the BMW M3 has never been offered as a super-estate – until now. That's why the new M3 Touring is so significant – after an almost 40-year wait, it's like all those prayers have finally been answered. Hallelujah, the perfect, no-compromise, high-performance, all-rounder cult car has arrived.  
It certainly looks the part when you meet it on the street. With its muscular arches, wide-nostril grille and that new, swept-back roofline, it looks purposeful but also permanently angry, like a road-rage incident on four wheels.  
Inside, our example is fitted with optional carbon bucket 'M' seats. They certainly give the car a sense of occasion, because clambering in over the high bolsters takes effort (like you're strapping yourself into one of those touring car racers), but they're probably a little OTT for a family car.
Other than that, the interior is standard modern BMW fare – full of buttons, switches, rotary dials and touchscreens. It's fussy and a little overwhelming at first, but start the engine and grip on the fat-rimmed steering wheel and the M3 Touring soon focuses your mind.  
[See also: The collectable cars to invest in for 2023]
The BMW M3 Touring is family- and fun-friendly
The most impressive thing about this car is the way it can play both roles so well. As an estate car, it's roomy – with the seats down, you get 1,510 litres of space in the back for a brace of labradors or those weekend trips to the tip.
As a family car, you won't jiggle the dummy out of the baby, because while previous M3s have been stiffly sprung, the new Touring's chassis and engine can be set in full Comfort mode, making the car surprisingly easy-going and compliant.  
In the UK the Touring is only available with BMW's xDrive 4×4 system, meaning it's also incredibly composed and confident in all weathers.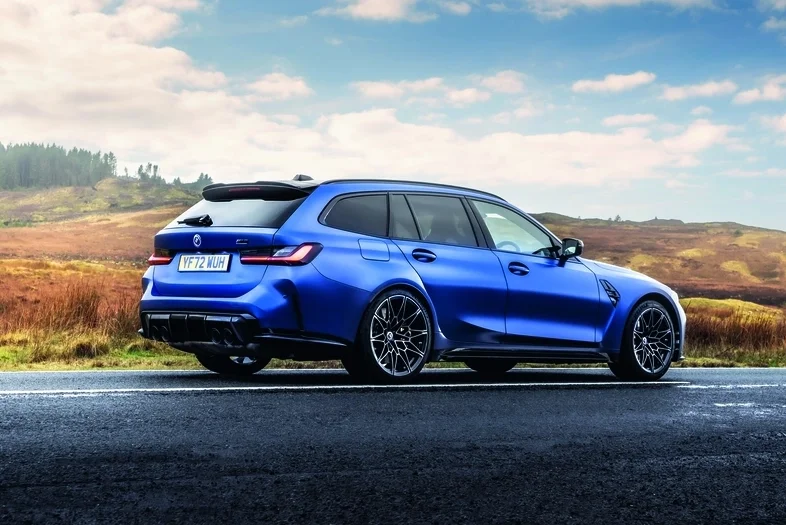 With the 3.0-litre petrol engine powering all four wheels through an eight-speed automatic gearbox, any driver can just get in and cruise along, without worrying about a terrifying rear-wheel-drive spin like you're doing a hot lap at the Nürburgring.  
And yet… when you've emptied out the bin bags and dropped the baby at the nursery and it's time to play, the M3 Touring can also be… well, an M3.
There are the two, bright red 'M' buttons on the steering wheel that look like they should fire Gatling guns out of the front grille.
In fact they're like keyboard shortcuts to configure the car immediately to your preferred settings found in complex sub-menus. So, press M1 with your left thumb and behold: the chassis, steering, gearbox and engine are now in 'Sport', traction control is off, and with the front axle disabled you're now in full 'yee-ha!' rear-wheel-drive mode.  
That spin into the gravel is now a very real possibility, but thankfully the M3 feels incredibly self-assured at speed, with precise and direct steering and incredible cornering composure.
It's also brutally quick – BMW claims 0-62mph takes just 3.6 seconds, but it's the way it rockets out of a third-gear corner that'll leave you breathless.
The push from that twin-turbo straight-six feels as irresistible as a heavyweight boxer's punch in the face.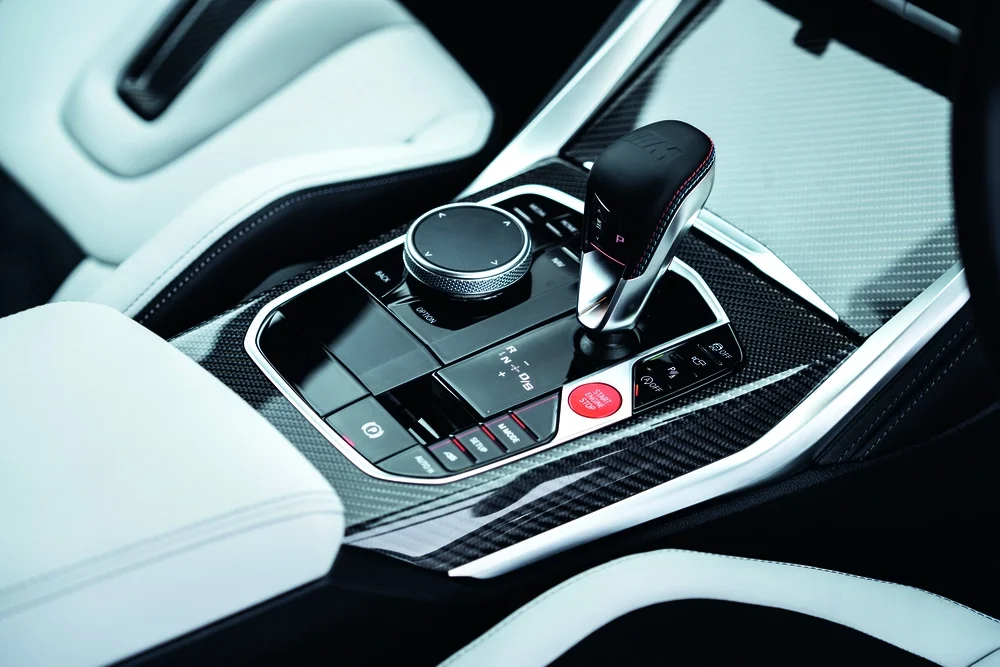 You can go further too, enabling a Playstation-style 'Drift Analyser' on the touchscreen that will measure and rate your slidey-sideways larking about.
BMW warns you this is for track only, and I concur. Playing with it, I drifted for 32 metres, reaching a 12-degree angle for three seconds, and the car awarded me a lowly two stars out of five. Hmm.
This is like being told you're not good enough, must try harder. This is also a recipe for trouble, so I switched it off.  
[See also: The Bugatti Chiron makes the jump from supercar to hypercar]
The M3 rocket ship you've been waiting for
Both silly and sensible, the BMW M3 Touring really is a great all-rounder. With a starting price of £86,750, it's easily a £100,000 car once you've added a few options – which is apt, because the Porsche 911 Carrera is £97,000 these days.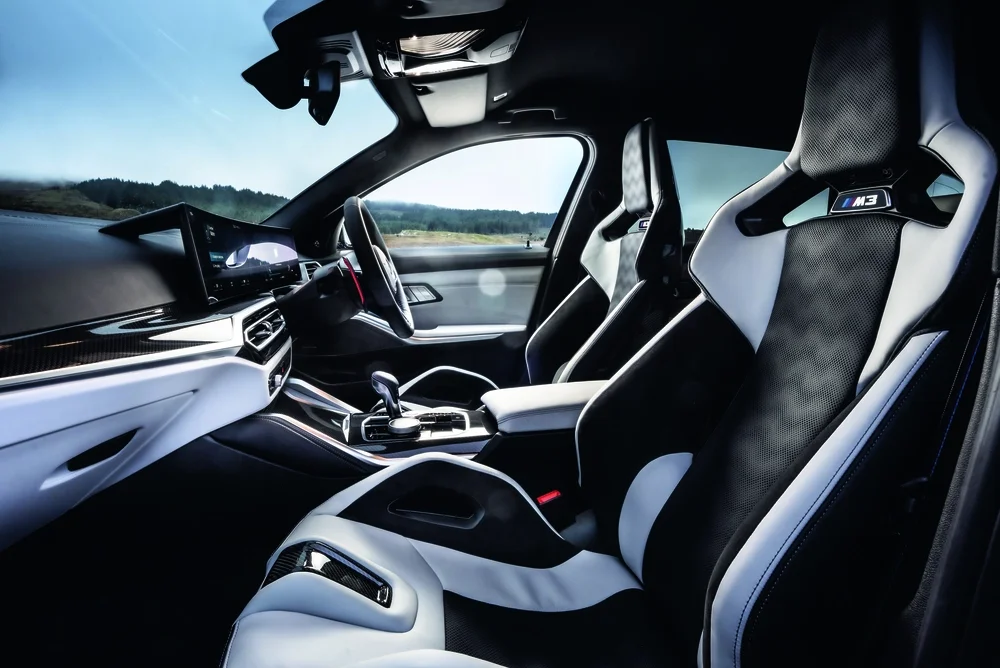 That, for many, remains the ultimate everyday, do-it-all performance car, but the new M3 Touring is now a super-practical alternative – with five doors and a big boot too.
Plus, the BMW has that stealthy cult-car appeal that the 911 can't muster. The Porsche is too mainstream, too obvious; if you believe in alien gods living on Jupiter, the M3 Touring is the rocket ship you've been waiting for. 
This piece first appeared in issue 88 of Spear's, available now. Click here to buy a copy and subscribe