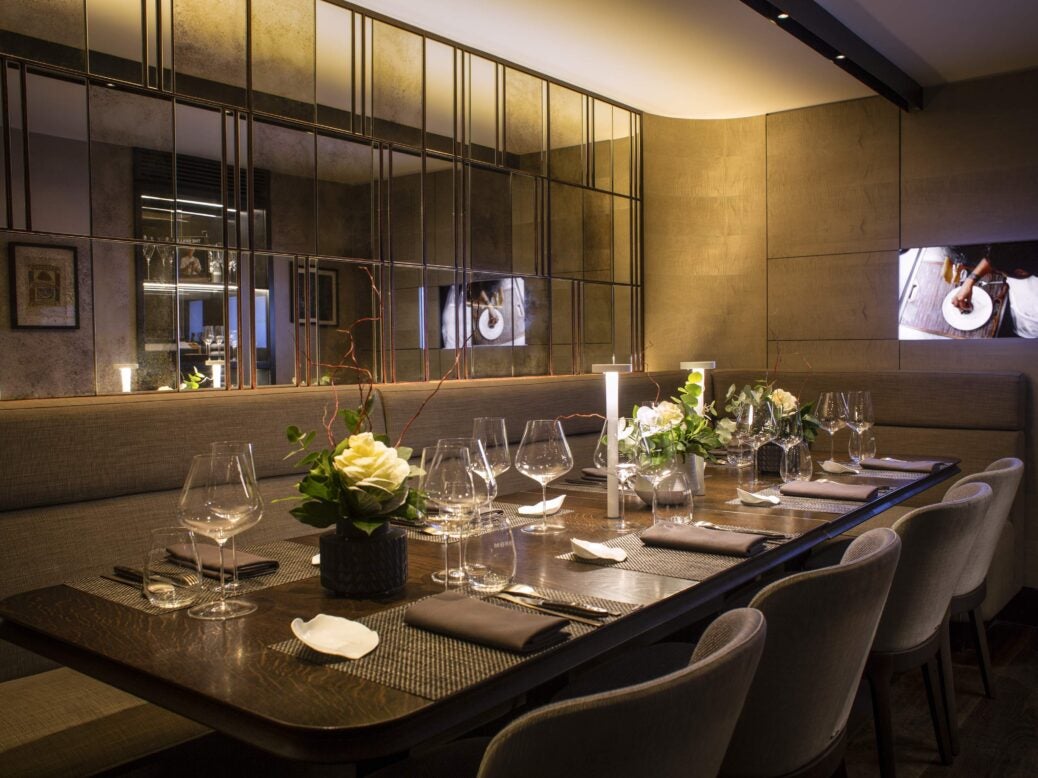 Christopher Jackson heads to Monica Galletti's offering in Fitzrovia, and finds much to enjoy
Oxford Street has a quality I don't find in any other in London: I get happier exactly in proportion to the distance I walk from it. This effect only wears off as I near Barking.
This adage didn't come to me as I walked away from Tottenham Court Road towards Mere on a bright spring day, though it might have done. Instead, walking up Charlotte Street, I found myself with a spring in my step repeating to myself Uncle Fred's claim: 'There is literally no limit to what I can accomplish in the springtime.'
This mood of sweetness and light was initially dented by the lounge. I found my companion, sitting in the daytime in what undoubtedly felt like a night place: there was a bar rowed with spirits; a series of pouffes and divans that looked like they were for flirting on; mood lighting at odds with the summery brightness of the day; and a negative pièce de resistance in the shape of a strange brown modern art work, 'upon which we might not wish to speculate,' as my companion put it.
Downstairs, things brightened wonderfully, and our sense that we were embarking on a major lunch crystallised. The dining area benefits from light flooding down from the street through large windows, and a spacious interior design so that one never feels one has been exiled from the day into any kind of basementy experience.
As if we had no fear, we launched ourselves into a Riesling Trocket 2017, which proved to be abundantly worth our while. This was accompanied by scallops which came in a sort of green pool of sauce, together with lentils, carrots and pickled celery: attractively presented, the flavours coming together with great élan, we pronounced it a mighty success.
The same could be said for my companion's octopus, which was exceptional: it came with a caper and raisin dressing, potato and piperade. The octopus was beautifully cooked, a tender splay of limbs, like someone who has fallen over in an edible heap. Growing in confidence, we moved onto the Domaine de Montcalme 2012.
This last order was a crucial decision, and seemed to feed in us the ambition fully to explore the potential of the afternoon: I attribute its deliciousness to the fact that we were to be found there several hours later.
For my main, I opted for the Hardwick lamb, which came with cannon, sweetbread and tongue, black garlic, courgette and basil, and lemon thyme. My companion meanwhile was extolling the Cornish cod, which came with toasted artichoke, confit fennel, olives and Dulse Aioli sauce.
There will be historians and biographers who will say we had too much to drink. All that can be said is that it didn't feel that way at the time: it was a matter of basic respect to try the Apla 2017 and would we really have been the people we were at that point in time had we not opted for the Domaine de Montgilet Les Trois Schistes, or tried the Matusalem Jerez?
I do recall a moment of drunken alarm when my companion opted for the so-called Hokey Pokey, which comes with salted toffee, and honey comb ice cream. I had vaguely wished to try that and felt stymied by the cunning of his order. However, I feel sure I checkmated him by opting for the blueberry ice cream.
This is a great little place – full of life and sass and verve. It has a strong wine list, and kindly, attentive staff. Of course, it is a little too close to Oxford Street entirely for my liking, but even I will concede that the chances of Oxford Street really ceasing to exist are small, and that perhaps our best bet is to build a paradise as near to it as possible, and force it to conform to our alternate methods. For this alone, Mere would have my applause – but it has it for many other things as well.
Christopher Jackson is deputy editor of Spear's