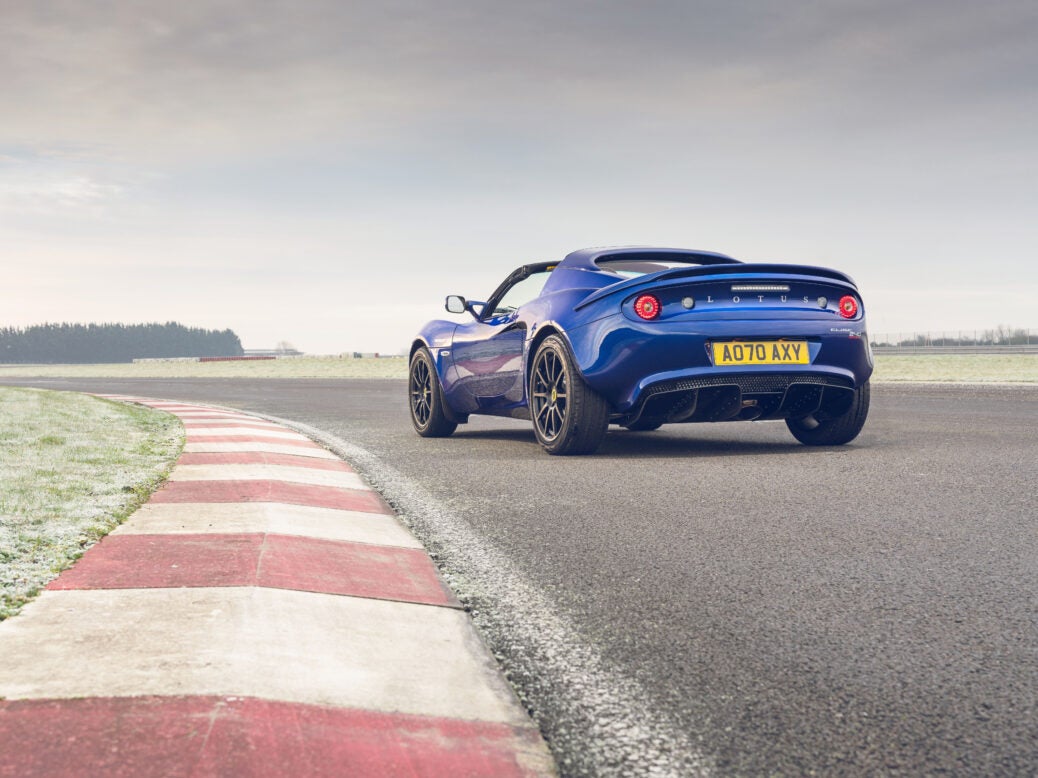 This year Lotus will cease production of its legendary Elise after a 25-year run – but not before a last hurrah, or two, writes Mark Walton
Lotus has always been different from the likes of Ferrari and Lamborghini. While, in years gone by, the Italians handcrafted their V12 engines and mounted them in delicate birdcages of lightweight tubing, Lotus used four-cylinder engines and fibre glass.
The 1974 Lotus Elite used an Austin Maxi gearbox, believe it or not, and the daring, wedge-shaped Esprit borrowed its doorhandles from the Morris Marina. No wonder Enzo Ferrari referred to Lotus (and other British F1 teams) as 'garagistes' – lowly, back-street garages who might offer you an MOT and a respray while knocking up homemade race cars.
The Italians could sneer all they liked at the plastic and the proletarian parts, but Lotus still beat them on the track (winning seven F1 titles between 1963 and 1978) and the 'James Bond' Esprit was both lighter and quicker than the equivalent Ferrari when it was launched in 1976.
Lotus has always placed performance above pedigree. The company founder, Colin Chapman, was a genius, a maverick, a free-thinker whose mantra was 'simplify, then add lightness'. But the resulting cars were more than just stripped-out featherweights with Marina doorhandles: they were also agile, alive and intimately communicative.
Lotus became world-renowned for its expertise in suspension and steering, the subtle science of lengthening a wishbone here, stiffening a rubber bush there – dark arts that can transform the way a car drives and feels.
Lotus lost its way after Chapman died of a heart attack in 1982, but in 1996 it launched a brand new, groundbreaking car that was the true heir to his legacy: the Elise, a lightweight sports car that distilled everything that was great about the Lotus brand.
Yes, it had a humble Rover engine and Vauxhall indicator stalks, but the Elise was a pioneer, and it was sensational to drive. Weight was the key: it was built using extruded aluminium in a new process developed by Lotus. Think of toothpaste squeezed out of a tube, only this is hot alloy, squeezed through a hole to emerge in a T-shape, a U-shape, whatever shape you need.
These extruded lengths are cut to size and then glued and riveted together to make a strong, ultra-lightweight box or 'tub' at the heart of the car. At launch, the original Elise weighed just 730kg.
***
But soaring innovation at Lotus has often gone hand-in-hand with financial trouble, and over the decades the company has needed rescuing by the likes of Toyota, General Motors, Bugatti and Proton. In 2017 the Chinese technology group, Geely (pronounced 'jee-lee'), bought a stake in both Proton and Lotus, adding both to its growing automotive portfolio, alongside Volvo and EV start-up Polestar. Geely's vision for Lotus lies in electric cars, sharing Volvo and Polestar battery technology of course, but also tapping into that famous Lotus innovation.
The rejuvenated company is now led by a new MD, Matt Windle, 49, who started his career at Lotus before moving to Tesla and Volvo. Under his watch, Lotus will soon launch the Evija, the electric hypercar unveiled in 2019, and in 2022 the company is due to reveal its first electric SUV.
That's right: the lightweight sports car company is building a five-door, school-run, family van. Purists might be horrified, but Chapman – always a dealmaker – would no doubt have jumped at the chance, if it had kept his beloved company afloat. And there's another new model coming down the track, codenamed Type 131. This will be a petrol-engined two-seater, filling the big gap in the range beneath the £2 million Evija.
To make room for the 131 on the production line, Lotus has announced that 2021 will see the end of Elise production, after a 25-year run.
Two 'Final Edition' models have been launched to mark this end of an era: the Elise 240 Sport and track-focused 250 Cup. But what does a 25-year-old sports car feel like, in a world infatuated with the new and the novel? Well, climbing into the 240 Sport Final Edition is very different to the first Elise.
The original left much of that aluminium tub exposed in 1996, creating a bare metal box that felt like an industrial meat locker on a cold winter morning. Over the years, the Elise has become more comfortable – and consequently a little heavier – but the 240 Final Edition is now a cosy cocoon of stitched Alcantara, a tiny capsule that sees driver and passenger shoulder-to-shoulder in floor-level sports seats.
Lotus has added new features to the Final Edition, partly to make it special, partly to justify the £45,500 premium price. There's a new digital instrument binnacle and a new, flat-bottomed steering wheel. Behind the cabin the engine has been tuned to boost power by 23bhp to 240bhp.
That engine is no longer a Rover unit, it's now borrowed from the Toyota Corolla; but as with all Lotus cars, the genealogy isn't important. The supercharged 1.8-litre four cylinder is revvy and willing, the Toyota six-speed gearbox is precise and satisfying, but the engine isn't the main attraction. The Elise has always been about steering feel, ride and poise – and it still is. Nothing travels down a bumpy back road like an Elise.
Even though the steering has no power assistance, it feels light and fluid in your hands, jiggling with transparent communication from the front tyres. You can really feel how delicately the Elise sits on the road, skimming the surface rather than crashing over it. The Elise fizzes with a loose-limbed, gymnastic energy, and when you turn, you immediately sense the lack of inertia in its willingness to swerve, like a spooked cat escaping a dog.
It's addictive fun, and the Elise still feels fresh and modern because this kind of organic zeal never goes out of date.
By any measurement, this car just doesn't deserve to die: as other cars have got heavier, more digital and more sterile over the last 25 years, the Elise has become even more special and relevant, as a raw, lightweight, analogue driving experience.
It's tiny, the Elise: a little plastic-bodied weekend car that feels knee-high when you stand next to it.
But it's also a giant: a pioneering standard bearer for purity and engagement. Lotus has an exciting future ahead, but the world will be a poorer place without the Elise. Buy one while you still can.
Photography: Jordan Butters
More motoring coverage from Spear's
How Adrian Hallmark is turning Bentley into an unlikely environmental pioneer
Jaguar's new F-Type reviewed: 'Everything a GT should be'
'It's a Daniel Craig Bond, not a Roger Moore' – Land Rover's new Defender reviewed