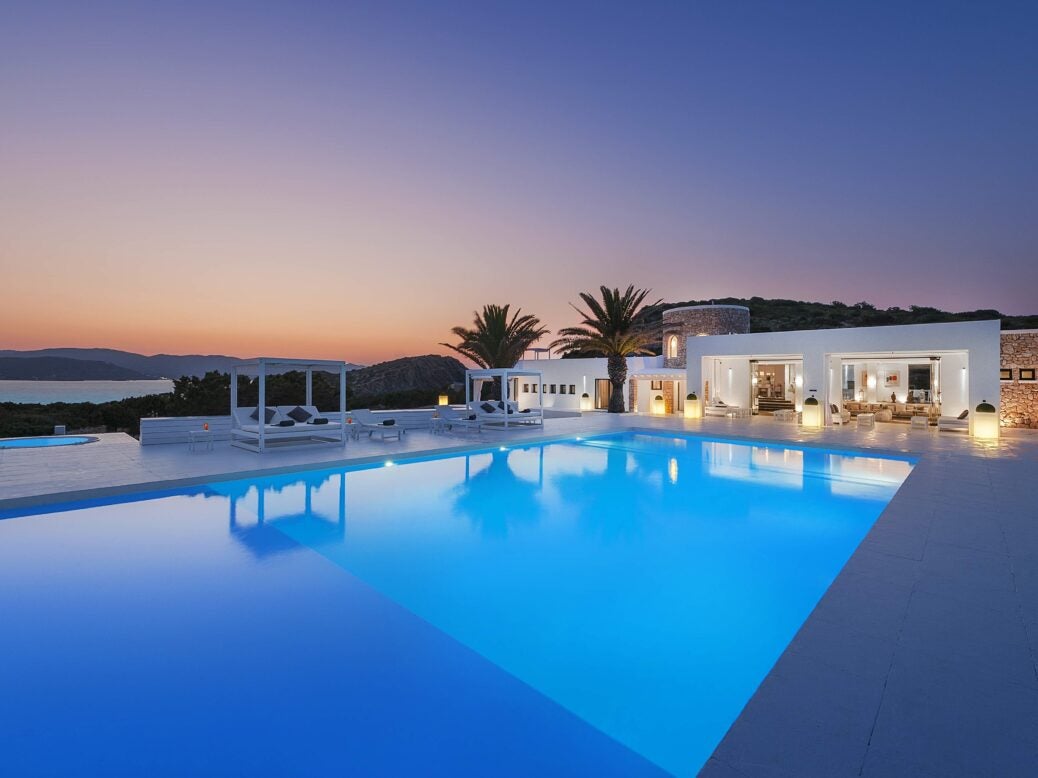 Elizabeth Hurley cures the blues by visiting a heavenly private island off Ibiza. But it's one that comes at a price – a 'vacation for your digestion' where you chew stale bread 
England was grim, not a green leaf in sight. It was dreary March, and I was fed up. I was loafing around waiting to see if my TV show The Royals was going to be picked up for a fifth season, which seemed unlikely as our show runner had been fired during the frenzied #MeToo movement.
But until I got the word from on high, I was in contractual limbo and couldn't take another job. Then came a delightful phone call. Not from my agent with news, but nevertheless, far from disappointing. Would I fancy a trip to a private island off the coast of Ibiza? All I'd have to do was take a few snaps for social media.
Reader, I reached for my passport. I felt like a Russian emerging from the Cold War as I arrived on Tagomago Island in the glorious Spring sunshine. Matthias, Tagomago's dashing host, met us off the boat with his breathtakingly handsome teenage sons and whisked us off for champagne and canapés. Spoilt? Yes. Grateful? With knobs on.
The 148 acre island rises majestically from the glittering Mediterranean sea, and the sense of privacy and peace is overwhelming. It's no wonder that it's a favourite retreat for major movie stars, pop stars and royalty. There's only one house on the island, and it's a beauty.
The bedrooms are gorgeous and the terraces, dining and pool areas are to die for. The house is beautifully run, the staff being discreet but superb, and the cuisine is excellent. They'll cook whatever you want and, boy, did we eat well. The freshest grilled fish, the best paella – and very naughty desserts. Tagomago is an extraordinary place.
It's truly rare to find a slice of paradise just a five minute boat ride from an A-list hotspot. You can have the best of every world: serious luxury in utter solitude, but with easy access to fabulous restaurants, shopping and a sizzling nightlife. I loved it so much I went back twice over the summer. However, I fear I summered too well.
My first free summer without filming for five years meant that there was a lot of catching up to do; by the time September rolled around, I had to be shoehorned into my dresses. It was time for a different kind of trip. So I packed a meagre suitcase and headed off to Viva Mayr, the renowned – some would say notorious – health spa in Austria.
Viva Mayr is all about your digestion. In fact, they call it a vacation for your digestion – if, like me, you usually eat too much, too fast, too often and too late.
They say it's not a weight loss clinic, per se; any weight loss is a side effect of taking 'the cure'. Patients go there to feel better and become healthier. I scoffed at this and arrived at Viva Mayr with the sole intention of losing a few pounds, but I left feeling like I'd found the Holy Grail.
Through taking 'the cure' – and it's a very simple one – I realized how the last 15 or so years of increasingly sloppy eating habits, interspersed with multiple crash and fad diets, had left me feeling permanently tired, hungry and heavier. With the help of some zealous physicians, I feel like my eight-day stay at Viva Mayr – and the couple of months since – have set me on a new path to a healthier lifestyle, which I feel confident about maintaining.
Viva Mayr is perched on the side of the beautiful Maria Worth Lake, and the hardest part the treatment is learning to sit still and do nothing. You are actively encouraged to take it easy and rest both your body and mind. In real life I never sit still and am a supreme multi-tasker, so this challenged me.
Phones, tablets and books are banned at the table, and talking isn't encouraged either. The point being to eat slowly, appreciate your food, and c-h-e-w. Chewing is something most of us don't do. We inhale our food, often standing up or while answering emails, and this is definitely not being kind to our digestion. Neither is snacking in between meals. I've read of a hundred diets recommending healthy snacking throughout the day.
At Viva Mayr, this is totally taboo. Your stomach needs to fully digest a meal before it can pass into the small intestine; if you start nibbling before this process is complete, the food can't leave as the new snack also has to be broken down.
And if you keep nibbling right up until ingesting another meal, it will all stay in your poor stomach until you finally stop: ie, when you're asleep. Feeling bloated, anyone? Your digestive system will then have to work all night to deal with the mass of fermenting, gaseous food.
Small wonder I used to wake up exhausted. The Viva Mayr way is three good meals a day, beautifully chewed and plentiful enough so you don't need to snack. I've followed this easily.
The cure itself is a shock to the system: revolting epsom salts on an empty stomach every morning, chewing training using stale spelt bread, and small cups of vegetable soup or spreads. The food is actually delicious, but it's light. Meals don't take very long (obviously), but there are stomach massages, vitamin infusions, saunas, swimming, walks and cooking classes to get stuck into.
I loved my time at Viva Mayr and haven't skipped a meal or snacked in three months. My 'side effect' is that I've lost 12lb. I'm smugly about to tell you that I've been invited back to Tagomago in the New Year, where I'm looking forward to surprising the local seagulls with the fresh, healthy me and my svelte new figure.
Tagomago Private Island tagomago-island.com
Viva Mayr Altaussee vivamayr.com/en/altaussee