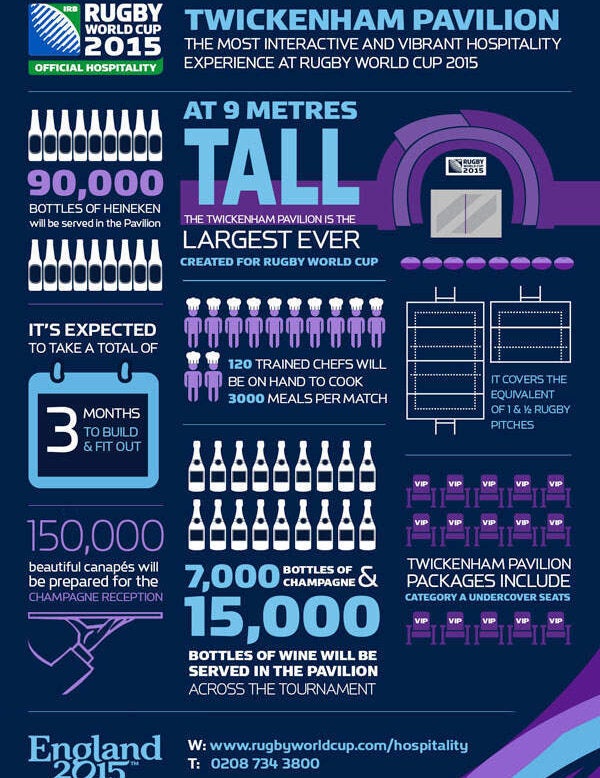 • The Twickenham Pavilion is a hospitality structure being built at Twickenham for Rugby World Cup 2015
• The structure will be the largest ever created for RWC, covering the equivalent of one and a half rugby pitches
• Will be the most sophisticated and interactive hospitality structure ever built for RWC with 300 miles of electrical cabling required for digital experiences
• The Pavilion will have a capacity of 3000 guests per match, and will be used for all 10 RWC 2015 matches being held at Twickenham Stadium
With less than one year to go until Rugby World Cup 2015 kicks off in England, RTH Ltd – the only official hospitality provider for Rugby World Cup 2015 – has unveiled details of the flagship Twickenham Pavilion experience that will be at the heart of an innovative Tournament hospitality programme.
Covering the equivalent of one and a half rugby pitches the Pavilion will be the biggest and most sophisticated hospitality structure ever built for Rugby World Cup. The purpose-built, luxury hospitality facility will be located adjacent to Twickenham Stadium and includes the best available category A seats.
The need to create such an impressive hospitality environment is due to unprecedented early demand for Rugby World Cup 2015 official hospitality. Sales are forecasted to exceed the previously biggest programme in 2007, have already exceeding all packages sold for New Zealand 2011 and will be the largest hospitality programme ever seen in the UK for any sporting event.
Sandra Parkinson, Head of Client Experience and Innovation, said: 'We are delighted with the high levels of sales and overall interest in the official hospitality programme for Rugby World Cup 2015. This level of demand has helped us achieve our goal of creating a truly unique and unforgettable hospitality experience with our Twickenham Pavilion. Rugby hospitality is an integral part of rugby so we have had to work hard to create an experience that is unlike anything seen before at Rugby World Cup and showcases the first class delivery of a Rugby World Cup in England.'
With preparations on track and strong demand for tickets and supporter tour packages, England 2015 is set to be the most viewed, best-attended and most-engaged Rugby World Cup ever. The hospitality programme will form part of a record commercial programme and will provide the financial platform for the IRB to inject record investment in Rugby worldwide from the playground to the podium.
Information and pricing for the Twickenham Pavilion are available at www.rugbyworldcup.com/hospitality.