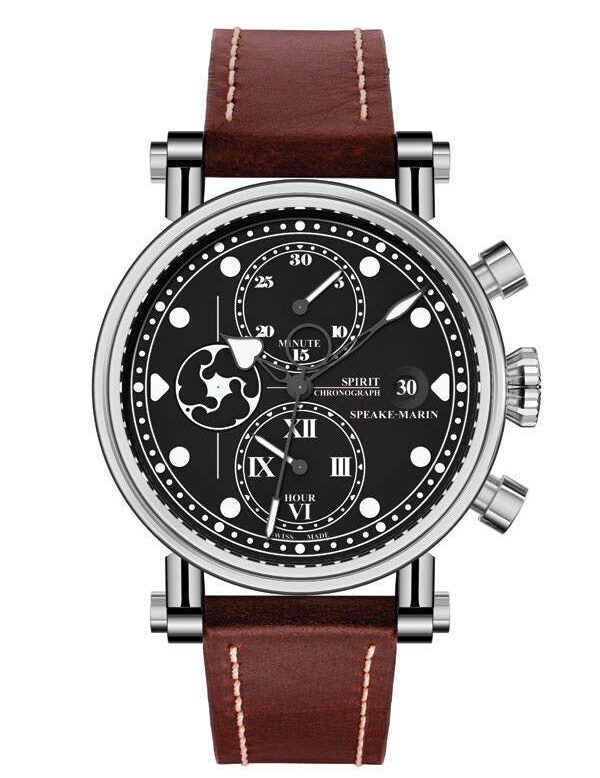 If you gather a group of watch collectors in a room, it's usually just a few seconds before sleeves are pulled up in suitably Masonic manner and wrists brandished, as the game of horological one-upmanship begins. At just such a gathering in the City recently, plenty of the usual suspects — by which I mean well-known, prestigious brands — were present. A couple of Audemars Piguet Royal Oaks, a few Jaeger-LeCoultres and Omegas, a slew of choice vintage Rolexes and desirable Pateks. Beautiful and fine watches all, but in 'watcherati' circles (sorry), par for the course.
The real mark of hardcore connoisseurship is getting your hands on something from the even rarer, more mysterious corners of the fine watch landscape occupied by independent watchmakers and boutique haute horlorgerie brands. A special Rolex is one thing, but a 'Voutilainen'? That's an altogether more exotic step up the ladder of exclusivity.
And there it was at our collectors' shindig, on the wrist of a fortysomething hedgie: a Voutilainen Vingt-8. Not a showy watch, and quite small, though the intricately engraved patterns on the dial might lead one to mistake it for a Breguet on first sight. The anything-but-Swiss dial name, however, and the trademark hour and minute hands tipped by large pointed rings (an exaggeration of the Breguet style, in fact) identify this as a piece from the workshop of the Finnish maestro Kari Voutilainen. To see one in the wild, as it were, is a rare and special thing.
Based in a workshop in the mountains above Lake Neuchâtel in the verdant heartland of Switzerland's watch industry, Voutilainen's is one among a handful of brands whose tiny output (in Voutilainen's case, around 50 very expensive watches a year) and non-existent marketing plan mean that, although he carries huge status in the industry and in collector circles, mainstream recognition is rare. The watches themselves are extraordinary, though, and in their rigorously classical approach reflect Voutilainen's own background in restoring historic pocket watches and clocks.
The Vingt-8, for instance, contains Voutilainen's own in-house movement, which resembles the interior of a fine pocket watch but also squeezes in a devilishly clever revision of the traditional escapement (two escapement wheels instead of one, for those taking notes).
There are also exquisite chronographs, minute repeaters and tourbillons in Voutilainen's repertoire — and bespoke/one-off pieces for those with the means and access — each characterised by quite exceptional levels of finishing and craftsmanship. In September, when Voutilainen was awarded Switzerland's Gaia Award for 'artisanal creation', the citation said simply: 'For his research into perfection in creating novel, unique horological mechanisms and realising them within prestigious timekeepers.'
If research into perfection seems a pretty high calling, Voutilainen is not the only one pursuing it. Perhaps the godfather of independent haut de gamme watchmaking is François-Paul Journe, a Frenchman whose Geneva workshop produces a few hundred watches annually. Like Voutilainen's, Journe's watches mix pocket-watch classicism and rigour with serious invention, on a level that stands comparison with the great watchmakers of the past (Breguet, Graham, Tompion et al), and will likely see his name similarly lauded in centuries to come.
Journe, who started making his first tourbillon at the age of twenty, recently celebrated the 30th anniversary of completing it with a re-creation of that original watch, 99 pieces at a price of $99,000. Expect any that one day reach the secondary market to go for rather more than that — though those with bottomless resources should really hunt out a Sonnerie Souveraine, a chiming watch that stands as one of the great achievements of modern horology.
If the traditionalism of Journe and Voutilainen is just a bit too conservative for you, consider the watches that come from the workshops of De Bethune, a young company (founded in 2002) whose remarkable watches are as likely to draw on Star Trek for inspiration as they are on historic watchmaking. The flagship product, the DB28, resembles the logo on James T Kirk's jumper; its skeletonised titanium case is extraordinarily light, and the pivoting lugs allow it to wrap snugly around the wrist, with the appearance of a sci-fi gadget.
Despite such avant-garde appearances and the application of futuristic materials and technologies, De Bethune is every bit as rooted in traditional horology as Journe and Voutilainen. Like them, De Bethune's co-founder and resident genius, Denis Flageollet, earned his stripes servicing historic masterpieces, and his personal workshop resembles an ancient atelier that's stuck in time, littered with dusty tools and old machines clamped to a wooden workbench, in front of huge windows looking out on to Jura pastures.
Flageollet secretes himself in this den to work through his ideas, while employees from much more hi-tech engineering fields apply the modern science. Indeed Flageollet and his co-founder, the collector and historian David Zanetta, see their company as much as an R&D unit as they do a watch brand, describing it as a place 'where all that matters is time measurement, but where time is never counted'.
This year De Bethune has pulled off a masterstroke with a watch named the Maxichrono Tourbillon (pictured top), a timepiece of stupendous beauty and invention. It's a chronograph that, instead of relegating the stopwatch timing elements to secondary dials as do normal chronos (think Rolex's Daytona or Omega's Moonwatch), has all the hands running from the centre — hours and minutes for timekeeping, and hours, minutes and seconds for stopwatch timing. That's a seriously difficult thing to pull off — evidence: no one has ever done it before — and De Bethune packs a complex tourbillon in for good measure.
Such horological fireworks will of course set buyers back six-figure sums, but the world of niche independent watchmakers does offer more viable entry points too. Peter Speake-Marin, a son of Kent who used to — guess what? — restore historic timepieces at Somlo Antiques in Piccadilly's Burlington Arcade, relocated many years ago to Switzerland, eventually setting up his own brand.
While watches of great complexity and fine beauty are where Speake-Marin built his considerable reputation, recently he's been branching out, embracing if not the mainstream, then something like it. Brands from Zenith to IWC to Bremont have made the military pilot's watch — black dial, white luminescent markings, rugged, old-fashioned style — a mainstay of the modern watch market, for which Speake-Marin offers a more specialist, and perhaps simply more special, alternative.
Under the name 'Spirit', these are terrifically elegant, hugely wearable pieces that seem both intrinsically familiar and yet utterly unusual. (Pictured above: Speake-Marin's Spirit Seafire.) The chronograph version, released this year, is a particularly beguiling thing and at around £5,000 still has all the independent cachet (and rarity) of a De Bethune or Voutilainen piece at a snip of the price.
WATCH NOTES
It might seem inelegant to plug one's own shindig, but for watch collectors this one's a must: from 6-9 November the magazine I edit, QP, takes over the Saatchi Gallery for what we believe to be the best gathering of high-end watchmaking anywhere. SalonQP will host around 70 watch brands, from power players like Jaeger-LeCoultre, Chopard and Rolex off-shoot Tudor to niche players like Kari Voutilainen and De Bethune. There's also a programme of seminars, cocktail parties and special events.
salonqp.com
Nick and Giles English, the aviator brothers behind Bremont, have pulled off a coup with a limited watch range containing in its movement tiny fragments of fabric from the Wright Brothers' original aircraft. They followed this up with a range of six watches created in partnership with Jaguar to go with six lightweight E-Types. Both the Wright Flyer and E-Type watches contain Bremont's first exclusive movement.
bremont.com
Rolex sub-brand Tudor may take its name from British monarchical history, but having gone off the boil in the Nineties it had been out of the UK market since the early Noughties. However, it's back, and with a slew of suave watches that draw on the brand's rich and rugged history, all in the £1,000-£3,000 price range — meaning, as the brand always used to, a more affordable way of accessing Rolex cachet and cool.
tudorwatch.com