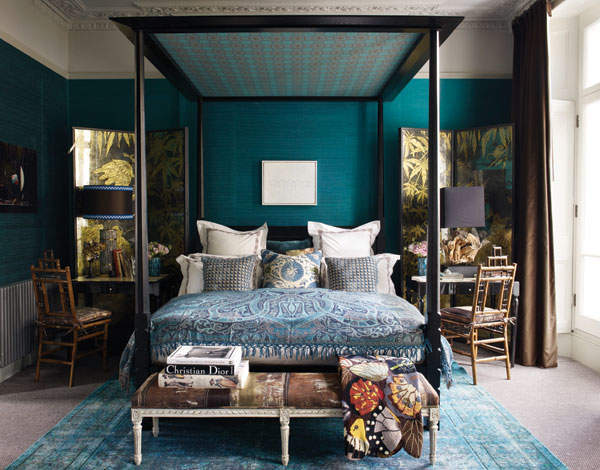 If there is one figure who filters through late-20th-century design for the chic set, it's Mark Birley. Hubert Zandberg, no mean designer himself, immediately cites Birley as one of his interior design heroes, along with Madeleine Castaing and Jean Cocteau (not as obvious but delightful still). According to Zandberg, the essence of a good interior designer, which Birley could certainly have been said to possess, is 'a strong opinion and your own sense of style combined with empathy and a willingness to understand others'.
Zandberg works a lot abroad. At the moment, he is renovating an hôtel particulier on the Avenue New York, a large family home which requires a full-fit out 'in a very French style with reference to Napoleon III'; a Modernist penthouse refurbishment in St Moritz; and a grand apartment in central Moscow in 'glamorous Forties style with a number of artisan furniture pieces'.
There are projects he recalls with particular fondness: 'We were privileged to do the renovations and interior design of an 18th-century hunting château in the Loiret area of France. The client allowed us to do an updated version of the original château with contemporary elements, in addition to the traditional and practical requirement of the hunt and shoot.'
Another allowed him to bring his brand of sophistication to the Midlands: 'The flagship showroom, factory and headquarters for shotgun-maker Westley Richards in Birmingham allowed me to draw from my African heritage and my childhood love for nature and the outdoors.
'With the owner, Simon Clode, we laid the groundwork for updating this well-established heritage brand. The quality and immense attention to detail that are required during the manufacturing process at Westley Richards were a huge inspiration.'
That mention of his African heritage refers to his childhood 'surrounded by the overwhelming beauty of the Southern African Karoo', a semi-desert region. His route into interior design was circuitous, studying law and business in South African before relocating to London to engage with European culture.
In his words, he 'got stuck' in London, but it seems to have been happy-stuck: he was working for interiors guru David Champion and later formed Champion Zandberg with him. The origins of Hubert Zandberg Interiors are more mysterious: he does not remember how it came about, 'only that I was young and brave enough at the time to take the plunge'.
Since then, he has evolved a variety of design manners: 'Hubert Zandberg Interiors does not conform to a house style. Our aim is to create culturally informed, layered, textural interiors that stimulates visually while catering to the lifestyle requirements of the client. The three contending factors that drive the style are the client's personal style and needs, Hubert's knowledge and aesthetic, and the location.
'We often draw on 18th-century references, the 1940s and Modernism for inspiration, often presented in a contemporary manner. The eclecticism that is recognised in our work is clearly inspired by my own diverse passion for collecting. This allows me to combine and juxtapose elements of diverse cultures, epochs, art movements and craft styles.
'It would be short-sighted to limit oneself to one design. It is our company's constant search for new and original designs, suppliers, artists and craftspeople which often distinguishes us from other more "template" styles.' He boldly rejects the of-the-moment: 'I try to not notice trends or certainly not to follow them. It is, however, impossible not to recognise the current return to layered interiors with a strong emphasis on collecting (especially Contemporary art).'
And what is the biggest compliment the South Africa-born designer has been paid? 'A client once said to me after entering his newly refurbished home, "You've changed the air."'
hzinteriors.com | 020 8962 2776