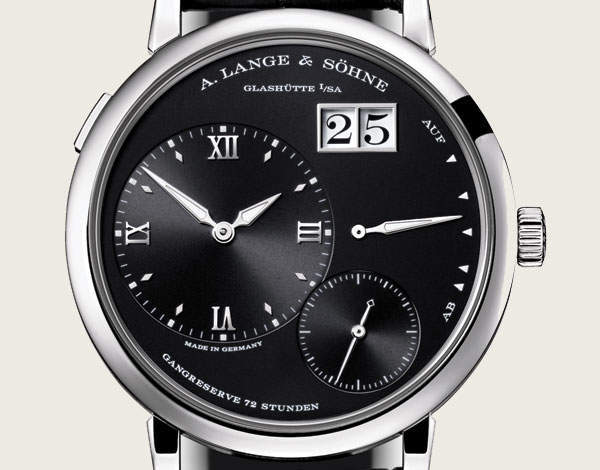 Should an aria be dragging on in Dresden's grandiose opera house, the Semperoper, audience members who glance up above the stage may find themselves wondering if time really is standing still. Overlooking the auditorium is a clock, one in which the time only changes every five minutes. This, in fact, is the world's first digital clock — not digital as in electronic, but in that it presents two large, ornate windows in which digits appear, one for the hours, one for every fifth minute. If the latter changes twice during an aria, therefore, you can be forgiven for getting a bit twitchy.
Installed in 1841, the Semperoper's Five Minute Clock is an ingenious device involving a pair of cylinders on which the numbers are painted, which then rotate through the respective windows. Created by Johann Christian Gutkaes — watchmaker to the royal court — and his talented assistant Ferdinand A Lange, it symbolised the inventiveness and eminence of 19th century watch and clock making in Saxony.
And so it does for modern German watchmaking, in a way. Its look directly inspired the elegant two-window date display that has become the calling card of modern-era A Lange & Söhne, the company subsequently founded by Ferdinand. The first watch to carry this date display, the Lange 1, appeared just twenty years ago and was acknowledged instantly as a classic, with a bold asymmetry that is nevertheless tremendously harmonious, thank to proportions that supposedly derive from the mathematical principle of the golden ratio.
While twenty years may not seem long in the horological scheme of things — Patek Philippe is celebrating its 175th birthday and Vacheron Constantin has been running for over 250 years — it's a significant milestone nevertheless. A Lange & Söhne is now just about equal in prestige to those two companies, while German watchmaking — most of it based alongside Lange in the tiny Saxon village of Glashütte — is booming. Yet by rights, it shouldn't exist at all; 25 years ago it didn't.
Glashütte is a small, exceptionally tranquil town squeezed into a slender valley in the Ore mountains, fifteen miles from Dresden and not far from the Czech border. Originally a silver-mining village, it had fallen on hard times when in 1843 the young Ferdinand Lange — along with a small cluster of fellow horologists — proposed the idea of establishing industrial watchmaking there. In this unlikely backwater, Lange began training watchmakers and building his company.
Within a few years, a cottage industry of small watch producers and parts suppliers had materialised, while Lange's business grew, producing pocket watches that were magnificently executed and frequently innovative. In the 1870s his sons took it on, changing the name to A Lange & Söhne; by the early 20th century, it was recognised as a producer of some of the most prestigious pocket watches in Europe, rivalling the best of Switzerland and patronised by the grandest royalty and aristocracy, while the local industry around it was flourishing.
It was only during World War II that A Lange & Söhne started making wristwatches, supplying big navigational pieces to Luftwaffe pilots (understandably, Lange today prefers not to celebrate this). On 8 May 1945 — the very day Germany surrendered unconditionally — Glashütte was bombed and the Lange premises destroyed.
Though some watchmaking continued and the Lange family attempted to rebuild the factory, in 1948 the Soviet regime in Eastern Germany expropriated the entire town's industrial capabilities. A Lange & Söhne and the other independent brands and businesses ceased to exist; Glashütte's watchmakers were put en masse to the job of supplying the Soviet bloc with low-grade timepieces — the horological equivalent of the Lada car. Glashütte's status as a centre of serious watchmaking excellence very suddenly passed into history.
Or rather, it was put on hold. Ferdinand's great-grandson, Walter Lange, had been recuperating from battle injuries when he witnessed the factory's bombing in 1945; after the expropriation he escaped to West Germany (the alternative was being forced to work in a Soviet uranium mine), where he worked in the watch business in the jewellery centre of Pforzheim. He had retired by the time the Berlin Wall came down in 1989, but the following year he teamed up with Günter Blümlein, a luminary of the Swiss watch industry, and returned to Glashütte with the aim of reviving serious watchmaking.
'A Lange & Söhne then was only a myth, it didn't exist,' says the company's head of watchmaking, Anthony de Haas. 'They used to make very nice solid gold pocket watches, but that was it. To rebuild the brand in 1990 in the former East, everyone laughed about it. You want to re-create a luxury brand in Glashütte, in the land of the Trabant and standing in line for oranges in the shop? People here didn't know what luxury is — but they were still damn good watchmakers. That had remained.'
Only just. There were fewer than 50 watchmakers employed in the town in 1990, but the skills and knowledge still lingered with locals who had spent 40 years in other industries. Nor was Lange alone in aiming to revive Glashütte watchmaking. Heinz Pfeifer, a businessman and watch collector, bought up what remained of Glashütte Uhrenbetrieb, the GDR state company into which the town's various old watchmaking companies had been amalgamated in 1948. The company he founded, Glashütte Original, now sits alongside Blancpain and Breguet in the Swatch Group stable of haute horlogerie brands.
Another businessman, Roland Schwertner, founded Nomos Glashütte in the same year, initially running it from a friend's kitchen. Nomos is a true phenomenon of the modern watch industry — from such humble beginnings, it was producing its own movements in-house by 2005. It now turns out thousands of beautiful, Bauhaus-flavoured watches each year, all of them with its own movements, from prices as low as £1,000. Pound (sterling) for pound, Nomos offers arguably the best-value watchmaking in the world.
A Lange & Söhne, however, operates in an entirely different orbit. Last year it produced its first Grand Complication, based on a stupendous pocket watch from the late 19th century, which meshes together a galaxy of the most complex functions, including various chiming complications, rattrapante chronograph and perpetual calendar. It costs well over £1 million, takes several months to produce (only two watchmakers are currently capable) and the waiting list is lengthy.
One can look at any A Lange & Söhne watch, however, to see examples of what makes the finest German watchmaking distinct. To many aficionados Lange produces the most beautiful mechanisms of any watch company: the milky tones of German silver plates are offset by pink ruby bearings and blued steel screws, all brought to an almost impossibly radiant level of hand-finishing, while the arm that holds the escapement of every watch is intricately engraved with a personal pattern unique to each of Lange's six engravers.
'This is not only tradition, hand craftsmanship, fine mechanics, but also that little extra,' says de Haas. 'That's a typical German style, it's different from Swiss. If you close the door of a German car, you sense the quality, you feel it and you enjoy it. It's conservative, but it's effortless. German watchmaking is the same.'
And as he points out, all this draws on the old traditions and watchmaking styles established by Ferdinand Lange, Gutkaes and their ilk. If the Lange Big Date window, in its reference to the opera clock, is a reminder of those traditions, it's a reminder of something else too: like so much of central Dresden, the Semperoper was all but destroyed by the appalling Allied firebombing of early 1945.
It was eventually, over decades, restored to its former glory — including the Gutkaes/Lange digital clock. With enough dedication and tenacity — perhaps of a peculiarly German kind — greatness really can be brought back from near destruction. It's a story of catharsis that enriches every watch produced in the little old mining town.
WATCH NOTES: THE DRIVING SEAT
One of the great heroes of the 20th century watch industry is Jack Heuer, a man whose passion for watches and stopwatches — the latter being the main business of the Heuer marque until the 1980s — is second only to his passion for racing cars.
In the 1960s he pulled off the unheard of marketing coup of getting the Heuer name on Ferrari's Formula One cars, and the company has remained joined at the hip to the world of motorsport ever since. These days TAG Heuer sponsors the McLaren team.
Your correspondent passed a rather magnificent summer's day — along with some of the brand's major collectors, plus Lewis Hamilton, Jenson Button and Sir Stirling Moss himself — in the TAG Heuer Drivers' Club at the Goodwood Festival of Speed. In September the new series of global city races in futuristic electric racing cars, Formula E, gets under way, and naturally TAG Heuer is the major sponsor. tagheuer.com