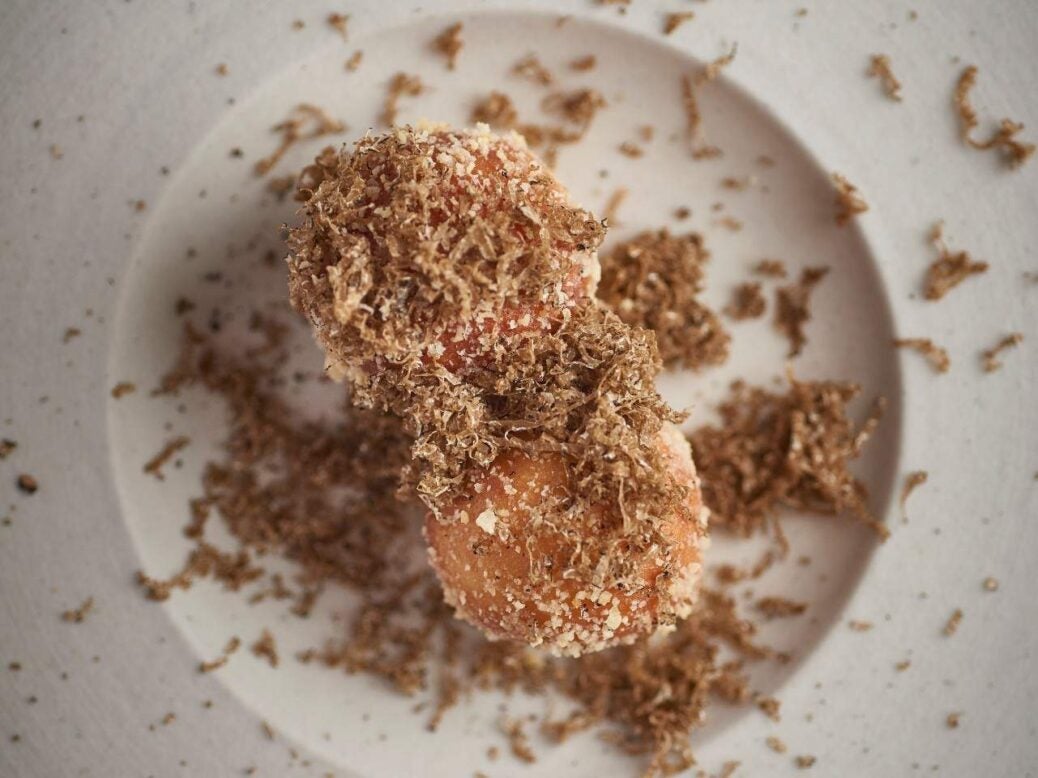 At Adam Handling's flagship restaurant on Southampton Street, you can see the man himself cooking in the open kitchen. It's some performance, writes Christopher Jackson
I once attended a performance of Mahler's Third at the Proms. Afterwards, while waiting for my wife to return from the bathroom, I overheard two ladies chatting. One said to the other, 'Do you know, it's always nice to see anything done well.'
As my italics suggest, all her emphasis was on the word 'see'. And she had a point. This desire to bear witness to human achievement first-hand is still a lively aspect of our culture. If we were built in any other way, we would all be indoors experiencing life vicariously on the Internet.
But cooking traditionally doesn't have this air of performance. The image of the chef is instead of someone concealed: a secret weaver and preparer – part-elf, part-magician.
But every theory needs its revisionism – and so the idea of the open kitchen was born. Of course, there's nothing new under the sun. Cooking was first conducted on the open savanna fire, after all, and there is something primal and meditative about watching food prepared, even food of great sophistication like Handling's. In Naples, part of the pleasure is to see one's pizza enter the oven, heatless and naked, to be robed by agency of fire, in sizzle and crispness, in new colours.
I therefore applaud Adam Handling for being there at lunchtime when I went to eat his excellent food. The restaurant on Southampton Street is his flagship establishment, tucked away in theatreland, not far from Embankment. It aims for 'fine dining in a casual atmosphere' and is not to be confused with its (also superb) sister restaurant in Shoreditch, known as The Frog E1. Handling then, like Jamie Oliver, has imperialist ambitions; but unlike Oliver he is wisely opting not to open tens of eateries, but one at a time.
Ours was a five-course tasting menu. There's also an eight-course option, but we decided that that would be too decadent for a Wednesday. Throughout, Handling presented an image of immense concentration – a mixture of Rodin's Thinker and a figure out of Dürer's Apocalypse.
It must be said that with his tattoos and tough look, he isn't one's natural idea of a masterchef. But the clue is the obsessively knitted eyebrows. There is monomania here. To succeed in the world of fine dining, there has to be. Even so, compared with the likes of Michel Roux Jr. who meets all his lunch guests every day at Le Gavroche, Handling is the quiet performer, more Bjorn Borg than John McEnroe.
And so to the food. And so, as importantly, to the wine, which is expertly sommeliered here by Kelvin McCabe, with assistance from group bar manager Tim Laferla.
Our starter was celeriac, date, lime and truffle – a magnificent suite of flavours which I doubt anyone but Handling would have put together. This ceded to barbecued mackerel, tartare, cucumber and limed yoghurt. The cucumber came cross-hatched atop the mackerel, and the cold fish, like some memory of the sea, burst through. All this was judiciously paired with a 2017 Grüner Veltine – the best saltwater imaginable.
By now, my companion was already saying that he would recommend both this place and its counterpart in east London to all his friends, and I was making agreeing noises through a full mouth.
After this came the cod, smoked eel, cockles and kolahbri. This, in spite of my minor fear at eating eel of any kind, was wholly delicious, the cod flaking off the fork as if it had a horror of metal and was adamant for its ending-up. Handling didn't even glance our way as we stated our approval at more wine-filled volume. But then Borg never betrayed any emotion at set points.
We were in need of meat and this was duly provided with the succulent – and beautifully presented – Lamb Wellington, carrot and mint. I noted particularly the love given to the carrot: with Handling, nothing is there incidentally – it is all on the plate exactly where he wants it to be, for a particular reason. This is another way of saying that he's an artist.
It is nearly incredible to report that we finished with not one dessert but three. Things began to blur in a flood of ice creams, whipped cream and pudding wine. Handling was revealing his generosity, and I'm not entirely sure I didn't see his lip curl with satisfaction ever so slightly as we continued to state the quality of the afternoon.
'There's no art to find the mind's construction in the face,' as Shakespeare's Macbeth has it. As Handling frowned his way through our final chocolates, my companion began to wonder if he could manage any more food, and his wines began to be half-unfinished. But we came out delighted. If this had been the Albert Hall, the applause would have suggested not Mahler but the Beatles.
Christopher Jackson is deputy editor of Spear's