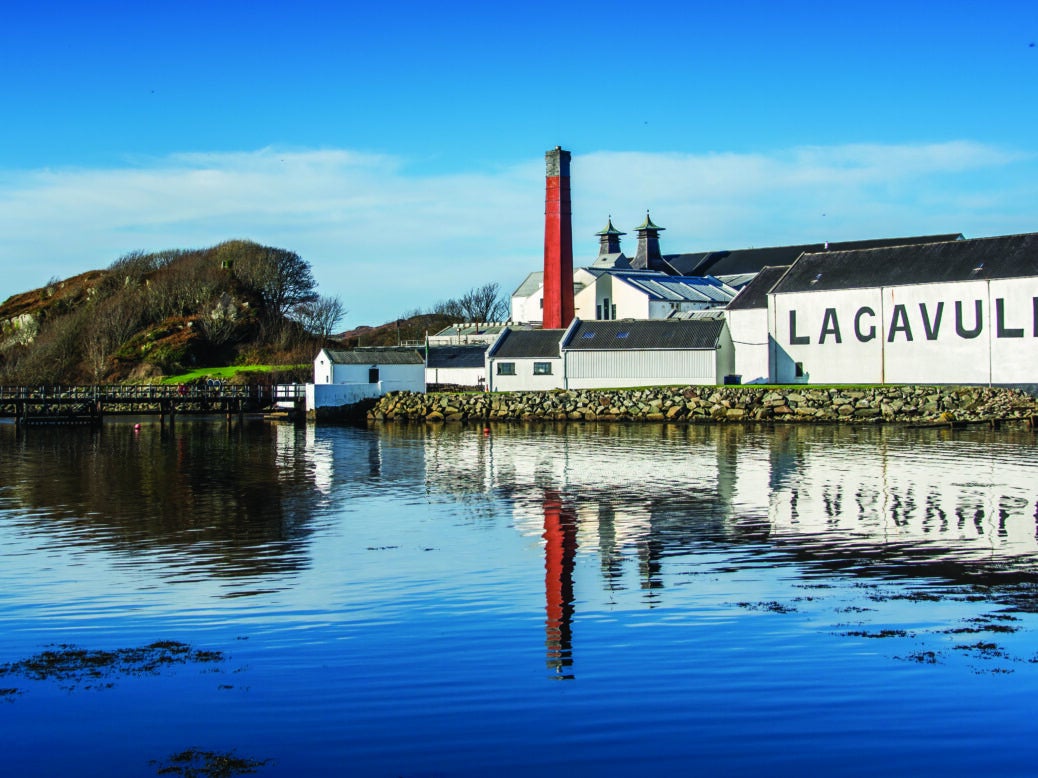 Whisky is now a global industry, but the 'Queen of the Hebrides' still holds its beating heart, says Alex Matchett
We were lucky, they said; sometimes you're stuck in the air, turning slow circles over Laggan Bay while the early-morning wind flecks white on the slate sea. Fortunately we were on time, rather than early, the airport was open and our flight was able to touch down on Islay without an enforced sojourn over the greying waters. Although it sits west of the Mull of Kintyre, flush in the face of a tempestuous North Atlantic, Islay's sense of periphery ends on the atlas page; in reality this sparse, rugged and beautiful island is at the very centre of a global demand that has never been stronger: that for whisky.
The 'Queen of the Hebrides' claims an impressive provenance in the production of the uisge beatha, or 'water of life'. Eight distilleries huddle along the shores, each making its own version of the smoky, peated single malts that have earned Islay whisky its own categorisation. Bowmore has the oldest recorded distillery, dating from 1779, but undoubtedly there were operations before that, hiding in coastal crags away from the customs and duties officers. That illicit tinkering has now morphed into the island's dominant economy (whisky is the theme for the island's seamstresses, weavers, brewers, jam-makers and chocolatiers), the surreptitious stills replaced by world-renowned brands upholding the Islay image, epitomised by the three proud warehouses sitting adjacent to the sea, their whitewashed walls emblazoned 'Ardbeg', 'Laphroaig' and 'Lagavulin'.
It's on the now defunct malting floor of the last of these that we're taken through the heritage of whisky-making: malting the barley, turning it by hand and smoking it over the island's signature peat. That history sleeps in the wooden floors, above which sunbeams catch the slowly falling dust; through the open door you can see and hear the waves crashing beneath the ruins of Dunyvaig Castle. It's a compellingly romantic tapestry, a marketer's dream, and it might just be the well-woven elixir the scotch whisky industry needs.
It's no surprise the world's most drunk whiskies remain blends, specifically Johnny Walker and Chivas Regal. One could be forgiven for seeing their blends as whisky for the masses compared to the connoisseurs' single malts, but the leading blends are keen to challenge such assumptions — not least because their marketplaces are increasingly competitive, the Chinese boom years are over and their blends are made of these malts.
During last year's London Cocktail Week, Chivas Regal hosted blending masterclasses, helping punters associate with scotch's different categories before making their own blend. Over my self-composed drams, benefiting more from serendipity than skill, brand ambassador Phil Huckle explained that although scotch was under pressure from established competitors such as Japan and the US, as well as upstarts such as Taiwan and Tasmania, it wasn't about to lose what made it special: 'Other whisky countries can come in and they can start doing different things, but you cannot replicate the environment of Scotland. You take Laphroaig as an example: their warehouses are on the coast. When you drink Laphroaig you are picking up some salty, seaweedy, briny notes that come from the air. Glenlivet sits in a beautiful mountain valley — when you go you can smell the air.'
That's not to say that other distilleries worldwide don't have their own air, water and ageing variables. Notably Japanese whisky (closer to scotch than Irish whiskey is, says Huckle) has had an apprentice-like relationship with scotch since 1923 when Masataka Taketsuru returned from Scotland with Rita Cowan to establish the Japanese whisky industry, resulting in the leading arm of the Suntory beverage company. The apprentice, it seems, has now become the master, as Suntory's Yamazaki Single Malt Sherry Cask was awarded Whisky of the Year by Jim Murray's Whisky Bible 2015.
Such awards are obviously subjective but do reflect a significant growth in Japanese whisky and its traction on, and demand in, the high-end market: Yamazakis have become rarities, as have Suntory's ultra-crafted Hibikis. Suntory brand ambassador Zoran Peric can remember the surprise he used to encounter as a barman, but no longer: 'These days it's amazing, the last five years have been really, really good. Now it's a category, you don't need to spend time persuading people that the product is good.'
We're sitting in the Chiltern Firehouse's Ladder Shed bar, where demand has seen Suntory become its most popular dram, and not always as a short drink: the Japanese penchant for highballs, and whisky over de-oxygenated, slower-melting ice has added new dimensions. 'They are very distinct from Scottish whiskies,' says bar manager Luis Simoes. 'A lot of round finishes, it's well pronounced but very delicate, it's very easy to drink and very appealing to the feminine side.'
Such distinction has given Japanese whisky not only complexity but also an accessible smoothness, something drinkers increasingly appreciate in high-end American rye whiskies, demand for which has also soared in the UK. 'Clearly if you looked at the world of whisky ten years ago and the world of whisky now, the principal difference is a whole range of New World whiskies,' says the head of Diageo's whisky outreach, Dr Nick Morgan, 'and it has to be said that many of these whiskies are pretty good.'
What does that mean for Islay, in so many ways a microcosm of the scotch single malt industry? Morgan doesn't see a threat, complimenting scotch's diversity of taste and quality regulation. But therein lies the conundrum: are multinationals such as Diageo the right vehicle to protect that diversity? 'It's one of a number of vehicles,' says Morgan. 'If you look at Diageo we have 28 malt distilleries which represent around 35 per cent of production. If you were to look at the new make character from those distilleries they're absolutely different, if you look at the mature character they're absolutely different. I think you'll find, size notwithstanding, Diageo is a very good thing for scotch whisky, and scotch whisky would miss us if we were not here.'
The old maltings floor at Diageo's Lagavulin lies idle because malting is now done down the road at the Port Ellen plant, a modern building boasting the largest malting drums in the northern hemisphere. There are big numbers here: Diageo is halfway through the five-year application of a £1 billion investment into scotch, while Suntory's recent acquisition of Beam Inc for $16 billion means Laphroaig now has a Japanese parent.
Such investment comes with the knowledge that there is good reason why single malts are leading a whisky resurgence following two lean years. Morgan credits single malts with stimulating sincere growth: 'It's being driven not by global overseas markets and people saying, "Oh, it's the Chinese, they've got lots of money, they don't know what they're drinking." It's not that, believe me, it's global connoisseurship which is having a similar effect on the art market [and] fine wine market. Where there is finesse, or vintage, or rareness, then people will move towards these products.'
An example of that is the recent fifteenth Port Ellen release, a 32-year-old malt bottled by the distillery last year. Currently at £2,400 a bottle, it's likely to follow its forebears and increase ten times in value.
'Is there room for David and Goliath in scotch? Absolutely,' says one insider, but not as adversaries. Islay's whiskies instil an emotional loyalty. 'It's the biggest small industry,' says Donald Colville, global scotch whisky ambassador for Diageo. 'Islay is the personification of that, you embrace it when you're there.' For now it seems the island's famous brands can only benefit from the corporate Goliaths, to make them not only profit-turners but also flagships for the industry and, more importantly, its artisans.