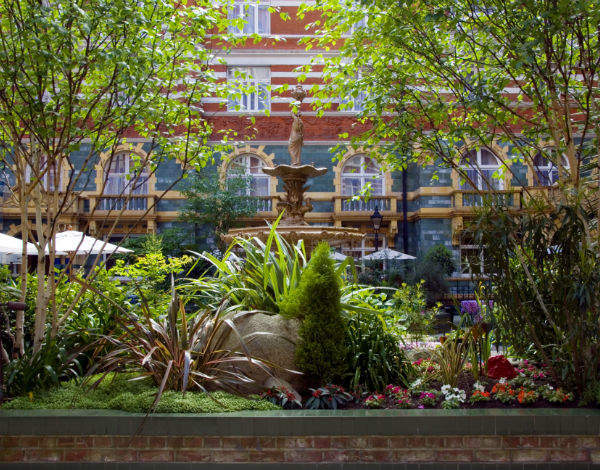 Author: Romy van den Broeke


Brew Café, Wimbledon Village
A favourite hang-out of Maria Sharapova and Andy Murray, Brew Café are opening out their recently astro-turfed vista for Wimbledon. The Wimbledon Village high street café will be showing all of the matches during the two-week tournament, all of which can be enjoyed over a helping of Wimbledon strawberries and cream pavlova and a refreshing Wimbledon Collins. You'll almost be pleased you missed out tickets to centre court.
45 Northcote Road, SW111NJ; www.brew-cafe.com
Christabel's Wimbledon Wonderland, Maida Vale
Pop-up pro, Christabel Beeson, is back with more playful supper clubs this Wimbledon season. She will be hosting Wimbledon Wonderland lunches on a grassy rooftop in Maida Vale during the semi-final and final. Beeson will be serving creative dishes such as edible tennis balls and more classic summer pickings such as vats of strawberries and BBQ grub. Tickets are only £25, so adorn your tennis whites and head down.
Granary Square, Kings Cross
Granary Square in Kings Cross is one of our favourite places in London to watch Wimbledon. The area has been filled with fifty free of charge deck chairs; so head there, grab a glass of Pimm's and a punnet of strawberries from Green & Fortune Café, and soak up the atmosphere, it's electric.
Kings Cross, N1C; www.kingscross.co.uk
Bluebird, Chelsea
This King's Road eatery has come over all patriotic and decided to astro turf their terrace for Wimbledon. Equip with a giant outdoor screen for premium viewing, a Moet & Chandon Champagne bar and an all-day BBQ. For the Men's finals avid tennis supporters can book tables on the pretty Courtyard and enjoy a 3-course Wimbledon themed menu that concludes with your choice of Eton Mess or Pimm's jelly.
350 King's Road, SW3 5UU; www.bluebird-restaurant.co.uk
Murray Mount, Wimbledon
This round up wouldn't be complete without mentioning classic Wimbledon viewing site, Murray Mount, formerly known as Henman Hill. Get to the site early, queue for a while, and nab passes to the surrounding grounds at Wimbledon and watch the games on the big screen. Take a picnic and while away the day in Wimbledon.
The Henry Root, Chelsea
Charming Chelsea pub, The Henry Root, will be broadcasting all of the Wimbledon matches alongside a Wimbledon exclusive food menu. Tuck into British classics such as cucumber sandwiches, strawberries, meringue and cream, and slurp on festive cocktails like the Wimbledon strawberry daiquiri, whilst catching all of the tennis action live.
9 Park Walk, SW10 0AJ; www.thehenryroot.com
Coq d'Argent, Bank
Exclusive restaurant in Bank, Coq d'Argent, are hosting a Wimbledon screening on the beautiful upper terrace for the duration of the games. Sponsored by Moet & Chandon, guests can indulge in champagne or tennis-themed cocktails such as The Wimbledon – Moet with Mandarin Napoleon cognac, 10 year old Glenmorangie whiskey and bitters – or The Centre Court – Belvedere vodka hard shaken with cucumber juice, apple juice, sugar syrup and lemon.
No. 1 Poultry street, EC2R 8EJ; www.coqdargent.co.uk
Barts, Chelsea
Chelsea's "worst kept secret", Barts Speakeasy, are showing every Wimbledon match over the next two week in their secret garden. Tennis fans can head to the intimate viewing venue from 6pm every day during the games, and from midday on the day of the final, all whilst glugging down bargain jugs of Pimm's.
Sloane Avenue, SW3 3DW; www.barts-london.com
Pont St., Knightsbridge
To celebrate the return of Wimbledon, Pont St. restaurant in Belgraves hotel in Belgravia, are hosting themed afternoon teas during the tennis season. Fans can catch all the matches whilst digging in to a Wimbledon inspired afternoon tea in the restaurant's verdant garden or on the contemporary terrace. More a feast than a tea, guests will be treated to scotch eggs, mini pork pies, mini Pimm's trifles, Eton Mess shots, strawberry shortcakes and Tennis-ball iced biscuits.
20 Chesham Place, SW1X 8HQ; www.thompsonhotels.com
The Courtyard at Taj 51 Buckingham Gate, St James Park
The Courtyard at Taj 51 Buckingham Gate is inviting guests to watch Wimbledon and dine al fresco in their beautiful courtyard over the next two weeks. Guests can really get in the mood for the games by ordering the special Wimbledon Afternoon tea. Expect British favourites such as scones with strawberry preserve, Earl Grey Tea shortbread, flower and strawberry panna cotta and scrumptious finger sandwiches packed with typically English fillings such as English cucumber and minted cream cheese on beetroot bread.
51 Buckingham Gate, SW1E 6AF; www.51-buckinghamgate.com