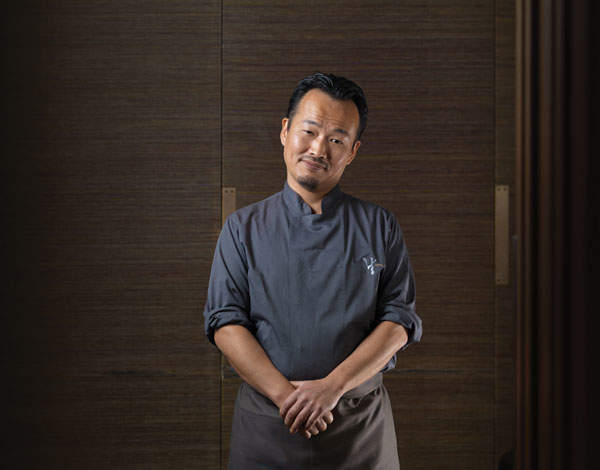 At first the fishermen of Newlyn in Cornwall were a little bemused. It was late summer in 2010 and notes started to arrive through the letterboxes of the busy fishing port that neighbours Penzance. The same missives arrived at fishmongers, some were dropped into boats, others landed on the desks of those who ran the local fishing associations.
The note was entitled 'Revolution in Fish and Chips'. The words seemed a somewhat mangled, the sentences clearly not written by a native English speaker. 'Does anyone have a passion to make revolution for fish and chips?' the first sentence of the short letter began. 'I want to build a relationship with fishermen and share ikejime concept with them,' it continued. 'We will pay more for the quality.'
At the start, the letters had been delivered by hand. Now they were being sent from London and were arriving in their hundreds. The source, it transpired, was a Japanese restaurant in Mayfair. A new executive chef had arrived at Umu, a sleek establishment on Bruton Place. And whenever he had a break from cooking, he would sit at a table in the restaurant and send out another batch of letters.
The chef's name was Yoshinori Ishii and he wasn't happy with the quality of fish on the UK market. Yoshi was a fastidious chef whose past roles had included head chef at the residence of the Japanese ambassador to the United Nations in New York.
He had grown up in a suburb outside Tokyo and was a keen fisherman himself, and from his years of training and the thousands of hours he had spent handling fish, he knew the grade he wanted. He didn't want to see any blood traces in the flesh, no signs that the fish had experienced stress on its death. He wanted gleaming skin and tender muscle. But all he could find were fish that indicated they had lain on deck after being caught, tainted by the sun and bruised by swilling around on the wooden decks of fishing boats
Yoshi knew just how he wanted his fish to be caught, handled, killed, brought back to shore and then delivered to his restaurant. But several trips to Billingsgate market had disappointed him. 'I was just so surprised when I came to London and saw all the fish at Billingsgate — it is all so tired-looking and old. The oldest stock is sold first and the fresher later, and fishmongers often wait until prices rise before they sell particular fish,' he says. A trip down to Cornwall had also been a failure. No one, it seemed, was doing it right, or rather as well as he wanted. So he started his letter-writing.
'At last someone got in touch me with me,' says Yoshi, 44, dressed in his chic bluey-grey chef jacket with its small white flourish of the Umu signature. 'I had a letter back from the Line Fishing Association in Cornwall,' he says as we sit in the dark restaurant one afternoon between service. 'They knew of a fishmonger in St Martin whose wife was Japanese and they thought he might be able to help.'
So Yoshi made another trip to Cornwall and discovered that the business was called Kernowsashimi, owned by a fishmonger called Dylan. 'Finally I found the sort of fish I was looking for,' he says. But most of it was being sold locally. Yoshi would be able to buy some of it for Umu, but not enough to sustain the restaurant's needs. The fish was nearly perfect. Dylan's fishermen were taking ice out to sea and putting the fish straight onto it after being caught. Yet Yoshi needed them to go one stage further. 'They had everything right, except for the way of killing fish,' he says. So there was only one way to get it right, and that was for Yoshi to meet the fishermen, go fishing and show them how he wanted the fish killed.
Doubtless the wizened men of the Cornish Celt peninsula, who spent long, tough days and nights out at sea, were a little circumspect about hosting a chef on their boat, a man who thought he could teach them how to kill fish. But out at sea, Yoshi explained the principles of ikejime.
'I showed them how they had to keep the fish alive after they were caught and landed on the boat. You then have to hold each individual fish and quickly insert a spike directly into the back of its brain. This causes it to die immediately. It is humane, there is no reflex action, the blood drains to the gut and does not seep into the skin, and the muscles remain relaxed.'
Yoshi then told them the importance of gentle handling straight on to the ice. And today, five years later, the fish that arrives at Umu is exactly the quality he needs, and from time to time to he still joins the fishermen as they head out to sea.
Today Yoshi is fulfilling the dream he has had since his teenage years growing up in the Saitama Prefecture north of Tokyo, to live in the West and to bring a taste of his own Japanese culture to it. Having attended a culinary college in Osaka and worked at a three-star Michelin restaurant in Kyoto, he managed to leave Japan when he landed his job at the United Nations.
Umu, which is part of Lebanese businessman Marlon Abela's MARC fine-dining restaurant group, is now probably the finest Japanese restaurant in the Western world. The food is the sort you'll find in the best places in Kyoto, offering a traditional kaiseki (tasting menu). Yoshi can be found most of the time working in the open kitchen in the restaurant, preparing sashimi and chatting to guests who sit at the bar.
'How I cut the fish is complicated and has taken many years of learning,' he says, 'But I do it according to its type and texture — so if the fish is sweet I might cut it thinner — and I cut it according to what I think the customer will like.' Just don't tell him you like how they do it at Nobu.