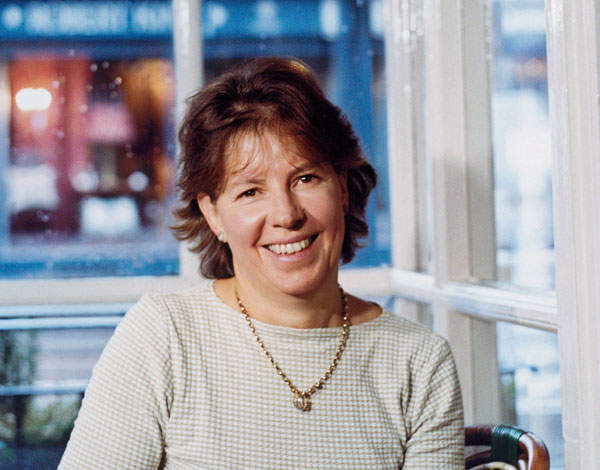 A sunny evening in Berkeley, California, in 1979. Along one of the leafy avenues of this prosperous and quiet neighbourhood walked Sally Clarke. A twentysomething chef, she had heard much about the restaurant she was about to visit, Chez Panisse.
It was this restaurant that, since opening in 1971, had been defining a new kind of American cooking. The menu choice was always limited, the style of cooking was French and the ingredients were strictly local.
Sally had come to the United States after studying at Cordon Bleu in Paris. There the unexpected had happened. The people who had the most energy, the most ideas and enthusiasm weren't French, but American. Their vitality was infectious and, says Sally, 'I caught the bug.'
Her course over, she headed straight for the west coast and found a job in a restaurant in Malibu. Then, as soon as she was able, she travelled to San Francisco and over the long Oakland Bay Bridge that led to the suburb of Berkeley. She had anticipated great things about Chez Panisse, but nothing like the effect it had on her.
'The moment I put my hand on the door handle I was spellbound,' she says. 'What was happening there was exactly what I had dreamed of doing since I was twelve or thirteen years old. The only way I thought you should run a restaurant was to do it as one does at home: you pick from the garden or the market, you choose what's best and that's how you create a menu.'
As she took her seat in the dining room, the light from the sun setting across the bay bleeding into the room, she was handed a piece of paper that changed her life. It was a menu, with no choice. 'I saw that this idea really could work and I thought, "Why can't I try this in London?" I've never actually thought that menus offering huge choice make sense.'
Over the following months, every free weekend Sally took a flight to Oakland airport and headed straight for Chez Panisse.
'I ate lunch and dinner, then lunch and dinner. I just ate,' she recalls. 'I never worked there, I just sat there like a sponge. I took everyone I knew there. It was the only place I wanted to be.' The menu was dictated by vegetables, salad and fruit and olive oils. Meat and fish were almost afterthoughts.
In 1984, she opened Clarke's on Kensington Church Street. She astutely noticed at the time that there seemed to be skips outside grand houses, many of which were split into flats and were dens of drug-taking. The area had potential.
As the first guests arrived, her father — an auctioneer and chartered surveyor — was still painting round the window frames. Her mother was doing the flowers. The extractor fan in the kitchen didn't work, and in the midst of smoke Sally realised she'd forgotten to buy the bread or cook the stock for the sauce for the main course.
The first course was a salad of pink grapefruit and avocado, main course was lamb (no doubt in a rather thin sauce). There was no choice. 'I just opened the door and hoped for the best,' she recalls.That was exactly 30 years ago. Today we sit chatting in a quiet back room of the restaurant, which has recently had a big refit.
'This was the ladies' lavatory,' she says. The main room is light and airy, with plenty of space between tables; the art is confined to a couple of huge forks and spoons, a few paintings by Lucian Freud, who always breakfasted here; and a large window looks on to a miniature garden filled with gravel, box hedges and herbs.
While Britain has been washed over with celebrity chefs, oscillating food trends, food TV and the opening (and closing) of hundreds of restaurants, Clarke's has remained resolute.
And, like its founder, quiet and determined, traits she appears to share with Alice Waters (although the latter is campaigning a little more vigorously and publicly for her beloved causes of feeding schoolchildren free of charge and encouraging schools to grow their own food).
Her no-choice menu is still there, although she caved in a little five years ago and now offers a small à la carte menu alongside it (but most regulars prefer the no-choice surprise anway). And while she hasn't become a TV star, no food writer worth their salt doesn'trecognise her influence.
In fact, Sally Clarke has defined Modern British Cooking alongside other talents who came to the fore in the 1980s such as Simon Hopkinson, Rowley Leigh and Alastair Little. Her passion for ingredients has never left her, food trends and fads being nothing more than a tiresome distraction.
'Vegetables, herbs and salads are my inspiration,' she says. 'So when I arrive here between 7.30 and 8am I see what there is and set my mind to the balance of the menu.'
And while others have expanded, opening chains of restaurants across the world, Clarke's has never spawned a sibling, although it does now have a successful bakery serving many clients, including Eurostar, and there is a deli across the road.
It's been 30 years of dedicated cooking, meaning few opportunities to try other people's food. While she does enjoy dinner at, for example, the River Café, she admits: 'I'm never invited to dinner parties. I must have been to ten in 30 years. Perhaps it's a compliment [everyone's too scared to cook for her] or perhaps people are bored of asking and getting a polite No!'
But each day, as she cooks, she imagines her inspiration from those days at Chez Panisse. 'That restaurant is the best in the world,' she declares. 'The ethos, the team, the support, the mutual love. I just aspire to that every day of my life. I've always got Alice on my shoulder; I ask myself with each dish if she'd like it.'
So, when Alice Waters paid her own tribute to Clarke by acting as maître d' for a week in October, it was more than emotional for both individuals, the staff and all the guests who flocked and crammed the place for each service.
Sally Clarke may have Alice Waters at her shoulder, but she has also had good taste, quiet thought and delicious endeavour at her fingertips these past 30 years — and we all might learn something.