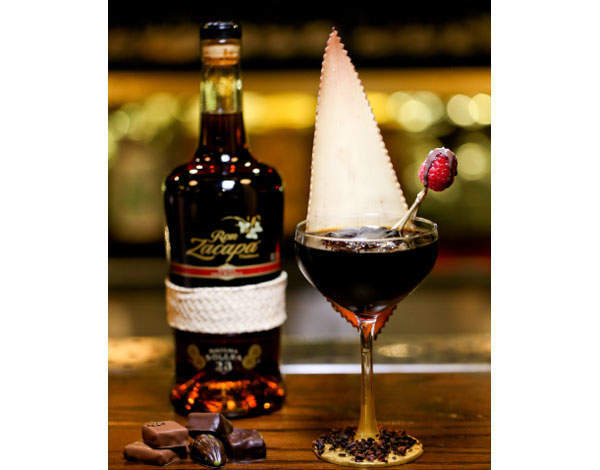 Spring is in full bloom, the Royal parks look as beautiful as ever and the weather is set to be nice for the next couple of days. But there's still one good reason why you should be going to a dark speakeasy bar off grimy Old Street this weekend.
Nightjar, which was named the second best bar in the world last year, will be serving a special cocktail during the long Easter weekend.
The Monterrico is a twist on the Tortuga cocktail and is made with Guatemala's Ron Zacapa 23 rum – a lovely rum with distinctive honey, spice and nuts notes. Thanks to the fresh lime and the orange liqueur, the drink is enjoyable and refreshing, and with the rum flavour to top it up it feels like drinking a candied orange peel.
Speaking of which, it's Easter, so where is the chocolate, I hear you saying. No need to worry, as the Monterrico will be served with a selection of ganaches by Rococo, the Kings Road-based chocolate-maker. (If you have never been to their shop, it has a nice little courtyard garden which is perfect if you need a pause during your shopping.)
The chocolates include a salted chocolate toffee with hazelnut praline, which pairs beautifully with the sweet flavour of the rum, a milk chocolate ganache made using the delicate Indonesian Jivara cocoa, and a Kalamansi lime caramel ganache, which is perhaps the most adventurous but is delicious and certainly the most original of the three. (Plus, since there is lime, I assume it counts as one of your five a day.)
But if you're too tired to go out after the Easter egg hunt, you can make the Monterrico at home by following this easy recipe:
The Monterrico
50ml Ron Zacapa 23
12.5 ml fresh lime
12.5ml homemade grenadine
20ml carob-infused Amer Picon
7.5ml Orange liqueur
Stir all ingredients over ice in a mixing glass, strain into a coupe glass and garnish with Rococo chocolates and toasted cocoa nibs on the base of the glass.
Marian Beke, the head bartender at Nightjar, uses a blow torch to make sure the chocolate sticks to the glass. If you're feeling brave, you can try it too. Otherwise, you can make better use of the sweet stuff and just eat it.
The Monterrico is available at Nightjar from Friday 18th to Monday 21st. To book a table, call 020 7253 4101
Click here to purchase a bottle of Ron Zacapa 23