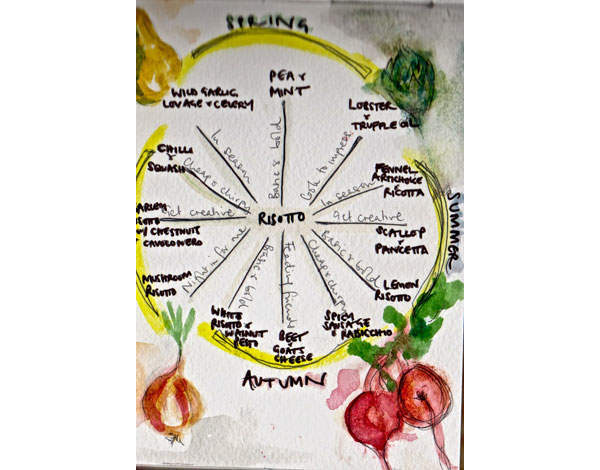 I have three new additions to my buckling cookery book shelf – each very different but still, they all deserve a mention and a few moments of your time should you pass them in a bookshop.
The first to drop on my desk was The Kitchen Magpie by James Steen. This cute little orange book is full of anecdotes, facts, tips and recipes and some general silliness. There are contributions from Mary Berry, Ken Hom, Jason Atherton and Pierre Koffman as well as many others.
Raymond Blanc is quoted on the cover as saying it is 'a very funny, joyful celebration of food' and he is right. If you are looking for a serious book on the history of food this isn't it but if you are keen to rediscover the fun and sheer Bacchanalian pleasure of food in a slightly bonkers format you will thoroughly enjoy this.
Sections include 'the first aid kit', 'the oven', 'the kettle fish' and 'the window box' each split into smaller sub-sections to guide you through everything from ancient treatments for burns to what makes champagne bubbly. Many of the sections end with a different chef giving their opinion on the food of love with answers ranging from chilli to sea urchins and peaches. A great book to dip into while stirring risotto.
Icon Books, £12.99
Then came Honey & Co Food From The Middle East by Sarit Packer and Itamar Srulovich. This is the debut book from the married couple behind the much-loved Honey & Co café on Warren Street. This isn't a book for people who want to get dinner sorted in five minutes but rather one for people who enjoy being in the kitchen and taking time over their meals. Not to say there aren't quick dishes and salads – there are – but that isn't the point of this book.
The book is a celebration of cooking bringing people together, not only Sarit and Itamar, but families and friends too and there are many recipes that are family classics or in honour of loved ones. The food is both comforting and exciting – both authors have worked with Ottolenghi and so for those who have his books you will find many familiar ingredients here.
Everything is covered from dips and slow cooked dishes to 'Everything', which you will find on page 17. It is a simple condiment that the authors use with, well, everything. There is much to cook in this book but also much to read with introductions filled with stories from Sarit and Itamar's lives. It is a really lovely, personal book and one I look forward to cooking with.
Salt Yard Book Co. £25
Last up, reaching me just a few days ago is Rosie Ramsden's The Recipe Wheel. I'm very fond of this book, partly because Rosie is just lovely and partly because it is simply such a nice idea. She takes one core recipe and technique – be it risotto, white bread or custard – and from that come a number of elaborations.
From custard you have custard tarts, brown bread ice-cream, roasted garlic and goat's cheese tart with walnut pastry and many more. All of the recipes are helpfully marked up in categories that range from leftovers, no frills and creative to night in, meals for friends, meals to impress and quick fixes. This way you can choose how creative you want to be, how long you want to spend and how frugal you would like to be.
The recipes all sound delicious and are clearly set out with preparation time and cooking times so there are no surprises other than how clever this book is and how versatile the core dishes are. It is beautifully illustrated with Rosie's own watercolours and the 'wheels' at the start of each chapter are a real pleasure to look at. I can tell that this book will be one I often reach for when I'm in need of inspiration. A real gem of a cookbook.
Ebury Press £18.99