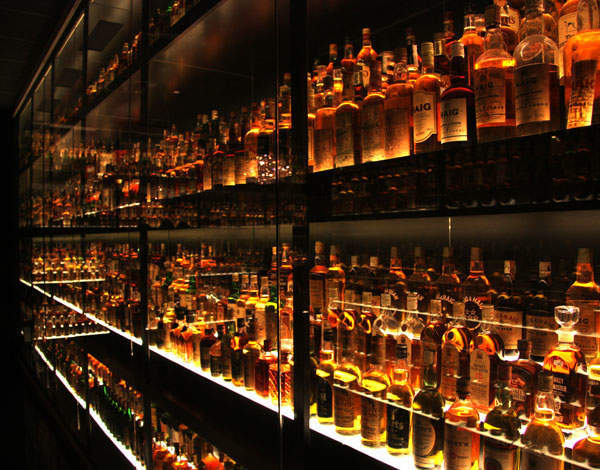 Scotch has taken a beating recently. The home of whisky seems to have passed its crown to the likes of Japan – Yamazaki Single Malt Sherry Cask 2013 scoring highest in the Whisky Bible, and Australia – Sullivans Cove winning world's best single malt 2014. But there's no need to abandon the Auld country just yet, even if its big movers are currently more endorsed than acclaimed.
Haig Club, the square blue perfume bottle patronised by David Beckham, has recently parked up on pub high shelves. Looking like a Range Rover Sport at a classic car rally it's not being subtle about the market it's targeting. With its brash blue bottle and Hollywood look it really is a Hollywood whisky: made as much for the camera as the palate. Having spoken to those working in the industry, on both sides of the bar, I expected it to receive the sort of reaction uptight golf club members reserve for the punk who has deliberately parked in the chairman's space. However nothing could be further from the truth, Haig Club has been welcomed as the glamorous stretch limo to transport a new generation of drinkers to the whisky party.
Crucially, that's something it does – not because of the flashy bottle and former footballer, but because of the smooth and welcoming taste. Being a grain whisky there is a freshness that can pleasantly surprise the malt drinker, although it may well be the fork in the road for many traditional scotch lovers. It is thin in flavour compared to a single malt but that, and the inherent smoothness, is the appeal, and make it a path worth staying for a pleasant and appealing dram. New whisky drinkers will find few better windows on the spirit than this square blue jewel.
Another recent release has been that of Cardhu Gold Reserve. Like Haig Club it's relatively light on the palate at first, it's a shy creature that begins to rush up through aromatic, woody flavours that become increasingly autumnal. There's a taste of toffee apple that's well complemented by a subtly spicy finish that gives a festive edge. It's not strongly flavoured and goes more for balance than statement which for the pure malt advocate may seem insipid rather than intriguing but will please the more causal drinker. Overall there is a quality to the orchard mellowness of the dram but it's a little too breezy to claim the distinction it might be hoping for as Gold Reserve.
The last year has seen major players look to attract new drinkers via innovative and fun approaches to the uisge beatha: Cardhu has launched a mildly Mills and Boon gift set that encourages you to take your whisky into the bath with chocolates and aromatic candles, Glenfiddich has launched an online gallery allowing patrons to select and personalise their whisky before purchase and Glenmorangie launched the Taghta (meaning 'Chosen'), a crowd sourced whisky based on the preferences of its drinkers. While Johnnie Walker, ever the showman, has been dropping ice cubes from a ten thousand year old Greenlandic glacier in its Blue Label.
All welcome fun but, for me, it's what's in the glass that counts.
I was recently fortunate enough to attend a Balvenie tasting offering two dozen whiskies illustrating the Speyside distiller's range of method and product. Notably there was an aged founder's reserve, presented in its 1980s cognac bottle, as well as a number of 25 year olds, darker and deeper in their tastes. The star of the show was the new Tun 1509 made from 42 selected casks and married in a tun four times the size of its predecessor '1401'.
These 'Tun' releases attract considerable attention, due to the limited amount available- batch no.1 from Tun 1509 is already getting bids of £270 per bottle online, up from its launch price of £175. While Tun 1401 bottles are now worth in excess of £1700. Thankfully the 1509 is drinkable too: soft and almost creamy in the mouth with an open sweetness that kisses you straight back.
At the tasting these rare and expensive beasts predictably attracted a raft of suitors proclaiming them 'veh, veh good whiskies.' I moved down the table, hoping to be more serendipitous, in company at least. As well as the 1509 Balvenie were celebrating their single barrel range, the traditional oak 25 year old being the champion – stunning in its caramel depth, rich, sweet and slightly spicy. However, although it retails at £445 a bottle, it was its much poorer relation, the 12 year old single barrel first fill (£45) that I found more interesting.
This single malt was genuinely exceptional, it sat perfectly. No two casks of single barrel whisky are ever the same, even if they are the same type and filled from the same distillation. Therein lies the magic of these whiskies. Initially sweet, fruity bursts gave way to a smoothness that hinted at banana before settling on vanilla, there were dancing gestures of spice that slowly ebbed to be replaced by a more lingering sweetness, that paid tribute to a deeper, bourbon like oakiness. But what was most impressive was the sophistication. There was not one thematic taste but a complex alchemy of flavours, chiming in harmony, sparking your taste buds into conversation with one another.
Fittingly I was joined by brand ambassador Sam Simmons, who also held a reverence for the single barrels, confiding that they make excellent companions when undertaking a doctorate in the poetry of Ezra Pound.
Fortunately then, while the Scotch industry is currently noted for big name expansion as the likes of Diageo look to capitalise on their considerable investments; Balvenie have proved you don't need a flash bottle, or a large bank account, to distinguish the petals from the crowd.