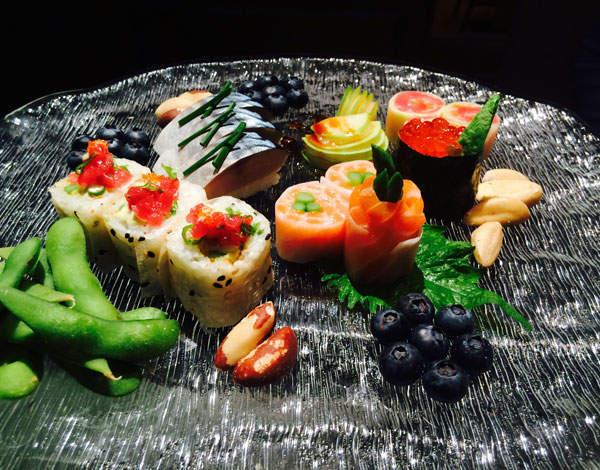 As per my wise colleague Emily Rookwood, I don't hold with detoxing in January, a month so miserable the only thing getting me through my day is the prospect of champagne in the evening. (I'm not doing Dryathlon but Janpagne.) But when detoxing is no less enjoyable than, um, toxing, perhaps I ought to give it a go.
So I found myself at Sumosan Mayfair on Albemarle Street, filled with what seemed to be oil traders and hedge-fund managers enjoying lobster salad and sashimi, while I waited for the 'superfood sushi' platter. In fairness, I was also waiting for lobster salad and sashimi, because there's no point in being puritanical about these things.
Now, I don't think sushi is all that unhealthy to start with, but it is clearly carb-heavy with its rice component, so the platter cuts out most of that. For £30, you get three salmon and asparagus rolls (no rice), three salmon, tuna and cucumber wraps, thinly sliced scallop and apple sashimi, Temptation rolls, avocado and salmon egg sushi and three marinated mackerel rolls, while Brazil nuts and blueberries are scattered around for an extra boost. With a few extras, it's enough for two.
I was keenest to try the mackerel rolls, since I consider mackerel a king among fish, but I decided to work my way around to it. The salmon and asparagus roll, decorated with the tiniest asparagus spear poking out of the top, was probably too cold as the fish's full flavour didn't come through, leaving me wishing they had put some wasabi in. Wasabi, as I learn from the internet, is in fact also good for you, so there's no reason to leave it out.
The scallop and apple sashimi also lacked flavour, potentially because it too was too cold; the apple was certainly not sharp enough regardless. But the more elaborate Temptation rolls, decorated with fish roe, had a salty pleasure.
Finally, the mackerel. Thin slices curved over a hillock of rice, its grey-black skin glistening under my greedy gaze. As well as having the full-mouth satisfaction of the rice, the fish had its oily, pleasantly subtle taste and buckets of omega-3s. I would happily have eaten half a dozen more pieces of this.
The 'unhealthy' bits of the meal were all delicious. Lobster salad concealed significant chunks within a frizzy salad drenched in a sharp dressing, and rock shrimp tempura with a spicy mayonnaise disappeared quickly.
With a little wasabi and a little soy sauce (okay, less healthy), the superfood sushi platter would be not just good for you but entirely delicious too.
Sumosan Mayfair, Albemarle Street