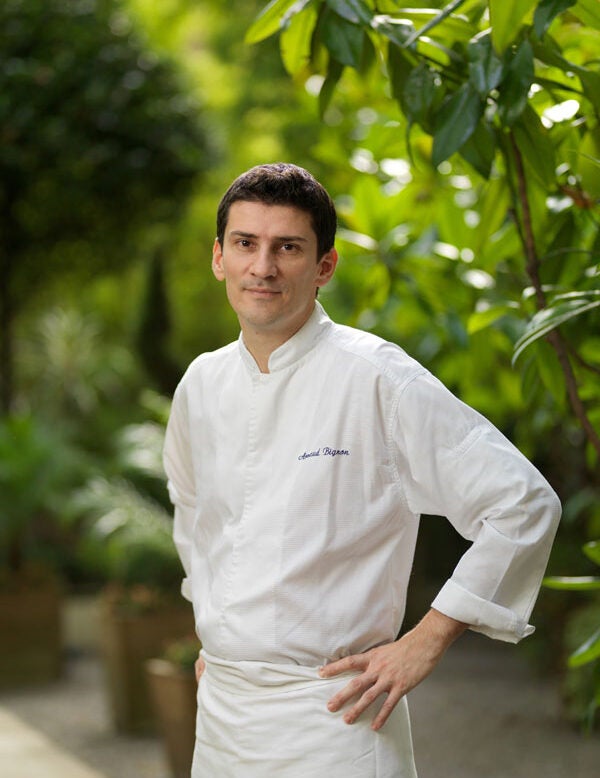 Whether you're reading this before the festivities or after, the F-word is upon you. If it's before, you're looking forward to it; if it's after, you're regretting (at least some of) it.
Food, glorious food. Perhaps you're the turkey-stuffer or the turkey-stuffed. All the trimmings too, and so much more before and after. Salmon fillet this, blini that, truffle the other, carpaccio everywhere. All those ads on TV, all that watching Nigella pleasuring a crushed avocado on toast, those supposed professionals trying to master the art of being a chef: it blends into Strictly Come Stuffing.
London is at the forefront, with a little nudge from the Euros, and the food revolution has well and truly taken hold in England. There isn't a day where we don't hear about a Marcus or Gordon and even a Heston with a new book, a new recipe, a new show, a new line of products with a major retailer, a new restaurant.
And to think it seems only yesterday that British food was pie-this, pie-that, pie-anything we can't think of how to cook otherwise. A dollop of 'various' in the deep fryer, a ladle of custard on any cooked, steamed or baked pudding. The closest we got to oral pleasure were tarts. We've come a long way since then.
Restaurants in London really seem to have led the way. It never ceases to amaze me how many new openings there are, and even when several can pass me by, some of my seriously foodie friends make sure I don't miss any. They seem to scour and scout the reviews and PR websites, sniffing out the next exciting thing. Some of them truly are quite amazing. (Some.)
The rate of attrition must be fairly high, I would have thought, but not as high as we might expect. That tells me we must be eating less and less at home and more and more out. Capacity is huge and most of these places stay full. Going through some of my recent visits, there is as always the brilliant, the merely good and the downright ugly. And so much shade in between.
For brilliant, I would start with somewhere young and somewhere else fairly new. The young is by far my favourite: James Knappett's creative, brilliant, simple, innovative cooking at Bubbledogs & Kitchen Table (70 Charlotte Street). It's hands down my first choice if anyone wants to spoil me. He never repeats himself, but he takes the usual and makes it better. It's a bore to get a seat on his high stools, but worth the wait.
He's closely followed by the Araki (12 New Burlington Street), where Japanese mastery is in full, serene flow under Mitsuhiro Araki. Clean, sharp, balanced flavours, developed through hundreds of years of Japanese tradition, are slightly tweaked to local produce and palates, a real dream of a dinner out. Only fish and only beauty. Just like with Bubbledogs & Kitchen Table, you choose the wine and let them take you on an enchanted journey, even if it's hard at first to be enchanted by the struggle to get one of the nine bar seats and you might need to increase your mortgage. But so do you to eat rather badly at 5 Hertford Street.
Just behind this brilliant duo, just a shade or so, is the Greenhouse (27a Hays Mews). Lightness of touch within French-inspired tradition in a pretty setting works for me every time, particularly for their very reasonably priced lunch. It's a definite favourite, along with Umu's more modern Japanese excellence. (Both sit in Marlon Abela's stable.) A further mortgage is required at Umu, but it fully deserves its second Michelin star (as does the Greenhouse).
My last addition to this group is based strictly on the food, rather than its desultory ambience, so in some ways it probably doesn't deserve this proximity. The restaurant at the relaunched Lanesborough, Céleste, has Florian Favario at the stove; Favario is the protégé of Eric Frechon, holder of three Michelin stars at Epicure at Paris's Le Bristol. The food, if not on a par with Epicure and slightly more contrived than at the Greenhouse, is delicious, but the meal is killed by average staff and, most of all, by a depressing, stuffy, slightly garish interior where you can never feel anything but emotionally frozen.
Arnaud Bignon, chef at the Greenhouse, poses in the foliage
We can skip the merely good, although it's worth mentioning Sexy Fish (Berkeley Square), since it's much better than many credit it. It was not helped in any way by its fanfare-blast of a launch party and overhyped arrival. Set up for a fall, people can't wait to pan you, particularly if they can't get a table but see empty tables.
I think it's fabulously over the top and I love it. The décor is wonderfully fun and I can't wait to have dinner in the private room. The food, while unoriginal, is nonetheless excellent and tables only look available because they are working their way up to capacity to keep up the service standards — which can't be said of others, even within the same restaurant group. And I love the name too, so there you go.
This leaves us with the ugly. No names, but you know who you are — and this is all about the manners, not the food. And no, it isn't the Chiltern Firehouse — that has been in the ugly category from day one; as its aura fades, it's finally starting to attempt to treat people properly and cook decent food.
I know this is London, but the fact is we really have choices, and even if you are in a young and funky area, it doesn't mean you can behave like some of your haughtier customers might. If I have a booking for dinner at 8pm for four people and I ask if you can fit in two more, you can't answer yes — but only if we can sit down at 3pm.
At this same restaurant, the management has decided how long you should be allowed to eat for, and they tell you so on your confirmation: two hours for one to four people, two and a half for five or six, and three for seven or eight.
So there you have it: Big Brother working your jaw. They're not going to retrain their staff to be more civil; they're retraining you instead. It's just like Ryanair did for air travel, except a lot more expensive. There's no pretence that they are a service industry: they are a money-making juggernaut and you are the fodder. Pack them high and get them out to get the next batch in.
It reminds me of many unpleasant things, none of which I want to associate with one of the delights of life — sharing a wonderful meal in great company. Not for me, thank you, I said: there are too many choices in the foodie capital of the world. It all makes you want to find another F-word.