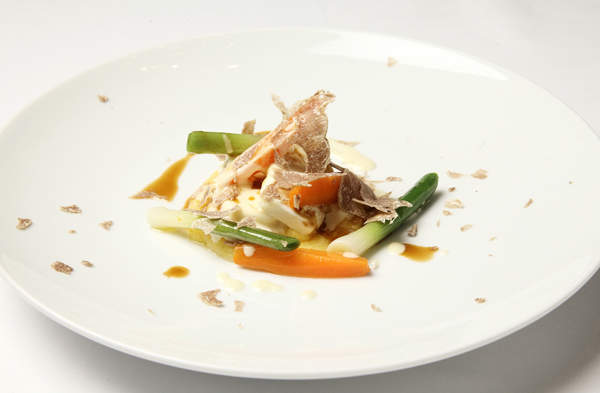 Stelle di Stelle is a funny one. The s(t)elling point – five Italian Michelin-starred chefs with thirteen Michelin stars between them – is clear: who wouldn't want to have access to these wonderful chefs without having to jump on a plane to Italy? You'd think it would be a sell-out.
When I went on Wednesday night, though, we were the only table taken in the entire place for two whole hours. Just before we left, two more tables came in but it made the strict two-sittings policy for booking (instead of letting people reserve particular times) seem, frankly, a little silly.
Once you eventually find your way to the lower-ground floor restaurant by way of the watch room on the ground floor, you might be a little disappointed to see the restaurant shoehorned in next to the wine department.
If you're sat facing out, your dinner is presided over by large 50-per-cent-off signs above towers of bottles. Not the serene glamour you'd necessarily expect from the pedigree of chef in the kitchen. Also, the box hedges that line the windows smell of – well, we all know what they smell of – and it isn't the nicest smell in the world.
Anyway, with two waiting staff each we embarked upon the tasting menu put together by three-Michelin-starred Enrico Crippa. His restaurant, the Piazza Duomo in Alba, is on 'The World's 50 Best Restaurants' list and I'm sure has waiting lists longer than your arm.
Pictured above: A truffle-scattered dish by one of the Stelle di Stelle chefs
So if you want to try his food – and you could probably even just walk in to Stelle di Stelle – this is probably a great way to do so. The menu is five courses and an aperitivo for £115 (£140 with matched wines). It showcases Crippa's signature dishes from vitello tonnato to hazelnut cake via his speciality Agnolotti dal Plin (a pinched-together filled pasta) stuffed with three roasts and served with the roasting juices.
The dishes were all well executed, pleasingly traditional in construction and flavouring and all perfectly enjoyable. I think it is fair to say, though, that this doesn't seem the same level of food and experience you would get in Alba.
The vitello tonnato was served a little cold – the veal was perfectly cooked but not hugely flavoursome so would have benefited from a little warmth to bring out the delicate taste. The Alta Langa cream of potato with quail's egg and Lapsang souchong tea was silky smooth but lacked any smoky tea flavour, so the egg was a dirty tea-brown for no real reason.
The agnolotti were delicious – small pockets of rich rabbit, pork and beef served in their own jus with shavings of white truffle. I could have happily eaten seven times as much, though it still wasn't the three-Michelin-star level of mind-blowingly fantastic.
Beef braised in Barolo was 'yielding' as my dining companion put it – beautifully soft and rich on a lovely, but not entirely inspiring, stone-milled polenta.
The hazelnut torte was apparently made back in the lab in Piedmont and while nice, it didn't do anything much for me.
It is a shame. The concept is great, the chefs wonderful and the food is certainly good – yet the whole thing doesn't really come together. Add to that the fact that when you leave you have to be escorted like a naughty schoolgirl up the back staircase (which looks like your granny's hallway) to exit the building and you'd be pretty miffed you'd spent over a hundred pounds on your evening.
If they put this event on in a warm, inviting, glamorous space above ground level, really gave the whole thing some elegance and pizzazz, it would be booked out months in advance. So much of the success of a meal is the atmosphere and overall experience – not just the food. Harrods have the chefs, they have the food, what they don't have is the experience. It would be like putting Rene Redzepi in the John Lewis Bistro for a month.
If you are an expert at getting lost in every mouthful then go, you'll enjoy the food and it is a good opportunity to taste the menu of a very accomplished chef. If you're like me, however, and you like your meals to be about a little more than just the food then I advise you to get on the next flight and try the full experience over in Alba. More expensive, yes, but also much more memorable.
Stelle di Stelle runs at Harrods until the end of January