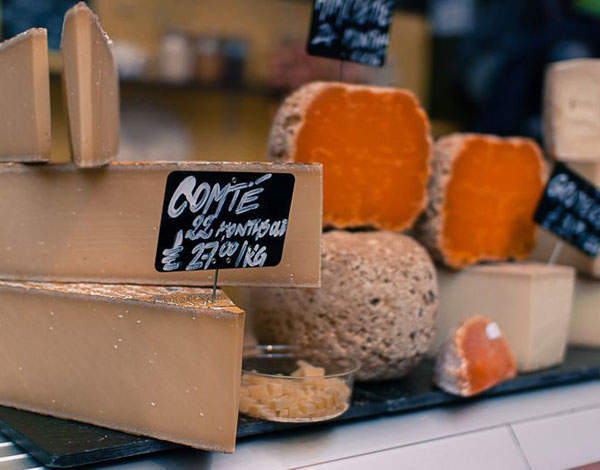 Author: by Spear's Editorial
I can't imagine why any successful asset manager or banker would want to pursue a second or third career as a restaurateur or even gastro-café owner but it seems that opening a restaurant is something of a trend among the financial classes.
But not always with memorable results. Fund manager Nicola Horlick – famous for 'investing' 9.5 per cent of the assets of her Bramdean Alternatives portfolio (nearly £21 million) with fraudster Bernie Madoff – now seems to think that trendy low-fat London restaurants are a good investment opportunity. Last year she used her 'crowdfunder' website to raise £150,000 to buy a restaurant called Times Place Brasserie in Chiswick.
Horlick (pictured below) also recently opened a new health food café/diet-deli in Barnes High Street called Georgina's, with the idea that Ladies Who Lunch would like the sort of bland health food that soi-disant 'Superwoman' Horlick apparently enjoys. The Telegraph described the cuisine as 'virtuous eating… where nothing tempts you into indulgence, and you walk out with a resolve as stiff as when you walked in'. Attempts to learn more about the café from its website now result in being redirected to a holding page. Shortly after this it was announced that the restaurant had been closed down.
Horlick's restaurant ventures look like trophy investing – the very worst sort of vanity drift that investors should avoid as much as Georgina's fish pâté, which one restaurant critic dismissed as 'strangely thin'.
Read more on food and wine from Spear's
Where wealth managers-turned-restaurateurs seem to be considerably more successful is when they are investing their own money and are doing it not so much for commercial reasons but to enhance the visitor experience value of a 'heritage asset' – such as a historic house, whether it be a Elizabethan stately home or a monastic ruin.
Two good examples of financiers who have successfully ventured into the estate gastro-café/restaurant business are former Goldman Sachs banker James Birch, owner (with his wife Claire) of Doddington Hall in Leicestershire, and now Anthony Scott, head of HNW clients and charities at Charles Stanley & Co, who recently opened the Creake Abbey Café and Food Hall in the grounds of his and his wife Diana's 12th-century Augustine abbey.
Doddington Hall
James Birch is also now the treasurer of the Historic Houses Association and is the sort of person who, when he turns his energy and acute mind to something, does it very well. More to the point, James left Goldman Sachs some years ago, so he cannot be accused of any 'style drift' as he brings the same application and rigour to getting his restaurant, food hall and café right – not to mention the interiors shop – as he did to making piles of money for Goldmans. At Doddington (www.doddingtonhall.com), James and Claire have opened one of the most successful historic estate café/deli/restaurants in the country.
When the Birches have a house party, like the one I attended over Halloween, guests often find themselves eating at least one meal in the Doddington restaurant where getting a table can be as difficult as at Scott's before Christmas. It's often booked up a week in advance as people come from all over the East Midlands for the high quality of the food. When I had dinner there, James was unable to get a reservation in his own restaurant! We ate in the café instead, but with the restaurant menu.
Being Leicestershire, there is no shortage of fresh meat, with beef supplied from the estate's large herd of Lincoln Red Cattle. The steak I ordered was memorably sized and especially delicious. The fresh fruit, vegetables and salad come from their kitchen garden; pheasant and partridge come from the estate.
But I have learnt that one needs to be careful about what you order when you go to a historic estate restaurant or café. Norfolk is not far from Leicestershire and you might think that any food that you can get in Leicestershire should be plentiful in Norfolk. Well, not exactly, as I learnt while spending Christmas there.
There is an expression that doctors use in Norfolk for some of their patients which is 'Normal for Norfolk'. What is normal in the rest of the country does not necessarily apply in Norfolk – and vice versa.
I used to think that Shropshire – where I live – and Norfolk had plenty in common, as large, distant rural counties. But after going out to a few local pubs and restaurants in Norfolk, I am not so sure – largely because of the food. My first inkling that the Norfolk county diet was different to the rest of the country came last summer when I met my fiancée's grandfather for the first time at Sunday lunch. Now in his eighties, and still exceptionally fit, he has been training race horses in Norfolk for over fifty years – and is still doing so.
During lunch, the subject of local cheeses came up and my fiancée's grandfather related a story about how at the end of the war, while serving in Northern Italy, he had received a letter from his mother saying that war rationing meant that cheese was almost impossible to come by in Norfolk. If he had any room in his kit-bag, could he bring some back with him?
Smuggling cheese
He dutifully bought a large Gorgonzola, wrapped it in foil, and smuggled it back to Norfolk in an old suitcase. It stank all the way but such was the rarity of cheese in Norfolk, even the mouldy and crumbling old remains of the blue-veined Gorgonzola (which is made from unskimmed cow's milk) was devoured by his family as if it were caviar.
The reason that cheese was such a luxury and rarity in Norfolk during the war is that Norfolk is not a dairy county like Shropshire or Herefordshire, or Leicestershire for that matter. I am not saying there are no cows in the county, but I have to say I didn't see many herds, especially around Fakenham, where my fiancée's family live, or along the coast.
Norfolk is rightly famous for its crab and seafood. 'If we are going out for lunch,' warned my fiancée shortly after I arrived for Christmas, 'stick to fish and chips, Cromer crab or pork. We have a lot of pigs in Norfolk.'
This lesson in basic rural economics was learnt on Boxing Day when we went to have lunch at the recently refurbished Victoria Inn ('New look, new food, new rooms') at Holkham before going for a walk along the beach. The Victoria (www.holkham.co.uk/victoria) is a boutique hotel and restaurant that was originally renovated by Viscount Coke and his wife Polly in 2011, and has now been reinvented again with a complete makeover.
The original Victoria boasted a chef who had worked in Ibiza, with a funky Rajastan country club look. The Telegraph critic admired the 'velvet and cane day-beds, sofas, screens, rugs and hand-carved latticed doors leading to the restaurant lend a stylish, colonial feel'. Rave reviews were plentiful.
The new Victoria (pictured above) is less colonial, more shabby leather Norfolk, more of a throwback to the cosy Victorian comfort of the 19th century original estate inn; the Victoria was built by the agricultural revolutionary Coke of Norfolk in 1838, the year after Queen Victoria was crowned. The club chairs and shooting prints – or at least advice – are closer to the DNA of Thomas Coke, the first Earl of Leicester's original inn than Tom Coke's Indian colonial funk version.
The interior is now like an English country house brasserie and the restaurant has been widely acclaimed for serving food even better than before. We loved it and began plotting an escape from London for a winter weekend mini-break walking along one of Norfolk's finest windswept beaches before our February wedding.
Beef crisis
Then I noted the slightly disapproving look on my fiancée's face when I chose the sirloin steak. The website states that the beef is from one of the Holkham family farms, so no problem there surely? My fiancée ordered the pork belly, which was as exquisitely tender, pink and delicious as it looked. My steak (£20), however, was one of the smallest pieces of meat I have ever been served in a restaurant. It was so small I could hardly see the meat, let alone taste it.
I don't know if it was just the end of the Christmas season (it was Boxing Day) and the kitchen was down to their last rations of meat but it was as if the sirloin was as much as a rarity or delicacy in Norfolk as fresh swordfish or red snapper might be in land-locked Shropshire. After three mouthfuls, my lunch was over.
Thankfully, the chunky chips – served in a little white paper bag – were divine, and some perfect home-made mince pies were served with coffee. I wasn't exactly full but I headed off towards the beach thinking that I had inadvertently started my post-Christmas diet early.
The next day we had lunch with my friends Anthony and Diana Scott at Creake Abbey (www.creakeabbeycafé.com). The Creake Abbey estate is nothing like the scale, acreage or splendour of Holkham but its 40 acres of meadow – along with its historic monastic ruins that date back to 1206 – make it one of the most enchanting must-see historic attractions of Norfolk. Their small estate borders the Norfolk estate of a prominent English aristocrat, who so enjoys the food at the new Creake Abbey Café and Food Hall that he now hosts his gastro-shooting lunches there.
The chef at Creake is called Ali Yetman (pictured above) and the restaurant prides itself on being 'Norfolk and proud', with an award-winning monthly farmers' market, along with a seasonal menu, a smart looking food hall with butchery, deli counter, and charcuterie.
As I was being shown around by Anthony, we stopped at the cheese counter. 'We do serve some local Norfolk cheeses,' Anthony said pointing to a modest selection of what looked like mini-Camemberts. 'But Norfolk is not really known for its cheese – so we also sell an international selection from France and around the world.'
The cheese counter (pictured below) was suitably groaning with a selection of Europe's finest cheeses, from Vacheron to Gorgonzola. I didn't see any Shropshire cheeses but I was delighted to note that the food hall stocked my fiancée's favourite cheese crackers, Artisan Swedish Crispbread, made from sourdough, fresh milk, rye flour, wholewheat flower and honey; they are specially baked not in Sweden I should add, but, yes, in Peter's Yard in Shrewsbury, Shropshire.
The café at Creake Abbey – which is ideally located on one of north Norfolk's secret roads that cuts through towards the beach and Brancaster – is not only open during the day. That it also opens for dinner on Friday and Saturday (until 10.30pm) even in winter shows something of the ambition behind the restaurant. When we sat down at a table tucked behind a working Aga, I liked that in the middle of lunch one of the chefs strolled over to pull out an apple crumble from the oven to prove the Aga wasn't purely decorative.
The first thing I noticed about the menu was that there was no sirloin steak, in fact not any sort of steak to be exact. There was pea and ham soup; pheasant and chestnut broth; steamed local mussels with leek, shallot and white wine cream sauce; estate ham with sautéed potatoes and fried egg; Longshore cod goujons and hand cut chips with tartar sauce; smoked salmon and a cream cheese sandwich – but no Norfolk steak on offer.
Perhaps that is just as well, I thought, if my experience of lunch at the Victoria the previous day was anything to go by. Clearly, my fiancée was right. Beef is something of a delicacy in Norfolk.
This is not so much the case in private homes who have access to a few good butchers or private estate meat. On Christmas Eve, my future mother-in-law served a very fine fillet of beef at dinner. My fiancée later admitted that the local butcher who had sourced the beef was so in demand that he is 'practically ex-directory'.
When you say you are local and seasonal, stick with it. There is nothing at all shameful about not including steak frites on a Norfolk gastro-menu. In the Caribbean, one only needs to look at the thin and scrappy quality of the local cows grazing on the few tufts of grass that exist on each island to know you always avoid ordering beef.
While I am sure the herds of cattle at the Holkham Hall Farm are of prize-winning quality, and bear no resemblance to the scraggy examples I have seen in Mustique or Barbados, the ration-like size of the portions at the Victoria suggest that Norfolk still has a very long way to go to be famous – like Herefordshire or Argentina – for the quantity and quality of its beef.
As we looked out of the window of the Creake Abbey restaurant and admired the view of the meadow stretching out towards the Spencer estate (no cows in sight), I asked if there were any local cattle around. Anthony shook his head. When I recounted my anecdote about my portion at the previous day's lunch, he led me over to the butchery in his food hall.
A cut above
'We can do you a very good steak but it will have to be special order I'm afraid,' he said. The cook was duly instructed to cut off a huge piece of rump steak – it was not clear if the joint of beef was from Norfolk or not – that was sitting in the butchery section waiting to be sold.
I knew by going off-menu I was robbing a Norfolk housewife of a cut of much sought after Christmas steak, but to hell with it. Could the county manage a decent cut of beef?
The prime rump steak à la Creake Abbey was grilled to perfection; it was pink, delicious, large and the clear winner in the Battle of the Norfolk Steaks. Part of the enjoyment of eating the off-menu course was also knowing that steak is something of a special treat in Norfolk, just as it was back in the war and the days of post war rationing.
On leaving the restaurant, after a truly wonderful lunch – that ended with the most indulgent and delectable pear crème caramel and non-Norfolk cheddar (albeit with parsnip and chilli chutney handmade in Foulsham), I noticed in the Creake newsletter that 17 January had been designated a special Norfolk 'Steak Night'.
Judging by the scarcity of beef around in pubs and restaurants in Norfolk over Christmas, I would suggest that booking is essential.