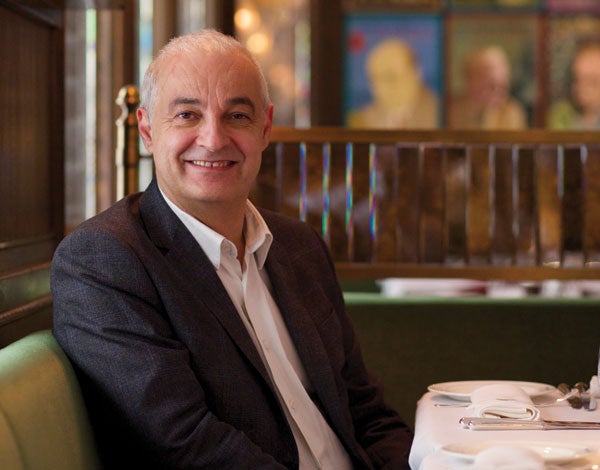 Dining in The Ivy recently I was, unexpectedly, reminded of eating in a small shack in Quilon on the Keralan coast of India, some three decades earlier. There was a bowl of nuts on the table and when the waiter came to take our order he casually ate some of them while we ummed and erred about dahl, rice and bottles of Thums Up.
Now in rather more formal surroundings, I was chatting to Fernando Peire, director of The Ivy and the adjacent club. He was passing by our table, doing his thing, casting about his mots justes. He was also eating my green beans, popping them into his mouth with his fingers. 'Nice and crunchy,' he said.
I like that he did this for several reasons. First, I don't really like green beans — I'd ordered them for the tenderstem broccoli, so he was doing me a favour. But it also showed just how precisely Peire, 55, gets the measure of customers in his restaurant. There are those whose green beans he would merely formally acknowledge from a safe distance.
For others, like me, a foodie scribbler, I appreciated the barrier it broke down between diner and senior member of staff. It made me feel at home. To me, the green munch was as respectful as the hands-off approach to the stiffer businessman or upright lady of a certain age. To me he was saying: 'You're OK, freebie-guzzling foodie scribbler, we're happy to have you here.'
So I watched him over the course of a lunch and then a dinner, walking the room like each occasion was his own special party, a shake of the hand here, a pat on the back there, a kiss, a joyous man-hug, a quieter bow. He tweaks the energy levels, like a man with his graphic equaliser, fine-tuning the atmosphere whether it's a cosy table for two or a rowdy six.
And then I quizzed him one morning in the quiet surrounds of the drawing room of the club next door. The Ivy is his life — well, that and a Spanish donkey called Eve, more of which shortly — and as he lives around the corner he comes to work even when he's off. 'I don't mind popping in,' he says. 'I walk around, I observe the staff, see how the restaurant is working. I'm constantly looking at tiny details and working out how to do it better.' This he feels he needs to do particularly as the place recently reopened after a magnificently expensive refit, including a marble bar snaking around the middle of the room. It's the old Ivy, but with a majestic makeover.
'The atmosphere is different — the bar creates a different energy,' he says. 'There's a different acoustic. I feel it's like we kept the body of the car but changed the engine from diesel to twin turbo.'
The Ivy, established in 1917, does things differently from other restaurants. 'We don't have sommeliers,' Peire says firmly while moving about in his chair, this silver-haired man whose eyes flicker about constantly, his restlessness betraying an ambitious energy. 'I'm not a fan and we train our staff not to up-sell, we just like to give people the opportunity to spend money. And I'm yet to have a great experience where a sommelier has enhanced my evening.'
He recently had a row with one during dinner at Claridge's. 'Generally, sommeliers lack empathy and humility,' he says. 'The most important thing is the end result — to make customers feel intelligent, to make them feel good. It's like reading or watching a Tom Stoppard play — you just feel clever.'
His path to making people feel good began in Enfield. Born in Gibraltar, he moved to the London suburbs as a baby. His father, in Peire's words, 'ruined himself' gambling away what little money they had in casinos and betting shops.
To earn pocket money in the holidays and at weekends he found work in a local restaurant, L'Escargot, run by a man called John Morley whom Peire came to see as a surrogate uncle. He gave him a passion for the restaurant business, and after Peire went to Manchester University to study law (before changing to a French degree), he stayed for a time after graduation, joining a restaurant group in the city.
But Manchester was 'a bit behind the times', as he puts it. So it lost out to Paris and then London. It was in the latter that Peire, with a business partner and at the age of 27, opened his first restaurant, the Left Bank, in Fulham in August 1987. It was a seminal year for London restaurants. Marco Pierre White opened Harvey's in Wandsworth, Rowley Leigh started Kensington Place in Notting Hill. White and Leigh succeeded, Peire did not. 'I lost every single penny I had,' he says. With huge loans, a stock-market crash, interest rates doubling, a bad location (down a one-way street with no parking) and bad luck, in spite of constant rave reviews, after three years it closed.
'I was out of my depth and I got into a spiral of not being able to see the wood for the trees,' he reflects. It's one reason Peire was a success when he was hired in 2011 to front the Channel 5 show The Restaurant Inspector. His forthright views and his own experience of failure meant his advice was nothing but genuine.
Financially wiped out, he reached out to two people who he knew were making a success of the business he loved: Chris Corbin and Jeremy King, then owners of The Ivy. 'I knew I could offer them something,' he says. They agreed to hire him and in September 1990 Peire became maître d' of The Ivy. Over the next seven years he saved and paid off his debts and, he explains, 'learnt first-hand from them. They taught me how to be a professional. I loved it and the customers loved me.'
Today Peire balances his life between The Ivy and his house in Spain. While he makes a point of eating out, he studiously avoids industry events. 'I don't like parties unless I'm throwing them,' he says. 'I spend my life running the party — being the life and soul — so when I'm not I like to be reading a book or in Spain.' Or, as I discover, with his donkey Eve.
Having bought a few acres of land by the ancient town of Medina Sidonia, Peire tends his grove of orange, lemon and lime trees, his pomegranates, almonds, plums and quince, his muscatel vines, and then checks on Eve. 'She's three years old and I'm thinking of getting a nice saddle made,' he says. 'Then I'll make a pannier for her and we'll go down to the bottom of the field, where I'll chop up some wood and we'll ride back up the hill to the house.'
So get yourself a table at The Ivy — my tip is to walk in early-evening midweek — and either guard or proffer your green beans to Peire. And in the unlikely event you see his mind wandering, understand that he might not be fussing about whether he can seat Judi Dench at the bar, he's just contemplating that moment in his dotage, when The Ivy is as far away in his mind as that place in Quilon is now to me… It's a sunny autumn day and Fernando Peire, straw hat, ragged jeans and shirt, is swaying up the hill on Eve, a full load of logs on board, a chilled muscatel in the fridge, a bowl of plums spilling over in the kitchen.