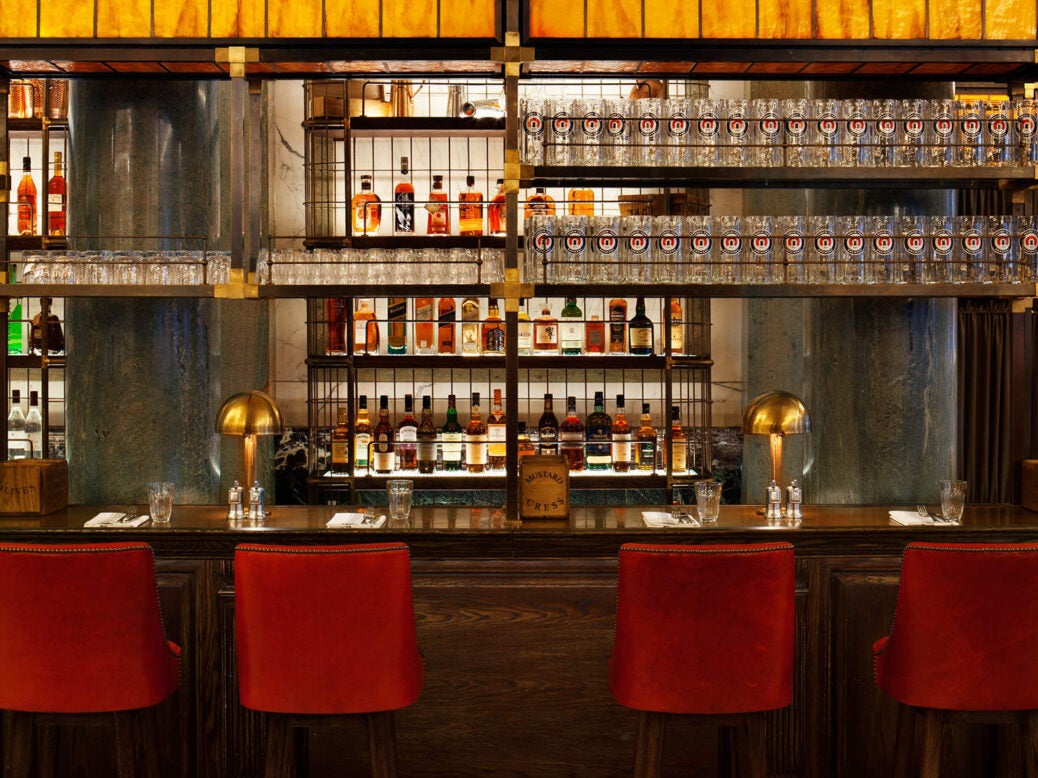 Hotel restaurants, much like hotel bars which have transformed from their formative days as watering holes into chic retreats, are now offering some of the best dining available, says Emily Rookwood
The hotel dining room has many faces – it can swing wildly between your grandmother's front room and a beautifully oiled fine dining machine. I remember hotel dining rooms from holidays of my youth, mainly in the UK admittedly – the continent fared much better, being little more than a jumped up Little Chef with some heavy damask thrown in for good measure.
That couldn't be further from the truth today. Hotel restaurants, much like hotel bars which have transformed from their formative days as watering holes for travelling business men and ladies of the night into chic retreats, are now offering some of the best dining available.
London's hotels are bursting with big name chefs and Michelin stars – from Berner's Tavern and Dinner at the Mandarin Oriental to the Chiltern Firehouse – so how do big establishments tempt customers in from the street and away from their competition rather than just catering for those popping down from their rooms?
Read more restaurant reviews from Spear's Food Friday
Marcus Wareing believes the key lies in offering user-friendly dining. During a recent lunch at the Chef's table he told me that he has never seen the gastronomic scene in London change faster than it has done during the past five years. The recession forced establishments to rethink how they approached and presented food. If you don't please the diner, you don't do business. Much like in New York, professionals in London spend many of their evenings eating out and catching up with friends. And cheaply, too.
If you can't compete with the Burger and Lobsters of this world even as a fine dining restaurant you will go out of business. In the past these relaxed restaurants would never have been considered competition but in today's frantic market, you have to see everyone as competition. To that end Wareing has invested over a million pounds of his own money into completely renovating his two Michelin starred restaurant at the Berkeley.
Having inherited the Berkeley's restaurant from Gordon Ramsey, Wareing wanted to put his own stamp on the site, having just extended the lease. It is still a fine dining restaurant with starched white table cloths and spindle thin, architectural cutlery but in contrast to the tasting menus and heavy set menus of other places the menu here offers surprising flexibility.
Pictured above: The Holborn Dining Rooms
Wareing has realised that not every punter wants to spend six hours over lunch or dinner – some might want to grab a main and be in and out within an hour. You can do that here – one course or seven, you can do what you want and this includes taking over the chefs table and sitting on the edge of the kitchen action (though this requires the better part of an evening to get the most out of the experience).
This fluid approach to dining means that you can call up during the course of the evening and there is still the chance of getting a table. The restaurant staff will do their best to find you a table, even if something doesn't immediately seem available. Gone is the stuffy French style service we associate with fine dining and in its place a more relaxed American style.
Don't panic, though. This doesn't mean that you have scruffily dressed waiting staff squatting down next to you to take your order, it simply means a friendlier, more approachable restaurant team. They want to make the dining experience as flexible and 'user friendly', to use their term, as possible. Fine dining – and with two stars the food is exceptionally fine – but without the fuss.
The Holborn Dining Rooms at the Rosewood Hotel also wants to offer itself up as a drop-in location – be it for one hour or several. Flexible dining is clearly key for hotels, however, they are doing things rather differently here. They are not selling you fine dining – there are no starched table cloths but rather bold, red banquettes and high brasserie ceilings. This is a very different type of hotel dining, where, as much as they won't want me to say it, you go for the atmosphere rather than the food. More Bar Boulud than Daniel.
The food is generously portioned but also overly generous on the seasoning. The steak tartare is masked by so many spices and condiments that you can no longer appreciate the quality of the beef. The charcuterie is good, but that is down to good suppliers more than anything else. Service is friendly if a little slow – with the exception of Maitre d' John Spiteri (look out for William Sitwell's profile in the upcoming issue of Spear's), whose jazzy suit can be seen darting around the 160 cover restaurant, but when you have a cocktail or two lined up on your table you don't mind so much.
It is a fun space in the rather dull area of Holborn, or Midtown as they are trying to rebrand it, and I can see it drawing the crowds in from the surrounding office buildings. We certainly struggled to get a table at the bar after dinner.
London is full of demanding diners. As Marcus Wareing pointed out chefs don't always get to be what they want to be in London, they have to bend – even if only a little – to the whims of the customer to be a success. Just look at Bo London. Alvin Leung didn't give his punters what they wanted, despite being a three Michelin starred chef with a tremendously popular restaurant back in Hong Kong.
Would El Bulli have survived in London had it started out there? Probably not. Londoners have exacting standards and are often time poor, therefore restaurants – be they in hotels or on the high street – need to offer flexibility. The Holborn Dining Rooms have the atmosphere and a flexible menu but to see the real evolution of hotel dining, and on a grand scale, head to Marcus. This new style of fine dining is sure to catch on.
'