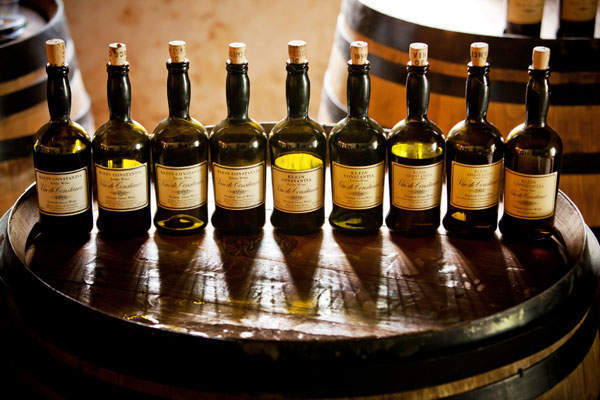 It's a chilly, windy day in the Constantia Valley, a few kilometres south of Cape Town, and it looks like it's about to rain. Matthew Day, the young winemaker of Klein Constantia, one of the region's oldest wineries, has just parked the golf cart near the estate's pond, next to the terrace overlooking the entire domain. 'Is 11am too early to start drinking?' he asks me.
The view is truly breathtaking and I feel euphoric (and it's not because I'm sipping their delicious Méthode Cap Classique Brut, although that obviously helps). The vineyards, still bare in the middle of the winter, sit at the foot of Constantiaberg mountain, extending for over 70 acres to the Cape Dutch-style manor house down the hill. It would be a perfectly quiet morning if only a little troupe of baboons hadn't managed to trespass the fences to pick fruit from the trees, damaging the crops and alarming Day and the farmers.
It's in this little strip of land that one of the world's best sweet wines is made – the legendary Vin de Constance, which holds its own against its most famous cousin Château d'Yquem or the finest Tokajs. It was one of Napoleon's favourites – he requested to have some while in exile in St Helena and even refused to have any other food and drinks on his deathbed. And how can you blame him? It has the consistency of honey and tastes like ripe apricot, almond and Turkish delight.
At £40 a bottle – nothing compared to the best Sauternes – it is worth stocking up on a few bottles, possibly from different years, and pairing it with some foie gras or a selection of cheese. But it also works wonderfully as what we could call a vino da meditazione in Italy – a reflection wine, to sip after dinner while chatting with friends.
Of course, that was not the only wine I tried during my visit, heaven forbid. Even though I normally don't like Sauvignon Blanc (and its strong flavour of raw pepper), I ended up buying a bottle of Metis, which is made using a minimalist approach.
'I want Klein Constantia wines to taste like the vineyard and not the winemaker,' Day explained me. 'The only way to do this is to make terroir-driven wines and not overcomplicating our approach in the cellar.' This means 'moving away from an old school approach to farming where you spray with any and every chemical' and to intervene as little as possible in the cellar. 'So minimal SO2 at crush, minimal additives other that the essential and finally natural fermentation where we rely on the natural yeast that come in with the grapes from the vineyards.'
Thanks to its proximity to False Bay, Klein Constantia already has the perfect conditions to grow great Sauvignon Blanc grapes, with plenty of wind to keep temperatures cool in the higher vineyards. The grapes don't need too much work and the Metis, with citrus notes, is pleasantly refreshing.
Also great is the Anwilka red, which is a mix of Syrah, Cabernet Sauvignon and Petit Verdot produced in the Stellenbosch region, and which Robert Parker called South Africa's finest red.
I tasted many more wines from Klein Constantia but after the fourth glass I have to admit that everything became a little blurry. I do remember another lovely organic Sauvignon Blanc, however, and the Estate Red, and we also tried several vintages of Vin de Constance, including the newest ones directly from the barrel and the storage tank. But the Metis, the Anwilka and the Vin de Constance 2008 were by far the best.
I expect Klein Constantia to become more and more popular in Europe and North America, thanks to the hard work of its passionate winemaker and the vision of its owners – Charles Harman and Zdenek Bakala. They are determined to transform the winery into a well-known domaine that is as focused on its future just as it is proud of its past. Restaurants like Le Gavroche, Bob Bob Ricard and Bread Street Kitchen already serve their wines, and so do the Arts Club and the Savoy Grill.
As for me, I can't wait to drink my bottle of Vin de Constance 2008 in twenty years' time. It should have reached maturity by then. Hopefully I will have too.