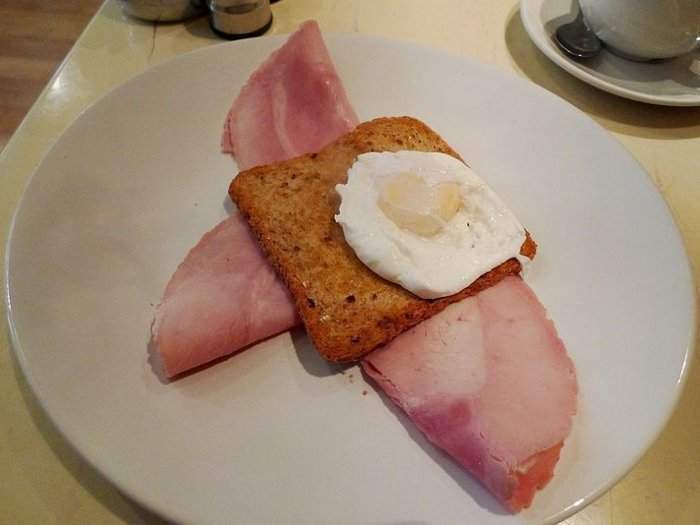 THE LATE, GREAT, obnoxious, rude, funny and shy Michael Winner often railed against what passed for a greeting in restaurants. '"Have you got a reservation?" is not a greeting,' he once told me. His comment always comes to mind when I get a similar 'greeting' in a restaurant. Even if said with a smile, Winner felt it wasn't good enough.
Likewise I admired Winner's demands for what he saw as a good table. He often eschewed a table for two, preferring one for four. I know the feeling. He didn't like being sat near the loos and it always annoyed him when waiters or waitresses refused to write down his order.
Diners should be more impressed by the waiter's knowledge of the menu than small memory feats. And how often do such staff actually then get one's order wrong?
I could hear Winner's loud, nasal tones in my ear as I went for breakfast in a cafe in Warren Street this week.
The place is called Café Rive Gauche and is just a few doors up from the wonderful Honey & Co, which I reviewed recently.
It was eight am and I could well have been the first customer of the day. As I entered the lady behind the counter looked up with seeming annoyance that I had deigned to visit the establishment.
Gallic gusto
The place is clearly French and, I believe, is run by French people. But this woman didn't even have the redeeming features of a surly Frenchwoman, which one can occasionally take on the chin – a sort of Gallic battle that will never end. The rudeness of the staff at La Poule au Pot in Pimlico, for example, should never deter you from dining there.
A rude Frenchman or woman has charm. This woman (not French) looked at me as if I was bothering her. Lord knows what could ever convince her to let a smile pass her lips. I wasn't about to go to the effort of finding out.
All I wanted was a black Americano and a croissant, which she brought over. She placed the cup angrily down beside me, having spread the marmalade I requested inside my croissant.
That would be croissant sandwich, something I hadn't ordered. I also didn't order, by the way, one of the revolting-looking, cold slices of thick cut bacon that lay on offer.
The coffee was hot but unremarkable, while the croissant was truly terrible. Most croissants are terrible in London. And having recently experienced croissant perfection in a small hotel in the Dordogne, I know what I'm talking about.
The Rive Gauche version was soggy, flat, seemingly butterless and generally a sad abomination of the croissant ideal.
Still it rather suited the service – charmless and demonstrating little understanding of gastronomy.
It's not difficult to smile a happy hello to customers and it enrages me that people who supposedly work in the hospitality business can manifest such terrible manners.
So avoid Rive Gauche. Avoid a pointless croissant and go just a few steps down the street where you will be warmly welcomed with the genuine smiles of Honey & Co, and be dazzled by their Israeli Fitzrovia buns.
I know which place Michael Winner would have preferred.