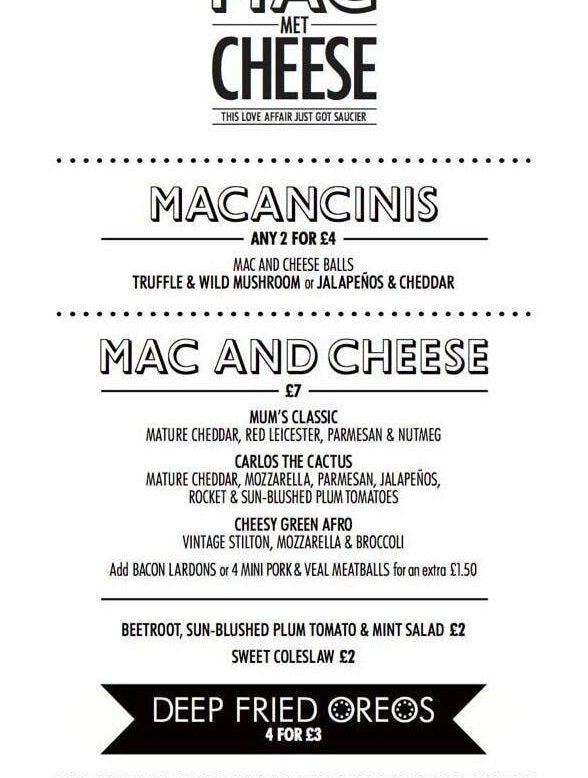 The trend, as I am far from first to point out, for restaurants serving one kind of food done exquisitely has been a recent pleasure on London's culinary scene. Whether it's Meat Liquor or Psychic Burger's, um, burgers or Big Apple Hot Dogs, nursery food at university standards is in. And so it is with When Mac Met Cheese.
When Mac Met Cheese, originally a stand in Camden Market, has fortuitously popped up for three months opposite Spear's satellite office on Porchester Rad (entrance opposite the Spa). It's taken over a much-failed restaurant site and with some very heavy-handed DIY given it a new lease of life. Resuscitating the food-stand feel are the plates, or rather cardboard burger-style boxes.
The pop-up does one dish three ways (£7 each): Mum's Classic (Cheddar, Red Leicester, Parmesan and nutmeg); Carlos the Cactus (Mexican-inflected with jalapeños and tomatoes); and Cheesy Green Afro (vintage Stilton and broccoli). You can add lardons or pork and veal meatballs too.
You can also have macancini, which I first assumed were like a mac-and-cheese-allied martini but are in fact a macaroni'd version of arancini; these come with truffle and wild mushroom or jalapeños and cheddar – the latter lacked any chili punch (at least in mine).
For the purposes of giving a proper critique, ahem, I visited twice, though I had the same kind of mac and cheese each time, which slightly misses the point. Still, it was good enough the first time to warrant a second go.
You don't get the feeling at When Mac Met Cheese that your portion has simply been ladled into its cardboard after sitting around for ages – the broccoli in my Cheesy Green was crunchy, not smushy, and there was a pleasant sprinkling of breadcrumbs. The wonderful thing about mac and cheese is that it even gets a little better as it gets cooler and the sauce congeals. Other members of the Spear's team reported decent heat in the Carlos the Cactus and all seemed to benefit from the addition of meat.
The deep-fried Oreos – the only dessert – are surprisingly pleasant: not boilingly hot like the molten interior of a deep-fried Mars Bar, covered in powdered sugar (which put me in mind of this) and chewy to boot.
I'm not sure When Mac Met Cheese will become destination dining in the way that, say, Meat Liquor is – W2 is too unfamiliar for most hipster-eaters – but it was well-populated all evening as the crowd changed from urban grunge to City suits returning from a hard day in front of their abacuses. It certainly deserves to benefit from our fashionable foodie drift.