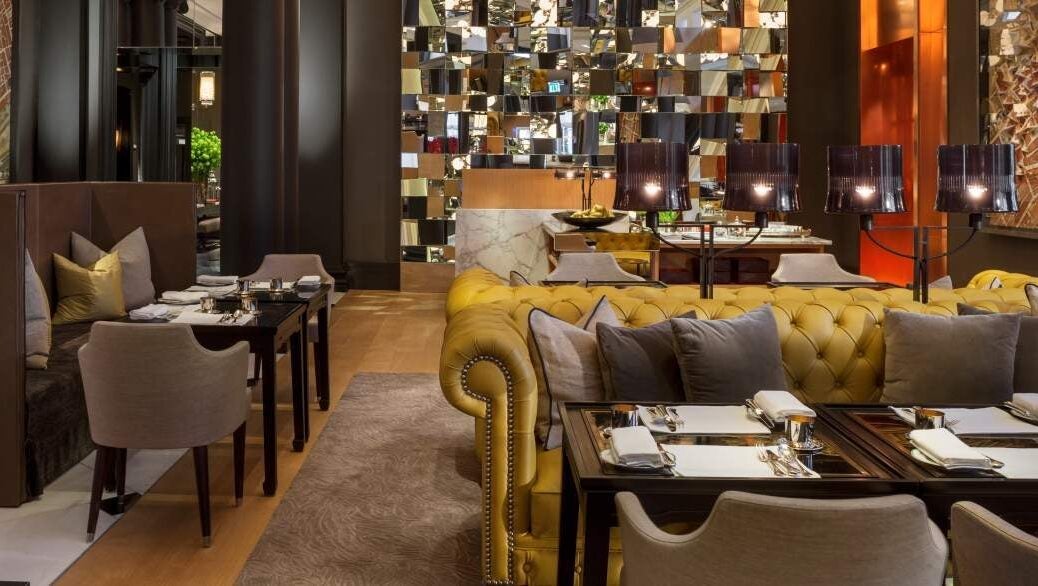 Emma Hughes drops by Rosewood London to sample seasonal delights Cleopatra could bathe in (and 'the best thing to have come out of Argentina since Evita')
I spent the first two weeks of this year on an egg-and-grapefruit diet. It was horrible, for me and everyone in my vicinity (hell hath no fury like a starving woman squeezing onto the Northern line in rush hour). At the end of it, all I'd lost was three pounds – and my marbles.
There must be a better way to get back on track after Christmas, surely?
To Rosewood London's Mirror Room, then, where chef Amandine Chaignot has created an impeccably virtuous-sounding menu based around seasonal roots, citrus fruits and fresh herbs that promises to 'awaken the senses'.
I take my friend (whom I shall refer to as 'E'), a bon vivant of the old school whose blood type is 'Port'. He, like me, seriously overdid it during the festive season, and wants to cut back a bit.
The dishes might be pared down, but the Mirror Room itself is as plush as they come, with ultra-low lighting and velvet by the acre. There are a lot of couples.
Any worries we might have had about being in for a hair-shirted evening vanish in a puff of, well, smoke, when the canapés arrive. Crisp cubes of Jerusalem artichoke, dunked in truffle mayo, are served under a glass dome that's had dry ice piped into it. Crikey. Consider my senses well and truly awakened.
I'm so won over that I decide to stick with them for my starter. The Jerusalem artichoke soup is a delicate delight, with crunch courtesy of hazelnut praline. It's the sort of thing I can imagine Cleopatra bathing in.
E surprises me by ordering an Instagram-ready salad of wintery roots. 'I'm not sure whether to eat it or take it home and hang it on the wall,' is his verdict. Still, he clears his plate in double-quick time.
My halibut main is a little more trad, served with a lime-spiked tartare sauce and crispy potato cakes. These come on their own plate, each one a perfect, golden-brown millefeuille of pressed spud slices.
'You're basically just having fish and chips,' announces E, smug behind his bowl of salsify tagliatelle – courgetti's cashmere-wearing cousin, served here with smoked onion cream. He's gone native.
The tables turn come dessert, though. His chocolate-orange mousse might have been made to look like a satsuma (Heston has a lot to answer for), but a fruit course it ain't. It's heaven, though – a wildly sophisticated Jaffa cake. I, meanwhile, nibble at poached rhubarb and vanilla yoghurt sorbet.
Each dish has a suggested wine pairing, and genuine thought has been put into the matches, many of which are organic and biodynamic (very New Year, New You). 'This is definitely the best thing to have come out of Argentina since Evita,' E slurs, several glasses in, cradling a fruity 2011 Torrontés from Terrazas de los Andes.
We're home by 10pm, well fed and slightly squiffy, but without that beached-whale feeling you get after most multi-course meals – and not a grapefruit or an egg in sight.