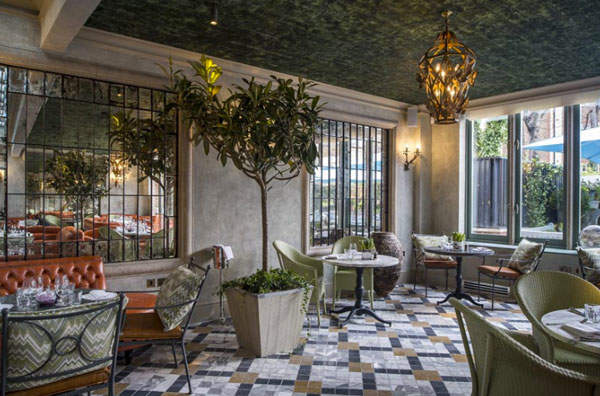 I had tried time and again to get a booking at the new Ivy Chelsea Garden, but – despite being on the invitation list for the 'Chelsea neighbours soft launch' – had been turned away so much that I gave up. I was in good company: they had given away Grace Dent's table only the week before and she writes for the Evening Standard.
But Ms Dent didn't have her lucky charm with her, the Frog Prince, Monsieur Legris, who magically managed to snap up a table for two in the garden at 2.30 on a busy Saturday afternoon.
When I turned up for the appointed hour, I was concerned at how scruffy I was, in jeans and Converse, but maybe that was the clincher. You see, The Ivy Chelsea Garden is run by hipsters, with host James reigning as master hipster in his closely tailored three-piece suit.
He was all smiles and charm as he settled us into our spot, right next to the fountain. We had positively the best table in the garden. Those Frenchmen… how do they do it?
Inside, the restaurant is beautifully decorated in calm hues of botanical green and with prints of the Royal Hospital Chelsea around a central dining section. The front café area proves popular at breakfast while the most sought after areas are the Orangery at the back and the large garden.
This is where I spent my youth (it was Henry J Bean's up until last year). In the late Eighties, I would bunk school to be found drinking banana daiquiris with Tamara Beckwith, Ben Elliot and Emma Ridley. Now it's a haven of chic tranquility, our very own corner of Beverly Hills.
The menu is good too; its extensive offering is what you would expect from a high-end brasserie and is a step up from Colbert on Sloane Square. The Frog Prince had the Chelsea Garden hamburger with thick cut chips and a side of courgettes frites that would rival Harry's Bar. I had the grilled chicken salad, which came with a delicious yoghurt, ginger and lime dressing. Everything was just well-balanced, with portions perfect and presentation beautiful.
I had to pop back a few days later to try a cocktail as the list had caught my eye: Swingers Sanctum (a reference to the Swinging Sixties, not after-dark activities in Surbiton); the Sloane Ranger; Punk Revival; and my favourite, The Ivy Garden Royale: champagne, crème de figue, mastica liquer and lemon – heaven in a glass.
The Ivy has always stood for elegance and there is perfect attention to detail here, with elegant silver decanters sitting on the bar and 1930s music mixed in with soft club chill giving it a glamorous retro feel.
The King's Road has been crying out for a restaurant like this. Happily the prices are a more competitive than its Covent Garden counterpart (currently closed for renovation), although they are just as discerning about whom they let through the doors. Daniel, the general manager and another hipster, has a keen eye and can quickly size you up, which means The Ivy should remain a chic fixture (unlike The Bluebird, which has descended into Chav Hell).
I feel myself quite at home here, reminiscing about the old days when I could get into a pair of size 28 white Levi's and my cowboy boots never tired of walking from World's End to Sloane Square and back again. With last orders for food at 11.30pm on a Friday and Saturday night, in years to come I might be reminiscing about this place too.