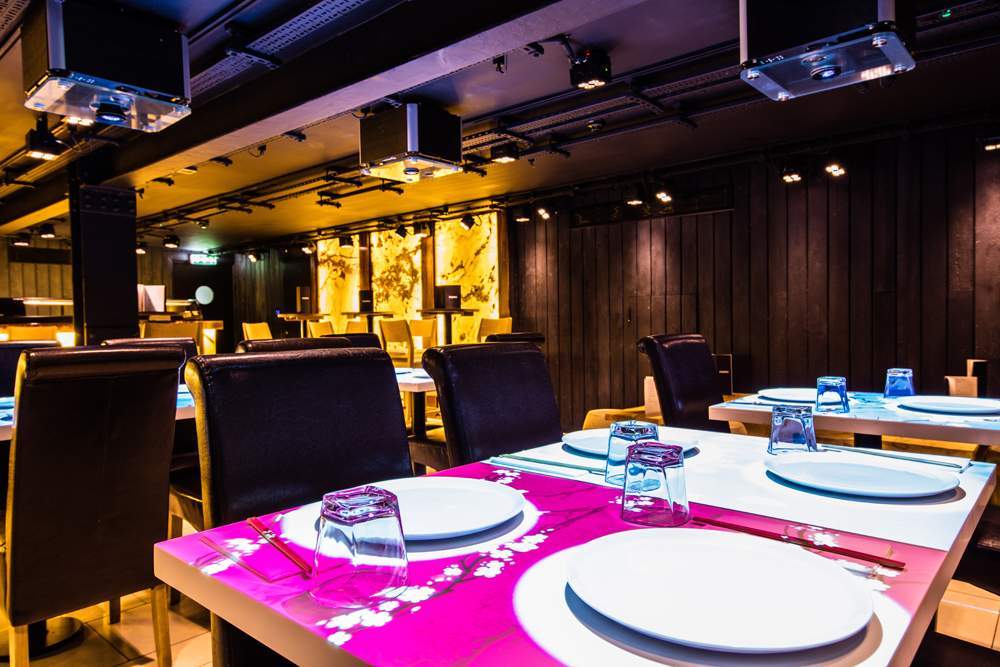 The robots are taking over but thankfully there's nothing sterile about the food at Inamo's latest installation
'When the robots invade just lay down carpet.' Apt advice to receive at Inamo's latest installation off Covent Garden, where the robots, although not enslaving guests with ray-guns, are taking over the dinner party.
The advice comes from Chris Middleton, keeper of Stanley Qubit, a research NAO-25 Humanoid he rescued from a French robotics laboratory. As well as breakdancing, flirting with your dining partner and falling over on carpet Stanley serves a crucial role in epitomising the Gastro-Techno-Future-Japan-World Inamo is hoping to inhabit.
You enter this world from the moment you sit down at a table draped in a moving mosaic of colour splashed across the crockery and chopsticks. The psychedelic shapes spinning across your plate come from a projector above your head that responds to a clickable mouse controller, allowing you to choose between 'patterns', 'chef cam' and 'ping pong'. Patterns is the swirling shapes, chef cam lets you observe the ongoings in the kitchen and ping pong is a version of the classic computer tennis game – something that will provide a welcome distraction for young offenders whose smartphone has been jailed in mummy's handbag.
So far so fun and soon so delicious. The curried chicken was spicy and tender but encased in crunchy and spiced skin that gave it a further sense of juiciness as you bite into the meat- this combination gave it a dangerous succulence that encouraged you to eat nothing else. Fortunately the hot-stone ribeye rolled up: deeply rich, thin and red sitting on a sizzling stone. Fantastic meat that is, I think, even better cold a la carpaccio, unoily but still juicy.
The accompanying sauces are all the typical Chinese Cottage fayre, however, if you can, order the dim sum and hang onto the mystery sauce that comes with it, not at all heavy but subtly spicy, lending itself very easily to the pan-Asian smorgasbord on offer.
Wasabi might be better for the sushi but the seared tuna sashimi is so good you wouldn't want to alter it, while the seabass ceviche is so freshly rendered in mandarin juice, small spices and salt kicker you'll want to keep pressing the order button and pretending you can't see the bill total.
And therein lies the chink in this robo-restaurant's armour. Having a distaste of unnecessarily over produced technology I could enjoy the intuitive, idiot-proof ping-pong game but sadly my fun was over when the waiter came to take our order; because they didn't take our order but reached under the table and drew out a tablet computer for us to order on. It didn't work, so they brought another one (neither had avoided sauce spots in their sub-table hidey holes), which we couldn't work. The waiter showed us how to use it and we eventually ordered. Then another waiter came over to ask us what we had ordered. Then they brought the wrong food anyway.
Somehow the robots are winning, or at least they're marketing departments are. Inamo is not alone in being persuaded by gimmicky adverts that customers want to interact with screens when they go into a restaurant. I for one don't. Fun initially, I find it's easier to be irked than amused – I was asked 'hello, have you ordered online?' in a 'smart food' restaurant in the City recently. When I said no I was directed to row of tablet computers. This was not whilst buying a kettle in Argos but while trying to order some noodles. Anyone thinking tablets are God's gift to man should remember Moses' frustration at their inability to get the message across – ok, those tablets where different but you get the message – unless you're reading this on a tablet in which case you should still smash it on some rocks.
So the food worked but the technology didn't. Thankfully the staff were very helpful which put me at ease as the last time I'd visited a Tech-Asian-Fusion restaurant it was a 24 hour sushi restaurant in Moscow with model planes flying around which involved an argument over the availability of the бизнес ланч (business lunch) at 3am.
Fortunately no such dramas occurred at Inamo and while I moan about their tech indulgences I accept I am in the minority – and I did love the ping-pong game. Also, I should really point out that since my first visit I have already been back for more….so maybe the robots really are winning.