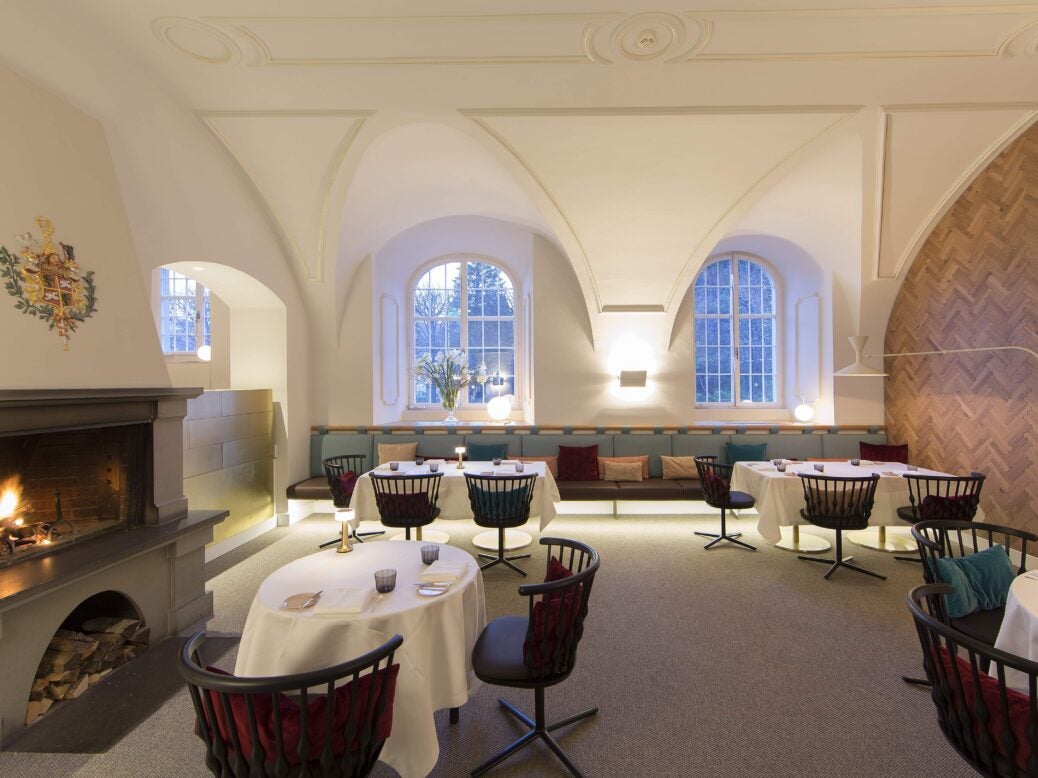 Emily Sluzewski on the Swiss culinary outing to yodel home about
Bad Ragaz is a quiet, somewhat forgettable village full of – and surrounded by – hugely inspiring and unforgettable things: from the imposing Swiss mountains, capped with snow, to the 36.5 degree thermal waters that run through the town.
Just a short drive from the small train station is the Grand Resort Bad Ragaz, Europe's leading Wellbeing and Medical Health Resort. Dusted in snow at this time of year, the vast hotel has been welcoming guests, keen to benefit from the thermal waters, for over 175 years. With 12,800 square meters of wellness area, thermal waters, and a state-of-the-art medical center, it isn't hard to see why people come here to recuperate and rejuvenate.
On this occasion, however, I wasn't in search of healing waters but rather faith-restoring food. Having been somewhat disheartened by several high-quality but uninspiring culinary outings in Switzerland, I was beginning to wonder how, in this place of impeccably high standards and even higher salaries, the restaurants could fall so flat. So, when I came across Andreas Caminada's second restaurant (Caminada's Schauenstein Schloss Restaurant Hotel a little further down the train line has three michelin stars) in a far corner of the hotel, it had rather a lot to prove.
IGNIV has moved into the small space formerly occupied by the hotel's michelin starred Abtstube. Meaning 'nest' in Rhaeto-Romanic, Switzerlafnd's fourth official language, IGNIV is its own private haven within the hotel. It is a cosy place to wile away the hours in front of the wood burning chimney that perfumes the air with the delicate and homely smell of woodsmoke, while bathing the feature wall of intricately tessellated light wood, the grey and blue hues of the textiles, and the gold-toned metal tables in its warm glow. With only 30 covers, each table has ample space, allowing diners – be they families, couples, or larger groups of friends or colleagues – to relax without worrying about their neighbours.
The food here is designed with sharing in mind. Courses are made up of several smaller components, each displayed in their own dish, for the table to divvy up themselves, as you would at a relaxed family dinner at home. The kitchen is overseen by 26 year old Silvio Germann, who is sending out exquisitely well balanced, exciting, and perfectly executed plates of food. The kitchen has only been running for a few months, and they still refer to themselves as a young restaurant in its early stages, which makes the level of food even more impressive.
Ingredients are predominately local, which is why you can opt for a 'surprise' course comprised of more exotic ingredients – from delicate scallops and langoustine, to mackerel ceviche, which given Switzerland's landlocked location are rare treats. The focus here is on enhancing the flavour of each ingredient and creating a perfectly balanced dish regardless of whether you have one or twelve ingredients on your plate.
Plumping for the tasting menu seemed to be the most sensible choice and a sprinkling of treats arrived from the kitchen shortly after: a perfectly hollowed-out egg shell, filled with a smooth, heady truffle custard, foie gras encased in crisp but fleeting meringue, cauliflower spheres punctuated by fiery mustard, a quail's egg atop a delicate golden fried nest. As the starters, 7 or 8 of them, began to flood to the table, hands reached over plates (and other hands reaching over other plates) to sample all of the dishes. A crisp quarter of lettuce layered with a truffle cream and decorated with all manner of textures was simply the best salad I've ever eaten. The silkiest ravioli in a deep and mellow broth, a rich and soft beef tartar, and a crisp mushroom tarte laced with lardo made the table feel like a party spread for grown-ups. This was, without doubt, some of the finest food I've eaten in Switzerland, and up there with the very best I've eaten in the past year.
At this point I will stop to mention the wine list. A painstakingly compiled tome, Francesco Benvenuto's collection of beautiful local wines, and a choice selection from further afield, is beyond impressive. Swiss wine seems to fly somewhat under the radar, perhaps because – as a friend of mine told me – they prefer to keep it for themselves. Benvenuto, however, is hugely knowledgable and more than happy to recommend and explain the local wines, some of which come from vineyards visible from the hotel. When presented with the opportunity to sample good Swiss wine, especially when said opportunity is presented to you by such an affable host, I recommend you do.
So it is with a soft, local pinot noir that we move back to the main course. A blushing veal rib chop piled high with mushrooms and sweetbreads and meltingly soft veal cheek coated in an unctuous gravy were served alongside a bowl of red wine and cicorino risotto and various textures of pumpkin.
All around the room small groups of friends and family passed dishes around their tables, forks dipping in and out of bowls, as if at home enjoying a Sunday lunch. Which is exactly the feeling Andreas Caminada was aiming for and why the restaurant is open on Sundays, 'a day for families' according to Peter P. Tschirky, Chairman of the Executive Board of Grand Resort Bad Ragaz AG.
A meal here, be it Sunday lunch with your family or a quiet evening with your partner, is most certainly a treat and one that will be rounded off in splendid style. In our case, we enjoyed no less than eight small pudding dishes, from tarte tatin to a traditional Kaiserschmarrn, before being sent home with a hand-selected bag of sweets, chocolates, and delights from the sweet stall near the entrance – p layful details that show not only a love for cooking but a love of entertaining.
I could happily spend many an hour in this restaurant, watching the fire, hunkering down with an excellent glass of wine, my favourite people, and a table groaning with dishes from IGNIV's kitchen. It was a restorative experience, and a welcome cure for my recent culinary ailment.
Nightly rates at Grand Resort Bad Ragaz start from CHF 245/£173* per person sharing a double room. Rates include breakfast, welcome aperitif, use of the 36.5° Wellbeing & Thermal Spa area and Tamina Therme, fresh fruit and Ragaz water each day and daily fitness and relaxation lessons as well as VAT.
*Prices in Pound Sterling are according to today's exchange rate.av