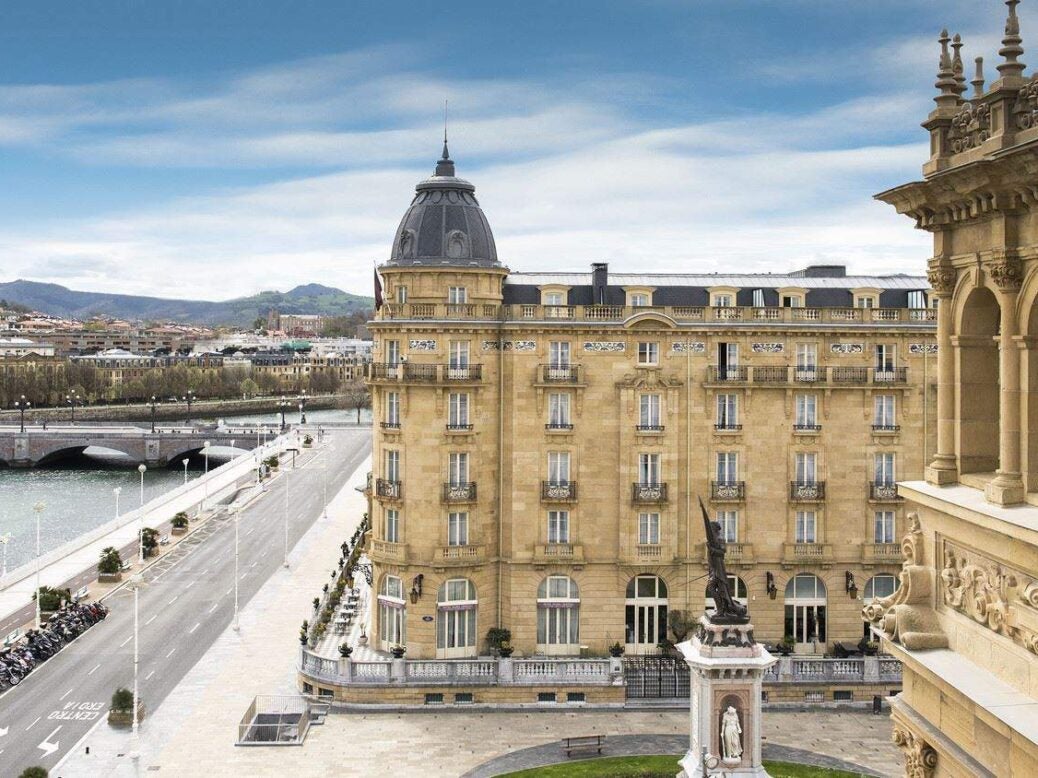 Matthew Hardeman checks into the iconic hotel for a pilgrimage of pintxos and a Michelin-grade foray into the Basque's rebellious heritage.
(Pictured above: Hélène Darroze in San Sebastián)
If you've ever considered yourself a bit of a foodie, there's a good chance the Spanish city of San Sebastián sits somewhere rather high on your ultra-luxe travel bucket-list. Or at least, it really ought to.
Situated on the coast of the Basque region, just over an hour from Bilbao and the French border at Biarritz, few know that the city hosts more Michelin-starred restaurants per capita than any city in Europe. But here, it isn't hard to find a cheap takeaway snack served up at near-Michelin standard thanks to its enormous array of pintxos bars; where sumptuous street-food is priced at only three to four Euros a bite.
A trip here might already make a rite of passage for gastronomic savants – but for the month of October, there's an extra treat in store. Hélène Darroze, two-time Michelin-starred chef of The Connaught in Mayfair fame, is donning the apron at San Sebastián's Hotel Maria Cristina until the end of the month.
(Pictured above: Hélène Darroze in San Sebastián)
First opened in 1912 and fully restored after a hundred years, the hotel's Belle Epoque-era structure is breathtaking (it's even slightly reminiscent of the Connaught from the inside). Overlooking the Uraemia River, it lies less than ten minutes' stroll from the sea — and a stone's throw from the foodie Mecca of Old Town, where the pintxos scene breathes life into every corner and alleyway, and near the city's main attractions, like the Plaza de la Constitución Victoria Eugenia Theatre, and the Church of San Vicente.
The rooms are spotless, spacious and elegant. Each comes with fast and free Wi-Fi, flat-screen TVs, minibars and stylish marble bathrooms. The premium suites include rainfall showers and views of the river, separate living rooms, private terraces and Bang & Olufsen sound systems – all to the exacting standards the Luxury Collection stakes its name on.
(Pictured above: Hotel Maria Cristina, San Sebastián)
My girlfriend and I wander through the hotel's lavish marble entrance hall, past Impressionist portraits of Spanish and French aristocrats to meet our cheerful concierge, Ana. She is already pointing towards the best pintxo bites and local highlights within minutes of checking in before our evening date with Darroze. She even produces a special map, revealing the best pintxos points in San Sebastián, and the dishes any self-respecting visitor should be aiming for: from Bar Martinez's pimiento relleno de bonito (stuffed pepper) to txuleton steak at Bar Nestor. Finally, she confirms what we will come to hear time and time again in the next two days: 'the world's best' cheesecake lies in wait for us at La Viña.
The city's old cobbled streets are stuffed with people, but before long we find solace at Casa Urola for a chunky skewer of beautifully grilled octopus on a bed of sour-sweet cabbage, sprinkled with breadcrumbs (most satisfying of all perhaps, two skewers plus croquetas and a couple of glasses of good rioja amount to less than €20).
Matthew Hardeman checks into the iconic hotel for a pilgrimage of pintxos and a Michelin-grade foray into the Basque's rebellious heritage.
(Pictured above : Pintxos!)
Grappling with the sudden remembrance of the gastronomic tour-de-force that awaits us back at the Maria Cristina, we drag ourselves away to save our appetites. Among its many generous gestures, the hotel offers bicycles for those who wish to cycle along the beachfront and the city's sprawling alleyways, of which almost all are blessed with their own little secrets. After all, San Sebastián is the European Capital of Culture in 2016, so there's no shortage of things to do here – from intimate music and arts festivals to the San Telmo Museoa, the enormous cultural history museum of the Basque (something of an architectural wonder in its own right). But when the sun is blazing and you've had a few sangrias, the beach perhaps remains most tempting.
Feeling relaxed, full and as pink as any Brit abroad, we wind our way back to the hotel for dinner. Seven- and nine-course menus are the order of business here, though we opt for the bespoke option created by Hélène Darroze especially for the night. We are aided by a bag of walnuts (a Basque speciality), each with the name of a different main course printed into the shells – a curious feature designed to helps us choose from our four mains options. My companion ends up with rabbit, and I with a wonderful hake number paired with octopus and clams. There are another nine courses or so beforehand: white bean purée and caviar; amuse-bouche of anchovy croquetas and a wafer shell full of jamon; mackerel and almond cream, a rather full-on martini glass of oyster, and a tuna sorbet in a sumptuous pool of gazpacho.
(Pictured above: Hotel Maria Cristina, San Sebastián)
A cheese trolley wheels past as we are dished with delicate sheep's milk cheeses (and some Stilton, perhaps unusually) before two full desserts – including a chocolate mousse which my girlfriend and I could swear is topped with a Parmesan foam (although, admittedly the rising tide of Ribeiro and Priorat could be clouding our senses somewhat at this stage in the evening).
We wake up the next day positively bulging, swearing it would take a famine to make us eat again – but that's not an issue here. Now we have to put in some elbow-grease of our own as the hotel is home to an uber-hip cookery school – and we are booked in to try our hands next to some local masters. Mateus Mendes and Agus Araquistáin, the chefs in residence here, promise to teach us even those who can barely put a bowl of cereal together how to make five of the Old Town's infamous dishes: the 'mini huerta', or vegetable garden, pulpo con membrillo (octopus with quince jelly), carrilleras en salsa (veal cheeks), brandada de bacalhao (saltfish emulsion) and last but not least – the 'best cheesecake in the world'.
(Pictured above: the cookery school at the Maria Cristina)
Here, molecular gastronomy is the name of the game — there's dehydrated mushroom soil set aside for our colourful little cups of 'vegetable garden', and wasabi 'caviar' in the saltfish — but as is, home-cooked simplicity in the veal cheeks cooked in rioja to near-blistering richness for three full hours. Meanwhile, we learn that the cheesecake is actually made with Philadelphia cream cheese (really) and after four hours, we have somehow managed to plough through three huge bottles of olive oil before tucking into our creations. It's all stunningly pleasing and fresh – though we may never recreate that elaborate little vegetable garden in our humble kitchens back home, there's no doubt that we've picked up some real haute cuisine know-how. It seems Hélène has company, and it's in the hotel basement.
We've barely finished chewing our last morsel before embarking on our night tour of all things pintxos. Our charismatic local guide and food oracle, Lourdes, takes us to six bars where the food is of such quality that we somehow manage find more room within ourselves for more. The hands-down standout of the night is Zeruko, with its modern and molecular take on pintxos, serving up specialties like 'la Hoguera' (the bonfire): saltfish grilled on a tiny barbecue, served up with a tube of liquid salad (yes, liquid salad). And finally, we get to try La Viña's cheesecake – although we think the Philadelphia variety we made back at the hotel is better (sorry, La Viña).
(Pictured above: That cheesecake)
Sadly, there's far too much to see, do, and of course, eat in San Sebastián in 48 hours. We never do get our txuleton steak from Bar Nestor, never mind scale the vista of Monte Igueldo overlooking the city from the other side of the bay.
Perhaps it would be wise to skip a meal or three to better experience the Basque region's unique culture and rebellious spirit, in such a short space of time. But when all is said and done, the hotel and Hélène Darroze's hake plate (and that cheesecake) was what most remains in our minds (and our waistlines) – and will do for longer than any tourist trap or art gallery.
Details: San Sebastián
Ryanair flies from Stansted to Biarritz from £40 return. From there, San Sebastián is an hour's drive or an hour and 20 minutes by train.
Hotel Maria Cristina, a Luxury Collection Hotel (00 34 943 43 76 00; luxurycollection.com/mariacristina) offers double rooms from €250
Hélène Darroze at Hotel Maria Cristina (helenedarroze-sansebastian.com) will be open for lunch and dinner Wednesday-Sunday until October 30. The restaurant offers three different menus, from €98 per person.
San Sebastián Food cookery school, (00 34 943 42 11 43; sansebastianfood.com), within the Hotel Maria Cristina, offers cookery classes for €155 per person, and guided pintxos tours for €110 per person.