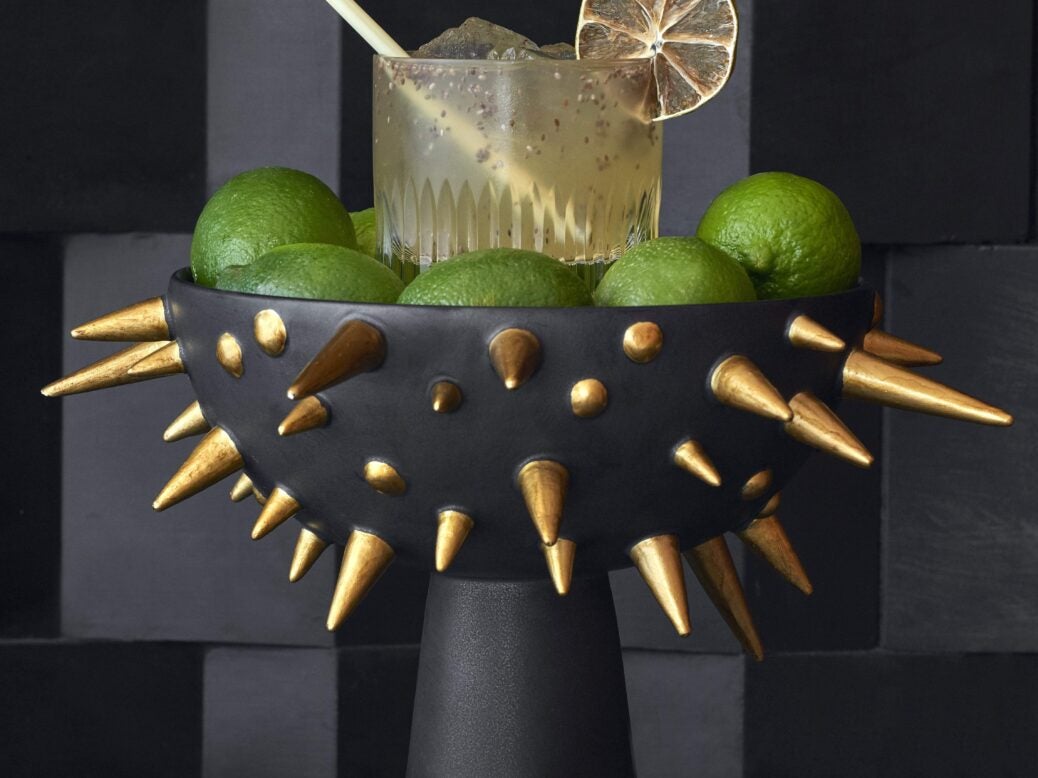 Christopher Jackson has his meal of the year at Martha Ortiz' newly opened Ella Canta
Ella Canta's location is remarkably unpromising: it forms the Park Lane-facing wing of the Intercontinental Hotel, and is thus only able to offer views of a roundabout. Admittedly it's London's premier roundabout, which the Duke of Wellington used to live beside – but in those days it wasn't a roundabout.
But to enter is to disappear as surely as Alice down the rabbit-hole into something else entirely. Once we're inside, the receptionist, emanating a love of life which does seem plausibly central American, says: 'Welcome to Mexico!' And indeed not only does one feel welcome, one feels as though the second half of the statement might also be plausible. For instance, there are some Frida Kahlo-ish statues, and modernist mirrors with spikes coming out of every side like Oaxaca sunshine.
This turns out to be Mexico as seen through the eyes of a highly original mind. Martha Ortiz is celebrated in Mexico on account of the imaginative chutzpah of Dulce Patria in the Las Alcobas hotel in Mexico City. But although there is a cerebral side to any restaurant where a pudding is surreally called 'Maria from Mexico arrives in London', the place never deviates too far from a simpler doctrine of sheer good fun.
The cocktails are an immediate indication of this: I opt for 'Coa de Jima' – a tequila, and Huana Gunaabana Rum liqueur-based affair. I imagine there be might be some people, the sort of folk you used to see changing the CDs at cocktail parties, who could have one of these and then not immediately order another. The objection to such people is that they haven't committed properly to life. For myself, I was only restrained from ordering a third by the necessity to try some wine.
And wine's great sidekick food was already in the offing. After agonising over a menu which consisted wholly of things I was in the mood to eat, a bombastic waitress arrived and announced shortly after swinging to a halt at our table that she would bring a selection of everything. We yelled our immediate agreement above the minor stresses of the beat-riddled music. A glass of wine was dispatched like an easy question. And then all at once – as if in a particularly splendid dream – food began arriving.
First up was guacamole – far creamier than the inferior notion of guacamole I had been toiling under. It also came with ricotta, pomegranate and – the pieza de resistencia – gold grasshopper. This was followed by two dishes of surreal grandeur: there was the 'Vampire ceviche with mango and sangrita sorbet', the sorbet like a slice of cold murder merging with the warm fish. This was served alongside tentacles of octopus, a dish which came with chilli sauce and topped with burnt onion – an edible legginess.
The world was starting to seem quite Mexican. Even the Shiraz – a sort of blokey punch on the arm where a chummy vigour makes up for lack of wit – was the taste of strange fields and landscapes I'd not visited. The wine and the two cocktails began to fuse, creating a certain one-off inspiration. The wine was paired with an excellent steak, which came charcoal-roasted and with a tree chilli sauce which my companion – suddenly overtaken either by fullness or by an obscure dislike at odds with his usual sense of adventure – refused to try.
We finished with some slightly compulsory Fantásticos churros Mexicanos con festín de caramelo y chocolate – these were rivered with chocolate and caramel and were a suitably decadent conclusion to a fine evening. Perhaps Ella Canta – or 'she sings' to give the name its translation – never entirely makes you forget that you are in a chain hotel, but it's a great achievement to create something with such vigour where you'd least expect to find it.
Christopher Jackson is Deputy Editor of Spear's