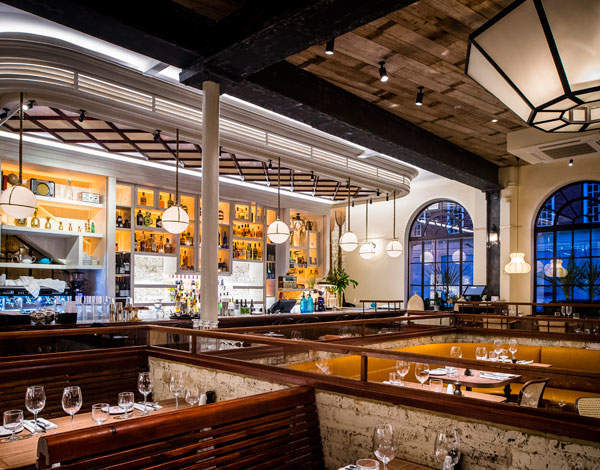 Categorically not a reindeer, Blixen is a new European brasserie in Spitalfields. So new, in fact, that it still smelt of paint on the night we went in. The interior has elements of the grand European brasserie, but how such a brasserie might look when seen through Shoreditch shabby chic tinted glasses – obligatory distressed paintwork and vintage crockery. You get the picture.
Head downstairs, though, to the private dining room and the atmosphere is rather different. The walls are paneled in a rich wood, huge fronds of potted palms fall into the space around the long central table, which is simply adorned with tall, brushed brass candle sticks. It is a rather lovely space – elegant yet relaxed.
The menu is full of very tempting sounding dishes from a croque madame (somewhat elevated by raclette and a duck egg) to a squid, chorizo and chickpea stew with saffron aioli. The stew is delicious. It has a decent kick of heat and the squid is velvety and thankfully nothing like small rubber bands.
Not all of the dishes were as successful – the half poussin with fennel and salsa verde felt a little mismatched flavourwise but was nonetheless perfectly fine, just not something I would order again. I have been told the classic brasserie dishes (grilled sirloin with Café de Paris butter and fries, and pan-fried frog's legs with garlic, lemon and thyme) are great, but then again most things covered in garlic butter are.
You can easily imagine spending a lazy Sunday morning here, enjoying brunch and reading the papers, or having dinner with friends accompanied by the house cocktail – a sort of negroni for wimps – made of rosato and bianco vermouth, cynar, prosecco and orange.
The food here isn't earth shatteringly good across the board but there are some excellent dishes on the menu and besides, so much of the joy of eating out is in the ambience of a place and Blixen has a great deal of charm. Give me one of those wimpy negronis, a bowl of that stew and a good stack of bread and I would be very happy.