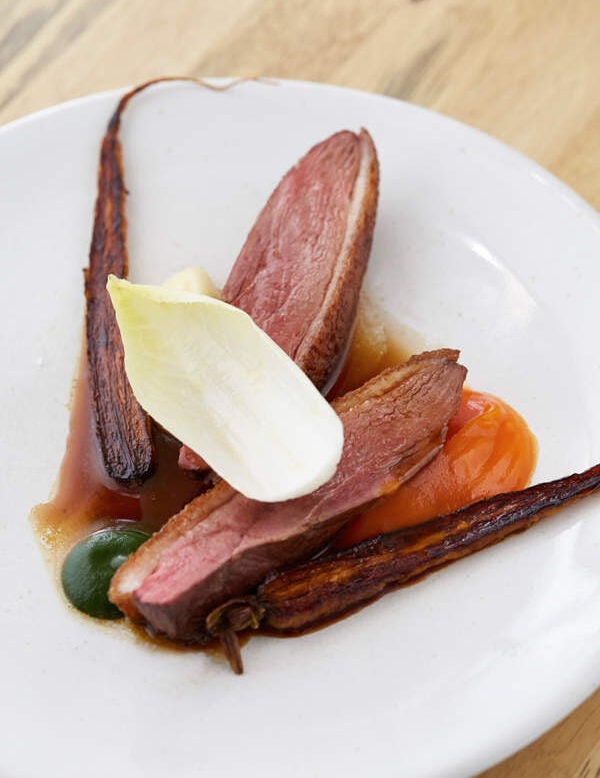 Two Fridays ago I returned to London for a flying 24-hour visit and, boy, was I going to make the most of it. Food here in Zurich isn't as good, plentiful or affordable as it is in London (though there are some great restaurants around, to be clear) and certain things are nigh-on impossible to find. It was my aim, therefore, to eat as much sushi for lunch as I could get my hands on and find somewhere rather special for dinner.
Antidote wine bar is sandwiched down an alley off Carnaby Street. When the weather is hot, like it has been, the big windows looking out on to the street fold back, letting the inside out and the outside in. It's lovely – very convivial. Downstairs you can enjoy charcuterie and small plates alongside some cracking organic and biodynamic wines, while upstairs is a relaxed restaurant.
Much has been made of this place, given that the executive chef is Mikael Jonsson of Michelin-starred Hedone. Rightly so, too. When I visited head chef Chris Johns was sending out some magnificent plates in the heart of London's busiest shopping area – plates that were delicate, seasonal and cooked just so. He has now left although the food remains excellent under new head chef Michael Hazelwood.
Wild trout with cucumber and seaweed puree was a lovely thing – vibrant with pinks and greens. The trout came raw in a tartare and was combined with cool cucumber and the seaside flavours of seaweed.
Roasted monkfish with spring cabbage and mussel sauce was one of the finest dishes I have eaten in a long while – perfectly soft monkfish, a light, buttery mussel sauce, some just-wilted spring cabbage and a few fronds of samphire. This is mop-it-up-with-bread territory.
Cumbrian saddle of lamb, aubergine and fresh turmeric was ablaze with the fiery orange of the turmeric and the aubergine was so meltingly soft it only held form thanks to its charred outside. All of the dishes were simple but faultlessly seasoned.
The prices are also very reasonable, with a four-course tasting menu coming in at £40. Antidote is one of those places I would go to for a quick glass of wine and something to nibble after a busy day. It is also one of those places I would go if I was craving an informal, lazy meal with friends.
Basically, it caters to pretty much all of my needs and on a summer evening with the bustle of the street drifting in on the warm air, it was exactly what I had been craving.