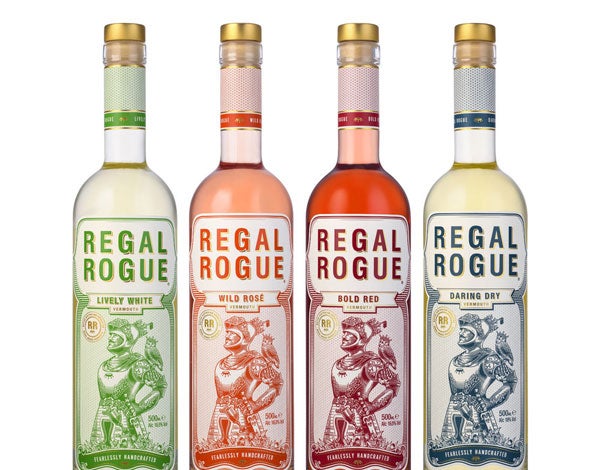 At a Soho restaurant last month I was fortunate enough to bump into 'Lord' Mark Ward of vermouth brand Regal Rogue. It's a title he acquired not by inheritance, but by haughtily requesting a 'long lunch' for his tenth birthday.
On sampling his wares, I asked if he had any future tastings lined up and rather amiably he suggested coming to Spear's to provide some samples. Knowing how in need of refreshment the Spear's team are by Friday afternoon it wasn't difficult to say yes.
On said Friday a trolley appeared in our office accompanied by Lord Ward and his business partner, Barrie Wilson. As a crowd of parched journalists assembled, eager to slake their thirsts, they were first given a whirlwind introduction into vermouth and Regal Rogue's own journey.
Branding themselves as 'disruptors', they make the vermouth entirely from Australian wines, spices and herbs, and it is fruitier and lighter on the palate than its Old World counterparts. Regal Rogue won Vermouth of the Year at the Berlin International Spirits Competition this year – particularly impressive as they don't currently sell in Germany.
But what of the booze? First up was the Daring Dry and tonic: dry, certainly, but without the bitterness that takes you to the wall. There's a detectable fruity smoothness that hints at an easygoing sunny Sauvignon heritage which encouraged one Spear's team member to hail it as a 'dangerously good G&T alternative'.
That sunny heritage came to the fore in the Lively White and the Wild Rose. The Lively White was served up as a substitute for a gin in a Tom Collins, with a sprig of rosemary making for a fresh twist that played on the botanicals and gave it a springtime feel. The Wild Rose, either on the rocks or simply with tonic or lemon & lime, was as sublime as they come.
Apparently it was the vermouth that came easiest in creation: 'We just knew,' says Wilson. It's immediately obvious – an enchanting bouquet of Australian botanicals, led by Strawberry Gum (Eucalyptus olida) that brings a light, butteriness to the fruit, chiming with the citrus – using it to play light and cool fruity notes rather than giving into a more bitter acidity; it is a brilliant drink.
Ward and Wilson emphasise the use of Regal Rogue as an alternative to gin, giving drinkers a much more identifiable botanical trip while keeping your alcohol intake down to 0.8 units a glass as opposed to two.
But as it was Friday they did have something more suitably heavyweight. Wilson, founder of the World Class bartender competition, rustled up a mean Manhattan featuring their Bold Red vermouth, Jack Daniels and splash of pomegranate. Given the light nature of the Regal Rogue flavours, I was surprised how easily it dealt with the whiskey, definitely putting this in the 'dangerously good' category.
By close our dapper hosts had pretty much converted the entire floor to the court of Regal Rogue, providing a desk service for the fun-shy and encouraging their new disciples to make up their own cocktails.
It's easy enough to persuade a bunch of downtrodden office workers that the alcohol you're giving them on a Friday afternoon is top notch stuff but the Regal Rogues weren't pushing any spiel: the vermouth spoke for itself. These are tasty, refreshing and fun drinks that, like any great vermouths, are overtly gregarious but still delicious in solitude. I shall be happily toasting these rascally pretenders to the vermouth crown.