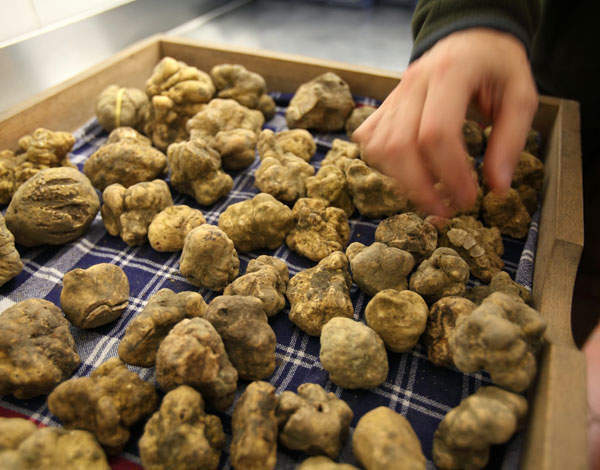 All this week I have been craving two things: croque monsieur and truffled egg toast (I walked past Spuntino on Tuesday). In a moment of what turned out to be pure genius I decided to combine elements of both dishes to make something really rather excellent. It brings together all of the good things in life – a creamy sauce, melted cheese, glorious bread, gooey egg yolk and white truffle. Pure bliss.
I can't claim to have invented the truffled toast. Personally, I always think it belongs to Russell Norman, but this little version is of my own making – just with a large nod to the aforementioned owner of Polpo and its offspring.
So, for the ultimate in comfort food for this dreary November weekend, here is my truffled egg on croque recipe.
Makes two
For the béchamel
1 tbsp butter
1 tbsp plain flour
300ml milk
Salt and pepper to taste
For the rest
Four thick slices of white bread, preferably a unsliced square farmhouse loaf
2 egg yolks (save the whites for meringues or glazes)
200g grated cheese (I used a mature cheddar because that is what was in the fridge)
White truffle oil (only use ones with natural infusions)
Method
For the béchamel, melt the butter in a pan and stir in the flour. Allow to cook out for a few minutes, otherwise you end up with a raw flour taste to the sauce.
Slowly add in the milk, stirring constantly to avoids lumps. Add enough milk to make a good amount of thick sauce – you want the consistency of bread sauce. You can adjust the amounts to make more or less sauce depending on what you like.
While the sauce is thickening, place your slices of bread under the grill – only on one side though. Once golden, remove from the oven and place on a board.
Place two slices toasted side down. Cover those slices with two thirds of your béchamel sauce.
Take the other two slices of bread and cut out a hole in the middle, large enough to hold your egg yolk. (I ate the removed piece of bread. You can do what you want with it.)
Place your cut slices of bread, toasted side up, on to your béchamel-covered slices. Drop the egg yolk in to the hole and cover with grated cheese.
Pop your toasts under the grill until the cheese is melted and bubbling.
Remove from the grill, add a little salt and pepper to the yolk and drizzle with a good amount of truffle oil.
Eat straight away, then probably go back and make a second round.