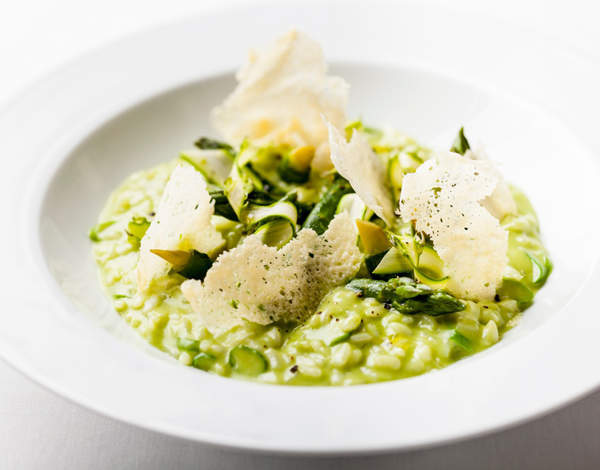 We have a fresh spring recipe from the Grill at the Dorchester for you today, perfect for a warm (but not too warm) evening, perhaps sitting outside on the terrace with a glass of cold white wine.
INGREDIENTS
For four people
Carnaroli rice 240g
White wine 80g
White onion 200g
Chicken stock 1.5 litres
Asparagus purée
Green asparagus 300g
Shallots 90g
Olive oil 30g
Asparagus garnish
Asparagus 400g
Grated Parmesan 80g
Butter 40g
Olive oil 80g
Parmesan crisps
Grated Parmesan 80g
METHOD
Asparagus purée
Wash and trim the asparagus. Cut them in thin slices. Simmer the shallots then the asparagus slices for five minutes on a low heat, add a couple of tablespoons of water at the end. Mix in a blender, strain with a clean cloth to remove the extra water.
Parmesan crisps
Heat a non-stick pan. Sprinkle the Parmesan in a lace-like pattern and let it melt and dry to form a crisp. Let the non-stick pan cool a little bit, it will be easier to remove the crisps. Repeat four times.
For the risotto
Bring the chicken stock to a light boil in a pan.
Prepare the asparagus garnish. Use the softer part of the asparagus with the heads. Boil them in salted water for four to five minutes. Glaze them with olive oil to add a shiny finish.
Peel and finely slice the white onions. Soften the minced onion without browning in a saucepan with the butter. It is essential to stir the risotto all the time it is cooking.
Add the rice and stir for three minutes until it becomes translucent, then add the white wine and let evaporate completely. Cover with a ladleful of boiling chicken stock and simmer.
When the rice has absorbed all of the liquid, cover with stock again. Repeat this operation as necessary. At around seventeen minutes into cooking time, you need to taste the rice with a small spoon and stop it when it is cooked to your liking. At this point, add 40g of butter, the olive oil, 80g of Parmesan and the asparagus purée, then mix gently with the spatula.
Finish with the asparagus heads and the Parmesan crisps. Enjoy straight away.