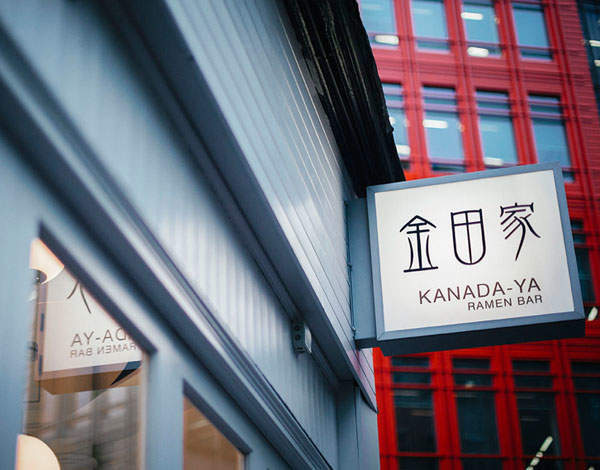 Ramen is everywhere all of a sudden. We've gone from having just Tonkotsu and Bone Daddies to there being a new opening seemingly every week. It certainly isn't date food, or meeting food. There is nothing appealing about slurping up noodles, poor chopstick work and stock splash-back but it very much is the food of choice for a quick – and cheap – catch up with friends who've inevitably seen you looking much less elegant. Here is a round up of the newest additions from Upper Street to Charlotte Street.
Kanada-Ya
A bright little ramen bar behind the Google building near Tottenham Court Road, it offers only ramen and ongiri (rice balls wrapped in nori). The broth here is simmered for eighteen hours, the longest I've come across, and is beautifully rich, and flavoursome and the chasiu pork collar on the deluxe Chasiu Men is melt in the mouth.
The broth has a lovely creaminess and a pale creamy colour to match – quite different to many of the darker brown broth you see. A friend of mine who works in the Google building says there is always a queue out the door at lunchtime so get there early. It is worth it.
Roka – Shochu Kanteen
For anyone who is too time- or money-poor to lunch at Roka upstairs, you can now have a quick lunch downstairs in their Shochu Lounge, which converts in to their 'kanteen' from 12-3.30pm. The menu is a little more diverse here with delicious soft buns filled with Korean spiced shredded lamb shoulder, pickled cucumber and various other spicy additions, salads – the edamame and mixed bean one is excellent and a true chopstick test – a few fried options and some puddings. I was in and out in less than 45 minutes and I wasn't rushing. Roka quality at ramen bar prices. A great option.
United Ramen
I feel that this is one for the kids. (By kids I mean the students of Holloway.) Located on Upper Street this is out of the traditional central ramen zone and with a lunch menu for £7.50 the cheapest of the bunch. They have a number of ramen dishes influenced by international cuisine with a British roast ramen dish available at the weekend. If you want simple, authentic ramen this probably isn't the right place but if you want something more adventurous, this might be for you.
A warning to anyone having the bubble tea cocktail – you have to stab it with a straw. Now, from experience this can end very badly and result in you having to leave the table to wash your sticky hands and dry your face. Also, even though you know they are there, it still remains a surprise when the 'bubbles' – aka chewy flavourless balls – end up in your mouth. Be prepared.