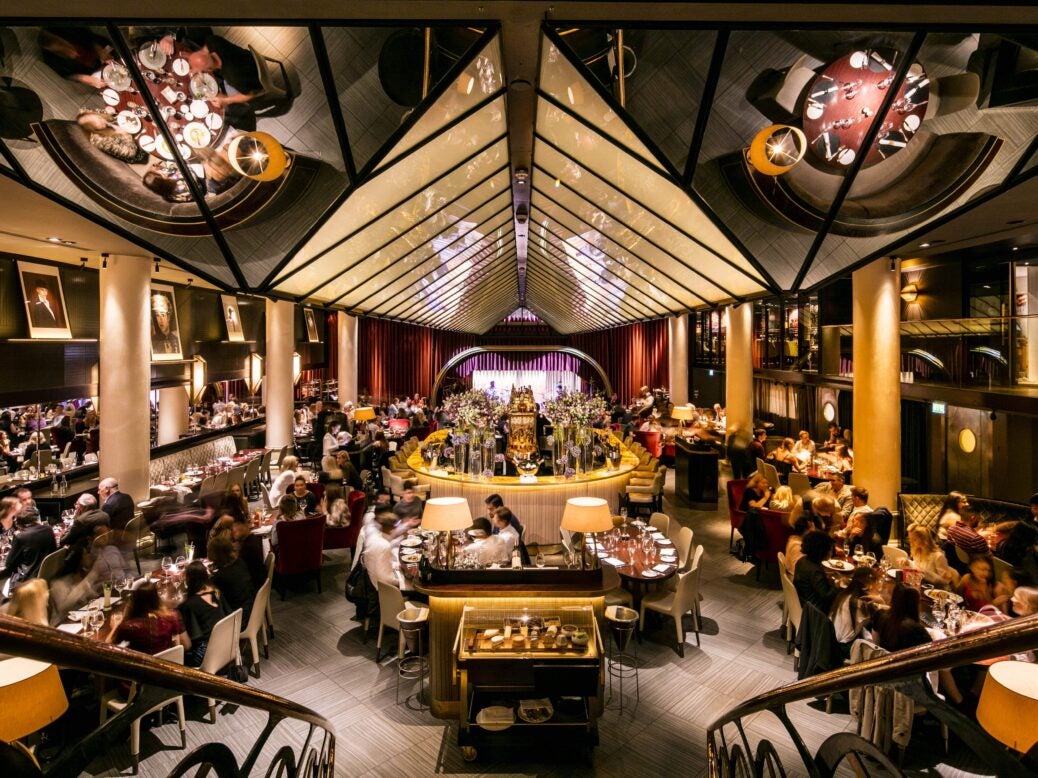 In a London full of bottomless brunches, Mayfair mainstay Quaglino's impresses with a stand-out offering, writes Arun Kakar
Apparently a favourite of the Royals, Quaglino's has been through several phases since its establishment on Bury Street in 1929. There was its status as an establishment haunt in the 1930s, followed by mixed fortunes in following decades: the 60s bought the likes of John Profumo and Judy Garland to its dancefloors, while the 90s led to an unlikely association with the TV show Absolutely Fabulous.
Now, brunch. At some point in the last year or so, the concept of the bottomless brunch became a London phenomenon. It seemed at a point that every eatery with a breakfast menu had designed a suitably boozy way of kicking off a late weekend morning by offering unlimited drinks – prosecco is often the go-to tipple – within a certain time period. The result, whether it's at Gordon Ramsey's Bread Street kitchen or Mayfair's Coya, is in many ways the logical capturing of London's love of day drinking. 'If you're going to drink anyways, why wait until lunch?' seems to be the wager here. It's not a wager that many will find totally disagreeable.
That Quaglino's is jumping on this trend isn't surprising. It can, after all, add its intrinsic class to affairs, thanks to an imposing Art Deco outfit which still carries the sheen of a £4 million renovation in 2014. It's also got the menu to boot. The food here does not mess around.
My friend and I aren't here for the bottomless brunch, although it seems the vast majority are. We're ingratiated by cocktails from its 'science of sustainability' menu, which boldly claims to take drinkers 'into the future' by way of its various concoctions. My cocktail, the Green Revolution, is a scientifically attuned mix of Michter's rye, yellow Chartreuse, Lime, beer honey, matcha tea and pistachio foam. It's as rewarding as it is complex: refreshing, a little sharp and touch of sweetness…brunches don't often begin like this.
Then onto the main event, there's only so much nut mix that can assuage an empty stomach. We're lead from the darkened bar to the front of its dining hall, all shiny, glitzy and polished. It's clear that tremendous attention to detail has been paid to the maintenance of this place, the straddling of its heritage alongside its shift to find a contemporary, renewed appeal. On the stage, a DJ is working his way through remixes of soul classics.
With a glass of fine white wine poured, I opt for the smoked salmon and scrambled eggs, while my friend bravely takes the oysters. Both are exceedingly good. My salmon, that kind of soft, unstringy, melt-in-mouth good, my eggs firm, and the brioche fluffy. It's hard to envision what could possibly be altered to this in order to improve it. Next, it's my turn to show boldness in my selection and I go for the lobster thermidor (he takes the salmon this time).
It turns out to be a brilliant choice, and any of my lingering questions about my appetite are immediately extinguished. This is a crustacean with an inherent calibre, yes, but it is to one's relief that what could be overly creamy and rich in the sauce is in fact subtle and supplementary, teasing out the best of the meat while giving it a little kick. At this point, it's starting to feel less like brunch and more like a feast.
As desserts come in – my cheeseboard, my friend's white chocolate and lemon brûlée – a peculiar thing begins to happen around us. All of a sudden, once we are extracted from our conversation, it appears that the music has been turned up a few notches, and the Prosecco is flowing with increasing speed around the tables. Bruno Mars blares around the hall, punctuated by the odd cork-pop. Brunch has become bottomless.
It didn't affect our afternoon in a hugely negative way – my cheese selection was exquisite and my friend voiced similar appreciation for his dish – but the dramatic interlude is worth expecting if one should come here on a Saturday afternoon. Who knows, you might even find yourself joining the festivities.
Brunch is not something that I can claim any deep passion for (and there are people who are deeply passionate about brunch) but when we top-off our afternoon with a stiff coffee before heading out into the sweltering heat, it's clear that this is top drawer. It fulfils the classic staples such as eggs, with aplomb, while delivering a menu of diversity, with a sense of adventure and supreme quality. Not everything we ate was typical of a brunch menu, but nothing felt out of sorts. A few tipples to round things off, too – what signals the start of the weekend better than this?
Arun Kakar writes for Spear's