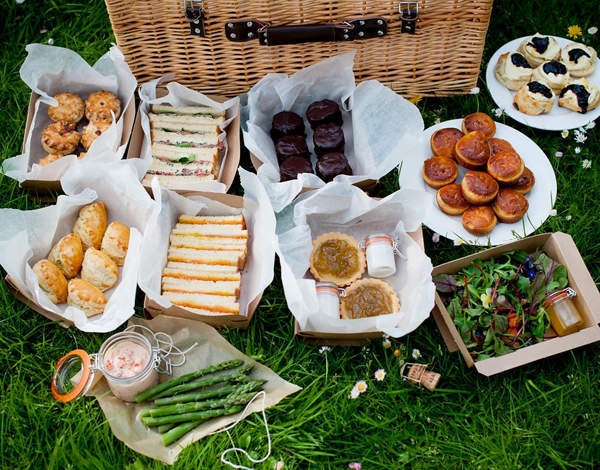 These hampers can only be described as sumptuous. Think garden banquet rather than picnic. These are the kind of hampers that induce picnic envy! Contents vary according to the month, so June's contents differ from that of July and this is a good thing, after all, variety is the spice of life.
Comprising the best of British produce, Honesty Hampers include delights such as: crayfish cocktail with asparagus, hot smoked salmon and horseradish potato salad along with mixed leaf salad with honeysuckle blossom dressing, and mixed toasted nuts.
Of course, no picnic would be complete without good old fashioned staples such as mini pork pies, quintessential finger sandwiches and scones with Cornish clotted cream and home-made jam. Always the innovator and never the imitator, Honesty Hampers also include home-made cakes, sweet treats such as green tomato and vanilla cream tart, gooseberry Eton mess as well as selection of British cheeses with homemade biscuits, traditional accompaniments and a selection of bread rolls from the Honesty Bakery with homemade butter.
A gastronomic delight indeed, the Honesty Hampers live up to their namesake. Everything is made from scratch and is fresh and this is reflected in the taste. No preservatives, no nasty chemicals, just good honest food.
Rumour has it that Honesty Group are planning to launch a special Shooting Hamper, perfect for the Glorious 12th as well as a selection of Christmas Hampers. You heard it here first!
Honesty Hampers need to be ordered 48 hours prior and can be delivered to your door (subject to location) or can be collected from The Crown & Garter, Pub and Restaurant, Inkpen, Berkshire (www.crownandgarter.co.uk).
Hampers start from £156 for a four person hamper with a £36 redeemable voucher (at any Honesty Group company, including the Crown & Garter, Pub and Restaurant, Honesty Cookery School and Honesty Bakery).
Call Rory Dyson at Honesty Group on: 07809608578 or email rory@honestygroup.co.uk to order your Honesty Hamper today!