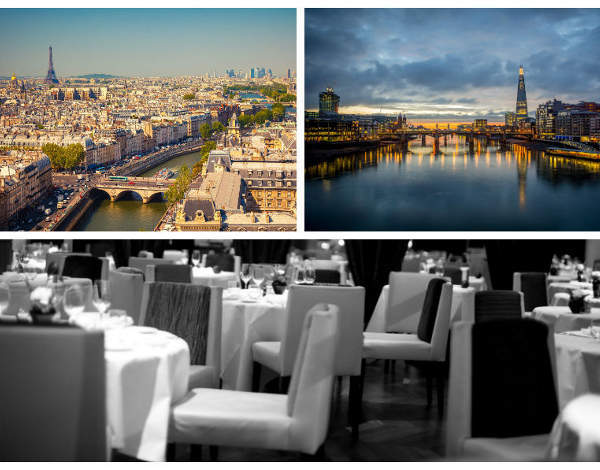 London and Paris have the best fine dining restaurants in the world, according to the Elite 100 Restaurants 2014. Both have eight entries in the annual ranking voted for by readers of private jet lifestyle magazine Elite Traveler.
London's eight restaurants include The Ledbury (9th), Dinner by Heston Blumenthal (23rd) and Restaurant Gordon Ramsay (24th). Alain Ducasse at the Dorchester (54th), Le Gavroche (74th), Amaya (76th), Nobu (96th) and Zuma (99th) complete the London set.
Chicago's Alinea takes the number one spot for the third consecutive year. New York restaurant Daniel ranked second. Celebrity chef Heston Blumenthal's The Fat Duck in Berkshire comes third ahead of New York's Eleven Madison and Le Bernardin. Blumenthal has two restaurants in the Elite 100 with Dinner by Heston jumping from last year's number 44 to 23 in 2014.
Blumenthal also picked up Elite's Chef of the Year award. He says: "Food critics are very important for the business and obviously bring the general public in but ultimately you're cooking for your customers. You want to give them the best pleasure and experience. To have this recognition after we've been going for nearly twenty years is fantastic."
The UK had a total of twelve restaurants in the ranking. Food critic Andy Hayler, who has eaten at every Michelin-starred restaurant in the world, believes it is deserved recognition. "This year on the Elite 100 list there are a dozen restaurants from the UK – eight of those from London – and I think this really reflects London's status as an international dining destination," he says.
Azurmendi restaurant in Bilbao, Spain, was the highest new entry at number seven. There were sixteen restaurants overall appearing in the Elite 100 for the first time. Hong Kong's Amber (14th), Shanghai's Mr and Mrs Bund (38th) and Tokyo's Nihonryori Ryugin (40th) were also among the highest new entries.
Top ten Elite 100 Restaurants 2014, sponsored by Laurent-Perrier:
1. Alinea, Chicago, US
2. DANIEL, New York, US
3. Fat Duck, Bray, UK
4. Eleven Madison, New York, US
5. Le Bernardin, New York, US
6. El Celler Can Roca, Spain
7. Azurmendi, Spain
8. La Pergola, Rome, Italy
9. The Ledbury, London, UK
10. Osteria Francescana, Italy
<p>See Elite Traveler for the top 100 list in full