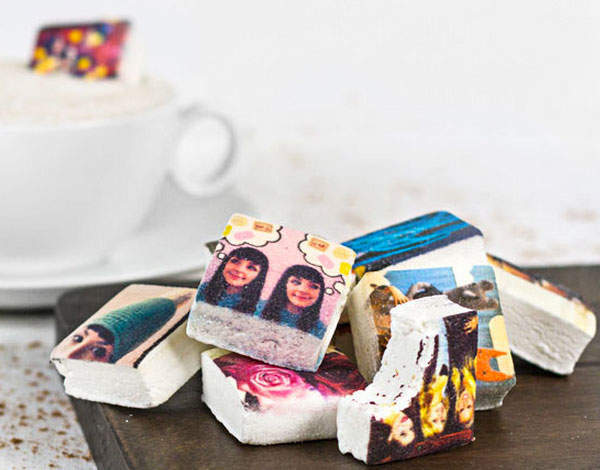 Technology is a wonderful thing: nanobots to ferret out your kidney stone, fridges which order their own contents, 3D printers which can manufacture another 3D printer and so on to infinity. But perhaps the greatest wonder the 21st century has to offer us comes from James Middleton's Boomf: marshmallows with Instagram photos on.
I learnt about Boomf when I sat next to one of its investors, Nick Jenkins, at our Young Turk Awards on Wednesday: you upload your Instagram pictures, they print them onto comestible deliciousness. The lighter and clearer the picture the better, but if you want a black dog on a black rug during an eclipse, I'm sure they'd do that too.
At £15 for a box of nine, it's an expensive novelty, but bound to surprise – for at least the next few months until WHSmith start doing something similar and iMarshmallow shops pop up on identikit high streets around the country.
James Middleton, lately sporting a George V beard, has heritage in the novelty-goods business: his parents' company Party Pieces made millions out of hooters and sugared almonds.
He himself previously started a company called Nice Cakes, which is looking slightly less nice now: its website says it is 'going through redevelopment for January', it now of course being July. (It has not been profitable, according to the Daily Mail.)
Still, if Nice Cakes' cupcakes with photos printed onto them didn't work, I'm sure Boomf's marshmallows with photos printed onto them will.