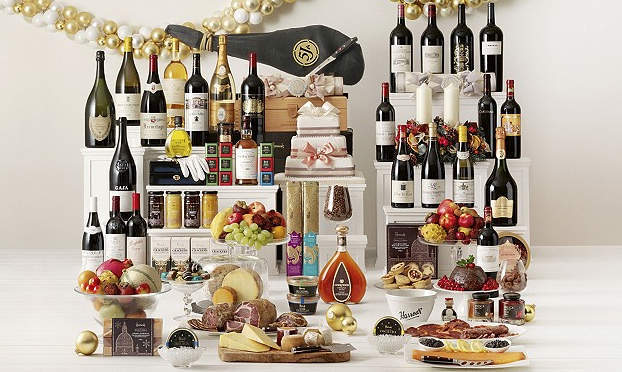 It isn't quite the festive season yet, however, there are a few things that need to be done in advance of December. Making the Christmas cake is one of these things and the other is thinking about your Christmas hamper. Although you can keep ordering up until almost the last minute, this is something you can sensibly do in advance thus relieving yourself of some of the holiday pressure.
Harrods Hampers really are the ultimate in festive luxury – indeed we featured their Decadence limited edition hamper (£20,000) in issue 35 of Spear's – so it seemed only natural that we should try one out for our readers (at a slightly lower price point). You know, just to double check that they really are the thing to see you through the turkey-free days.
There is little more exciting than a gigantic box with Harrods emblazoned on the side turning up at the office. The one thing that trumps it is opening up the dark wicker hamper and rummaging through its contents. On this occasion the Spear's team were thoroughly road testing the Gourmet Collection (£500) – an absolute joy filled with 5J Iberico ham, smoked salmon, Oscietra caviar and blinis, duck rillettes, chicken liver parfait with truffle butter, beautiful cured meats, crackers, all manner of cheeses and four lovely bottles of French wine.
I'm sure the idea is to dip in and out as and when you feel like it over the festive period but my, it doesn't half make one incredible lunch for around eight people. Fluffy little blinis topped with smoked salmon and caviar are the perfect opening morsel before you start navigating your way around the extensive selection of cheeses (including an unusual goat cheddar) on their lovely wooden board, which comes with the hamper.
For me, there were two real standout items – and you might comment on my meat bias here – the chicken liver parfait and the Mortandella Corra. The chicken liver parfait was silky smooth with a wonderful depth and the truffle butter than encased it was unspeakably good, while the Mortandella showed the quality of the produce; simply spiced, the natural flavour of the meat was able to shine. That said, everything inside was genuinely exquisite down to the very last cracker.
As it says in the Harrods Hampers & Gifts catalogue, 'Of course epicurean food calls for fine wine,' and that is exactly why you will also find four bottles of glorious French wine nestled in your hamper – including a Châteauneuf-du-Pape and a little festive fizz in the guise of the Duval-Leroy Brut AB champagne.
With over a century of experience making and delivering hampers, Harrods really do know what they are doing, so if you are looking for a little treat this year, I suggest you investigate www.harrods.com/hampers, or for corporate orders please call 020 7 225 5994.