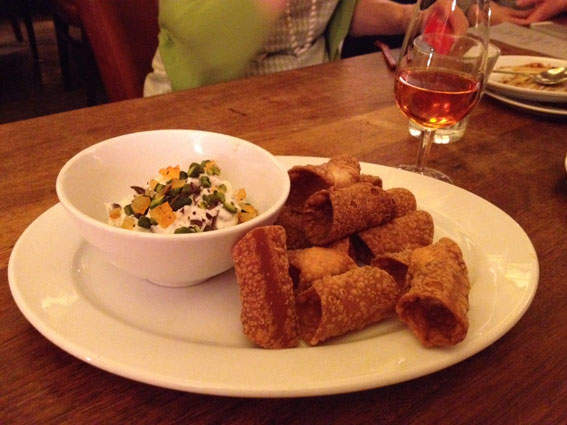 Murder mystery meals at my house usually revolve around discovering who roasted a chicken to death (it's always me). But putting a twist on the old idea of death-at-the-dinner-table is Bocca di Lupo chef and Spear's wine columnist Jacob Kenedy, with his Andrea Camilleri-Inspector Montalbano literary lunches.
You are no doubt familiar with the policeman-cum-gourmet Montalbano, who solves crimes in Sicily in between lavish meals. This makes these books a perfect match for Jacob, who serves forgotten but delicious regional Italian dishes.
From Sunday 2 to Thursday 13 February, Bocca di Lupo will offer dishes like Pasta alla Norma, Rabbit cacciatore, Charcoal-grilled fresh tuna with shelled shrimps, and Braised beef cheeks with chocolate, pine nuts and raisins.
Jacob says: 'Every time I read a Montalbano book (which is as often as they are written), I get so hungry for the Sicilian specialities that share a special place in my and the foodie sleuth's heart. I thought a one-off series of book club lunches would be the best way to relieve this hunger, and alleviate the winter gloom.'
Each lunch will have a culinary guest speaker talking about why they are a Montalbano fan; they include Rowley Leigh, Claudia Roden and Tom Parker Bowles.
Read a review at at the bottom
The full schedule is:
Sunday 2 February, The Terracotta Dog, presented by Jacob Kenedy
Tuesday 4 February, The Snack Thief, presented by Rowley Leigh
Wednesday 5 February, The Voice of The Violin, presented by Claudia Roden
Thursday 6 February, August Heat, presented by Maria Rejt
Sunday 9 February, The Potter's Field, presented by Fergus Henderson
Tuesday 11 February, The Age of Doubt, presented by Nancy Dell O'lio
Thursday 13 February, The Treasure Hunt, presented by Bill Knott
You can make reservations for the lunches on 020 7734 2223 or at boccadilupo.com. Tickets are between £30 and £55 per person
Lunch review
On Tuesday, I had the pleasure of listening to Rowley Leigh, founding chef of Kensington Place and Le Café Anglais, extol the virtues of Montalbano, although he confessed he'd never read any Camilleri until the week before.
Rowley talked about the 'strict grammar' of Italian food, which existed in reaction to 'the rest of the country [being] totally lawless and chaotic and corrupt'.
He also noted similarities between himself and Montalbano: 'Montalbano is quite clearly a creature of sensuality and a total escapist.'
The two key terms in the grammar of Sicilian food, it seems, are lemons and breadcrumbs, which suits me perfectly, being both a citrus- and carb-freak. They weren't enough to redeem the first dish of sardines, which I have a nursery grudge against, but they well set off a bowl of mussels.
Unbreadcrumbed was the sea bream carpaccio, which was fresh and delightful; judging from the table's reaction, we could solely have eaten this. It was not to be, however, as four of us shared the four main courses.
The dishes, as they passed clockwise around me:
– Pasta all' Norma (pictured above), which almost had me breaking out into a joyful rendition of Casta diva. When I say the chunks of aubergine among the tomatoes and feta-like cheese were dry, I don't mean like a beach but like a Martini – a bass note around which everything else sang.
– Hake with tomatoes and lemon, which fell apart in a tangy collapse. Probably the best dish.
– Beef cheeks in a chocolate sauce with raisins and pine nuts: not my favourite, I have to concede, though everyone else seemed very much pro-it. The slight orangey sweetness and the chilli in the background made it a bit sickly. The meat was melting, though.
– Spaghetti with cuttlefish (meat and ink): blacker than a Monday night at the end of the universe, a squirming sliding heap of pasta, hardly glutinous and endlessly moreish.
By this point, we were fit to bust, Mr Creosote-like. All that remained was a dark chocolate and amaretto timbale – a slightly more solid creme caramel – and freshly-fried cannoli (pictured above), tubes of sweet pastry which you dip into ricotta besprinkled with candied citrus peel and pistachio fragments and chocolate shards. I hope Montalbano would have been proud of our gluttony.