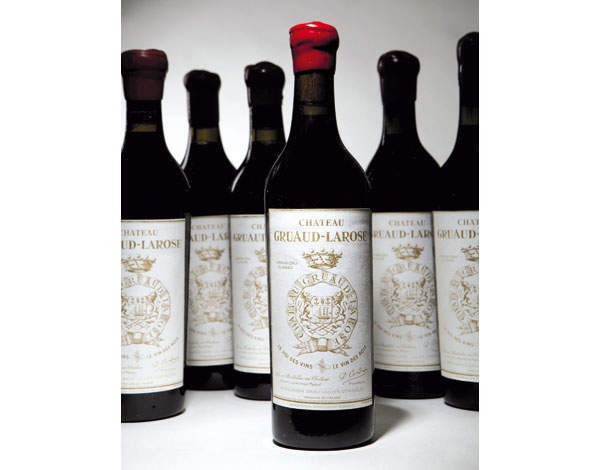 CELLAR DWELLERS
How do we know which wines will age, and which will fall into decrepitude? The most basic requirement for a wine to offer any hope of ageing is some sort of preservative, which the humble grape has aplenty.
Sugar, acid, tannin and alcohol have been used for centuries by confectioners, picklers, tanners and morticians to preserve one thing or another, and each has the same function in a wine. High sugar levels in dessert wines, acidity in whites and lighter reds, tannins and high alcohol content in fuller reds will help to give a wine ageing potential.
Wines that lack these structural components might turn to vinegar, or oxidise quickly, or become flabby and nondescript. In time, whites tend to become fuller, more rounded and less acidic. Reds tend to lighten, their tannins soften, fruit drops back a notch and complexity increases.
Read more on food and wine from Spear's
Acids and alcohols form new, aromatic esters. Tannins and anthocyanins (the bitter-dry and the redness in red wine, antioxidants both) polymerise together and eventually fall out as sediment. Tannins also polymerise alone into chains, which is how they 'soften'.
As they come out of solution, other, coloured phenols and polyphenols (and possibly some sugars) oxidise and the wine browns — red wines go from purple to red to brick, white wines from hay or straw to butter and then caramel.
Aromatic precursors oxidise in a web of interacting reactions, so complex prediction of the result is much more art than science. Flavours change — Pinot Noir and Nebbiolo tend to develop earthy flavours of woodland and truffle, Syrah tends towards spice, Chardonnay undergoes a transition from orchard fruit to dairy butter, and Riesling journeys from florality through a deliciously petrolic phase and finally on to one of honey, treacle and apricots.
What is true of all wines is those with a good structure (plentiful but well-balanced acid or alcohol or tannin) and high concentration (low-yielding wines often from poorer soils, or smaller grapes with more skin and less juice) make wine good for laying down. Any wine grown for high yield (ie most) will have little potential for ageing. Merchants such as Berry Brothers and Bordeaux Index can help you find wine to age — or can help you cheat and find you wine already aged.
In the pink
My first encounter with seriously aged wine was a Massandra pink muscat 'Livadia' from 1929. My mum bought it for me when I was nineteen, in one of her frequent fits of obscene generosity. Massandra wines, from the Crimea, were once the Tsar's vineyards and are aged deep in a cave at utterly constant, utterly ideal conditions — the muscats are highly concentrated and shrouded with enough sugar and acidity to last longer than a human lifetime.
I held on to it for a few years, and finally opened it to share with the chefs and managers of Boulevard in San Francisco, who had hosted me and taught me my trade.
The wine was overpoweringly beautiful — it had an incredibly fine balance between sugar and acidity and so many layers of flowers, spices, herbs and fruits that no princess would ever find her pea beneath it. It kept on going for ever. You can enjoy it yourself — Fine & Rare wines offers both young examples and aged ones — though in this case, I'd buy ready-aged, as half the cachet of Massandra is the unique ageing cellar and the environment within.
More recently I opened a bottle of 1974 Barolo from Aldo Conterno with my mum and a couple of friends. I wasn't feeling lavish — the cork was damaged and the wine level barely at shoulder height, so I was saving it from the bin. What came out was rancid, compost-like and vile. Nonetheless, I decanted the bottle and tasted its progress over a few hours, as we shared the meal it had been destined to accompany.
After an hour of nothing, the first faint tendrils of life started to infiltrate the bouquet. Decrepit manure morphed gradually into the leaves of the forest floor, pungent esters gave way to truffle, porcini and leaf-mould. Another hour later, my forest floor had regressed again from autumn back to spring. I could smell cherry blossom, lilies and green moss.
The wine had come to life, though still frail and barely breathing. Had it been better stored, it would have been positively spritely — and offered a journey, a history and a taste inconceivable in a young wine.
Almost all wines today are made to drink young — a result of our impatience, of modern-day economics and contemporary trends. Seek out those stalwarts that buck the trend: in time they yield a rarefied legacy.
WHITES FOR AGEING
– Muscadet Sèvres et maine sur lie Cuvée d'exception, Domaine R de la Grange, 2010. Muscadet is a wine normally drunk young, with oysters. This one is delicious today — lively, spritely with whopping levels of acidity and yet very well balanced. Over time the fruit should develop into something more exotic and complex, attaining greater depth and suppleness. Drink 2015-30, mature 2020-30. Vinothentic, £25
– Riesling Cuvée Frédéric Emile, Trimbach, 2007. This Riesling is peculiarly austere and to my mind somewhat unpalatable today, with just hints of apple, quince, lemongrass and elder aching to develop in a wine with oodles of structure and minerality. Give it another fifteen years to show its heart. Majestic, £32
– Riesling Clos Sainte Hune, Trimbach, 2007. Unlike the Frédéric Emile it is already delicious today, and has potential to mature for the next 30 years. The 2007 Clos Sainte Hune is an alpine woodland in a bottle. Narcissus, lily-of-the-valley, juniper, chalk and moss form the forest floor, with hints of white truffle among pine roots. It will develop a touch of petrol fume from visiting motorists in the next decade. Berry Brothers, £660 for six en primeur
– Barolo Ceretta, Luigi Baudana, 2007. This androgynous Barolo is butch (substantial but supple tannins and a touch of leaf-mould), and femme (dramatic bouquet of rose petal, cherry and bramble) at the same time. It is utterly delicious today if you let it breathe, but will mature over the next twenty years for cherry blossom and truffle to develop in a lighter body. Drink now-2035. David Bell Wines, £46
– Viña Tondonia Blanco Reserva, Bodegas R López de Heredia, 1998. Austere white Rioja can offer awesome ageing potential. Traditional winemaking allows it to oxidise for six years in the barrel, offering notes of beeswax, honey, nuts, dried apricots, fennel and tarragon. It will only become deeper and more complex over the next 20-30 years. Berry Brothers, £28
– White, Chateau Musar, 2005. This is another oxidised wine – highly aromatic, offering a creamy nose and palate with Oriental notes of date, dried apricot, persimmon and sandalwood, as befits grapes named Obeideh and Merwah. This wine doesn't have enough acidity to last a long time, but over the next five years it should fill out and the fruit become more prominent.
REDS
– Brunello di Montalcino, Il Colle Carli, 2006. This organic wine is made by Caterina Carli and is a sumptuous example of Brunello. The palate is heavy on leather, tobacco, cherry and chocolate — it breathes Tuscany, without the Tuscan austerity that makes its more serious wines sometimes less than fun. It is delicious today, will improve for five to ten years and then stay great for another ten to fifteen. Wine Makers Club, £42
– Red, Morgenster Estate, 2009. This is a classic Bordeaux blend (Cabernet/Merlot) steeped in South African sunshine. The nose is open, it's very well balanced, and very fresh. Plummy, caramel with a measure of blackcurrant and vanilla — utterly joyous today, but with time might develop an earthy, fungal dimension and a somewhat more refined elegance. Expected maturity 2025. Great Western Wine, £38
– Vino Nobile di Montepulciano Vigna Asinone, Poliziano, 2010. Another Tuscan, this is a Vino Nobile with more ageing potential than most. It promises spice and fruit but is today tight and the oak overly forward. The tannins are sloe-like. Give it ten to fifteen years and it should be a beauty. Great Western Wine, £39
– Madiran Prestige, Château Montus, 2006. This is made by Alain Brumon, who invented microoxygenation and resurrected the forgotten Tannat grape. This wine is tight, black, intense, tempestuous. It is nigh-on immortal, but will only reach maturity in twenty-plus years. Whole Foods Market, £36
– Grand Vin, Fabre Montmayou, 2008. A Mendoza blend of Malbec with a little Cabernet and Merlot, this is a supple wine that speaks of bitter almonds, cherry, coffee and anise and a velvety texture. In time, as the body lightens the fruit and spice will express even more — mulberry, blueberry, liquorice and cinnamon. Mature in ten years, drink now to 2025. Vinothentic, £30
FORTIFIED & DESSERT
– Oloroso Gobernador, Emilio Hidalgo, solera (average barrel-age fifteen years). This is extraordinarily dry, with a palate of trail mix. Sweet notes of raisin, caramel and date but the dominant flavours are nutty – walnuts, roast almonds and hazelnuts. Like most dark sherries it will live for ever. Ottolenghi, £20
– Il Passito di Corzano, Fattoria Corzano e Paterno, 1999. This is my very favourite dessert wine, and would be called vin santo, were it not (a) too low in alcohol and (b) too delicious. Layer upon layer upon layer of dried and confected fruit, nut and spice in a wine so well structured it deserves an engineering award. Carlo Lotti online, £26 AB Harvey, £23