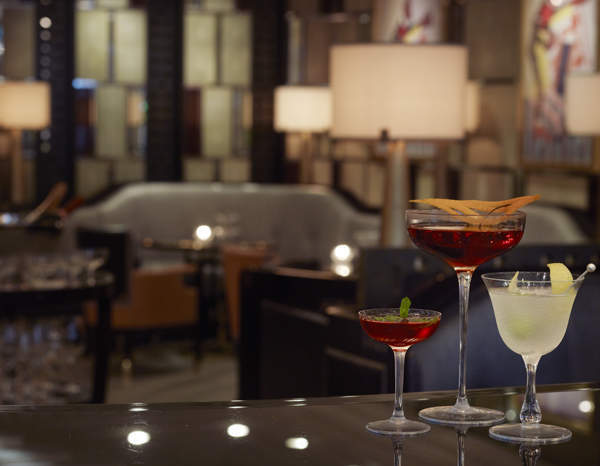 Here at Spear's we asked some of the best mixologists in London town to come up with some quirky whisky cocktail recipes to beat the Winter blues and give you that all-over fuzzy feeling.
Plus on the flip side, if you're not really a fan of the tough stuff, then a carefully constructed cocktail blend can be the perfect introduction to the wonders of a smoky malt or sweet and sultry bourbon. Scotch, quality ingredients and a dollop of imagination. We know what we're ordering next time we're at the bar…
Sara Cook & Elliot Hodgson, Senior Creative Bartenders, Kensington Rooftop Gardens:
The Scottish Breakfast
In a cocktail shaker:
Put 2 teaspoons of tawny orange marmalade
Squeeze 25ml (a shot) of pink grapefruit juice
Add 35ml (or 1.5 shots) of blended scotch (we use J.W. Black label)
15ml (or 1/2 a shot) of cointreau
Shake the above with lots of ice and fine strain into a martini glass. Serve with a twist of grapefruit and a couple of toasted scotch pancakes.
The Auld Alliance ('Irish inspired')
In a shaker:
Pour 35ml of sherry based single malt (such as Auchantoshan 3 wood)
15ml Cassis Dijon (blackcurrent liqueur)
Squeeze 10ml fresh lemon juice
Add 10ml of sugar syrup or 2 teaspoons of caster sugar
Add 10ml of Guinness reduction*
Crack in half an egg white
Add ice and shake very hard to make frothy. Fine strain into a martini glass. Garnish with the very tip of a mint sprig.
*To make Guinness reduction – put a pan of guinness on medium heat and simmer until reduced to 1/10.
Erik Lorincz, Head Bartender of the American Bar, The Savoy Hotel:
Learning Curve
Ingredients:
50ml Craigellachie 14 YO (or any other Speyside Malt)
25ml Aperol
3 slices bruised cucumber
2 dashes of orange bitters
Instructions:
Add cucumbers to a mixing glass and press lightly with a muddler (don't muddle!) Add ingredients, add ice and stir rapidly. Strain into a chilled cocktail glass, garnish with a slice of cucumber and the oils of a lemon peel (discard) and serve.
Says expert mixologist Lorincz: "This is more of an approach to scotch drinks, and uses unconventional ingredients in a harmonising way to create something gentle and soft for the drinker and to give them an introduction – or a 'learning curve' in drinking, if you will – to scotch-based libations."
Popcorn Flip (warning: this one is a little tricky…!)
Ingredients:50ml popcorn-infused Monkey Shoulder* (or another bourbon-based whisky)
20ml cream
20ml demerara sugar syrup**
1 full egg
Instructions:
Add all ingredients to a cocktail shaker. Afterwards, blend with a blender/dry shake to help emulsify all the ingredients, then add ice. Shake hard and double strain into a large coupette. Serve with some sweet popcorn on the side.
*Add one bottle of Monkey Shoulder to an ISI soda syphon along with 125 grams of sweet popcorn. Charge with an N2O cartridge, discharge the gas and strain the liquid through a muslin cloth. Bottle and refrigerate.
** Add two measurements of demerara sugar to one measurement of cold water. Stir until dissolved, bottle and refrigerate.
"Popcorn has been a popular flavour to include in 21st century cocktails for the last few years, thought most are used in highball-style drinks, such as the famous 'Cinema Highball' (a Cuba Libre-style drink), or in numerous sour-style drinks," explains Lorincz.
"The idea here was to incorporate it into a drink that was rich and thick; this was the resulting drink, a popcorn and scotch drink that tastes like a grown-up boozy milkshake."
Stefano Cossio, Head Bartender at Bassoon Bar, Corinthia Hotel:
El Estadista
Ingredients:
Dewars 12 YO
Est Endia sherry
Orange curacao
Homemade grenadine
Instructions:
Pour a measure of Dewars 12 Year Old whisky into a cocktail shaker, add an equal measure of Est Endia sherry, stir before adding a good dose of orange Curacao, top up with grenadine – homemade if you have it, don't worry if you haven't – then shake with ice before straining into vintage cocktail coupette glasses.
Roger Escape
Ingredients:
Johnnie Walker Black (infuse with coriander)
Fresh lemongrass
Honey water
Cherry liqueur
Drambuie
Instructions:
Infuse a good measure of Johnnie Walker black label whisky with fresh coriander, add some fresh lemongrass, pour in some honey water, mix with a measure of cherry liqueur, and then top off with Drambuie. Mix well, then pour into tall highball glasses filled with crushed ice.